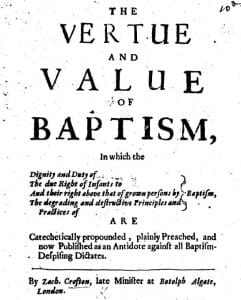 The Rev. Zachary Crofton (Nonconformist minister, 1626-1672), in his The Vertue and Value of Baptism (London, 1663) begins the book with short catechism on the subject. One of the questions addresses what renders one to be a fit subject for baptism. It is not the majority report, and is quite contrary to the conversionalism so prevalent now:
---
Q. By what must Infidels converted to the Faith be judged, within the Covenant, and fit Subjects to be baptized[?]
A. By making a profession of saving faith, which may be done by men in the gall of bitterness, and bond of iniquity; not by a saving profession of faith, importing sincerity of grace, nor by a well ordered conversation; for God's Ministers must judge by a present visible sign, and they cannot search the heart: And plants are to be set in the Church before we look for fruit; Baptism is a bond unto amendment of life.