Select and helpful quotations from our Westminster, Puritan, and otherwise historical fathers in the faith. Click on the desired subject to navigate to its relevant section.
The Confession of Faith
Hold fast the form of sound words, which thou hast heard of me, in faith and love which is in Christ Jesus. – 2 Tim. 1.13
It is now Saturday night, and I must prepare for the holy Sabbath. My Bible and Confession of Faith are my travelling companions, and precious friends have they been to me. I bless God for that glorious summary of Christian doctrine contained in our noble standards. It has cheered my soul in many a dark hour, and sustained me in many a desponding moment. I love to read it, and ponder carefully each proof-text as I pass along.
J.H. Thornwell (The Life and Letters of James Henley Thornwell, p. 162)
General Piety
Blessed are they which do hunger and thirst after righteousness: for they shall be filled. – Matt. 5.6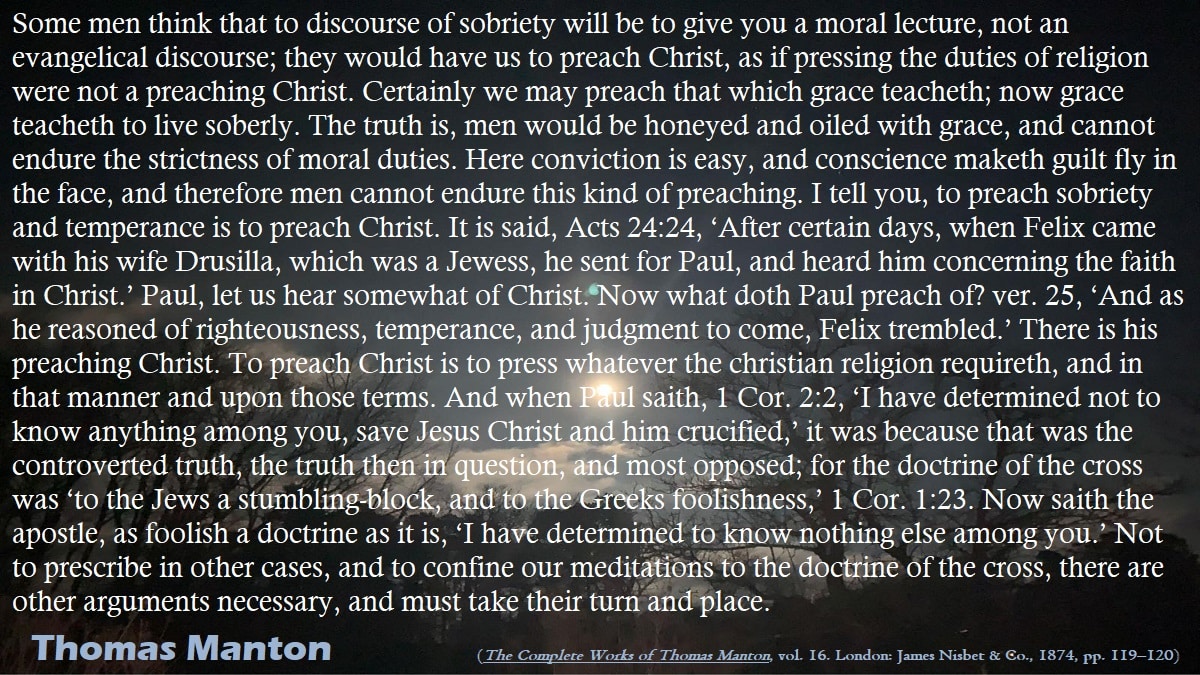 Woe, woe to that soul that God will not spend a rod upon! This is the saddest stroke of all, when God refuses to strike at all . . . . When the physician gives over the patient, you say, 'Ring out his knell, the man is dead.' So when God gives over a soul to sin without control, you may truly say, 'This soul is lost,' you may ring out his knell, for he is twice dead, and plucked up by the roots. Freedom from punishment is the mother of security, the step-mother of virtue, the poison of religion, the moth of holiness, and the introducer of wickedness. 'Nothing,' said one, 'seems more unhappy to me, than he to whom no adversity hath happened.' Outward mercies oft times prove a snare to our souls . . . . Prosperity hath been a stumbling-block, at which millions have stumbled and fallen, and broke the neck of their souls for ever.
Thomas Brooks (Works, Vol. 1, p. 43)
Though affections be the wind of the soul, yet unruly passions are the storms of the soul, and will overturn all, if they be not suppressed. The best, as we see in David here, if they do not steer their hearts aright, are in danger of sudden gusts. A Christian must neither be a dead sea, nor a raging sea.
– Richard Sibbes, The Soul's Conflict and Victory Over Itself by Faith
It is a great mercy to have the word of God brought to us, and a great duty to attend to it diligently, when we are in affliction. The word of instruction and the rod of correction may be of great service to us, in concert and concurrence with each other, the word to explain the rod and the rod to enforce the word: both together give wisdom.
– Matthew Henry (Commentary, Ezekiel 1)
To be settled in religion is both a Christian's excellence and honour. It is his excellence. When the milk is settled it turns to cream; now he will be zealous for the truth, and walk in close communion with God. And his honour. Prov 16.31. 'The hoary head is a crown of glory, if it be found in the way of righteousness.' It is one of the best sights to see and old disciple; to see silver hairs adorned with golden virtues.
– Thomas Watson  (A Body of Practical Divinity, p. 14)
The unhumbled heart of man is like a rock; if it will not be melted by the word of God as the fire, it will be broken to pieces by it as the hammer. Whatever opposition is given to the word, it will be borne down and broken to pieces.
– Matthew Henry (Commentary, Jeremiah 23)
It were a good strife amongst Christians, one to labour to give no offence, and the other to labour to take none. The best men are severe to themselves, tender over others.
– Richard Sibbes (Works, Vol. 1, p. 52)
Hezekiah thought himself very happy in the friendship of Babylon, though it was the mother of harlots and idolatries; but Babylon, who now courted Jerusalem, in process of time conquered her and carried her captive. Leagues with sinners, and leagues with sin too, will end thus; it is therefore our wisdom to keep at a distance from them.
– Matthew Henry, Commentary (Isaiah 39)
Satan's conquests are limited to ignorant, graceless souls who have neither strength nor sense to oppose him. They are born imprisoned to sin; all he has to do is keep them there. But when he assaults a saint, whose freedom was won at the Cross, once for all, then he is laying siege to a city with gates and bars. Sooner or later, he must retreat in shame, unable to pluck the weakest saint out of the Savior's hand. Doubt your own strength, but never doubt Christ's.
– William Gurnall, The Christian in Complete Armour
God defers, but his deferring is no empty space, wherein no good is done, but there is in that space a fitting for promises. Whilst the seed lieth hid in the earth, time is not lost, for winter fits for spring, yea, the harder the winter, the more hopeful the spring; yet were it a mere empty space, we should hold out, because of the great things to come ; but being only a preparing time, we should pass it with tho less discouragement. Let this support us in all the thwartings of our desire. It is a folly to think, that we should have physic and health both at once. We must endure the working of God's physic. When the sick humour is carried away and purged, then we shall enjoy desired health. God promiseth forgiveness of sin, but thou findest the burden of it daily on thee. Cheer up thyself: when the morning is darkest, then comes day ; after a weary week comes a sabbath, and after a fight victory will appear. God's time is best, therefore resolve upon waiting his leisure. For the better demeaning of ourselves herein, we must know we must so wait, that we provoke not in the mean time his patience on whom we depend, by putting forth our hand to any evil, which indeed is a crossing of our hopes. Therefore, waiting upon God is always joined with doing good. There is an influence in the thing hoped for, in the spirit of him that truly hopes, stirring him up to a suitable conformity, by purging himself of whatsoever will not stand with the holiness of that condition. Waiting implies all graces, as patience, perseverance, long-suffering in holding out, notwithstanding the tediousness of time deferred, courage, and breaking through all difficulties that stand between. For what is waiting, indeed, but a continuing in a gracious inoffensive course, till the accomplishment of our desires?
Richard Sibbes, The Soul's Conflict and Victory Over Itself by Faith
If we love God, our hearts ache for the dishonour done to God by wicked men. To see, not only the banks of religion, but morality, broken down, and a flood of wickedness coming in; to see God's sabbaths profaned, His oaths violated, His name dishonoured; if there be any love to God in us, we shall lay these things to heart. Lot's righteous soul was 'vexed with the filthy conversation of the wicked' (2 Peter 2.7). The sins of Sodom were as so many spears to pierce his soul. How far are they from loving God, who are not at all affected with His dishonour? If they have but peace and trading, they lay nothing to heart. A man who is dead drunk, never minds nor is affected by it, though another be bleeding to death by him; so, many, being drunk with the wine of prosperity, when the honour of God is wounded and His truths lie a bleeding, are not affected by it. Did men love God, they would grieve to see His glory suffer, and religion itself become a martyr.
– Thomas Watson, Divine Cordial
The third thing which hindereth in many the knowledge of an interest in Christ is, A spirit of sloth and careless negligence. They complain that they known not whether they be in Christ or not; but as few take pains to be in Him, so few take pains to try if they be in Him. It i s a work and business which cannot be done sleeping: 'Examine yourselves whether ye be in the faith; prove your own selves: know ye not your own selves.' [ 2 Cor 13.5] The several words used here, namely Examine, prove, know-intimate that there is a labour in it: Diligence must be used to make our 'calling and election sure.' [2 Peter 1.10]It is a business above flesh and blood: the holy 'anointing which teacheth all things,' must make us 'know the things freely given to us of God.' [1 John 2.27] Shall the Lord impart a business of so great concernment, and not so much as 'be inquired after to do it for men?' [Ezek 36.37] Be shamed, you who spend so much time in reading of romances, in adorning your persons, in hawking and hunting, in consulting the law concerning your outward state in the world, and it may be in worse things than these; Be ashamed, you that spend so little time in the search of this, whether ye be an heir of glory or not? whether you be in the way that leadeth to heaven, or that way which will land you in darkness for ever? You who judge this below you, and unworthy of your pains, any part or minute of your time, it is probable, in God's account, you have judged yourselves unworthy of everlasting life, so that you shall have no lot with God's people in this manner.
– William Guthrie (The Christian's Great Interest, pp. 84-85)
God wills that man be occupied. Prior to the fall He called him to an enjoyable task, and after the fall, to a difficult task. It is His will that everyone be faithful in the calling to which He has called him. Some callings are of a temporal nature, whereas others have a spiritual dimension. Even if a calling is of a temporal nature, this neither detracts from nor contributes to the spirituality of one"s service of God in the discharge of this calling; rather, such spirituality is contingent upon the spiritual state of the individual as well as the manner in which he engages himself in his calling. A natural man deals even with spiritual matters in a natural manner which is not pleasing to God. The spiritual man, however, deals even with temporal matters in a spiritual fashion. He views his encounter with them as a dispensation of the Lord, embracing them as the will of God. He performs his temporal obligations in willing obedience as a service to his God, having God"s glory as his objective.
– Wilhelmus à Brakel, The Christian's Reasonable Service
That affection which excites a man to break [God's] law, would excite him to annihilate [God's] being if it were in his power. A man in every sin aims to set up his own will as his rule, and his own glory as the end of his actions against the will and glory of God; and could a sinner attain his end, God would be destroyed.
– Stephen Charnock, Discourses on the Existence and Attributes of God
In sins of omission we own not God, in neglecting to perform what he enjoins; in sins of commission, we set up some lust in the place of God, and pay to that the homage which is due to our Maker. In both we disown him; in the one by not doing what he commands, in the other by doing what he forbids. We deny his sovereignty when we violate his laws; we disgrace his holiness when we cast our filth before his face; we disparage his wisdom when we set up another rule as the guide of our actions than that law he hath fixed; we slight his sufficiency when we prefer a satisfaction in sin before a happiness in him alone; and his goodness, when we judge it not strong enough to attract us to him. Every sin invades the rights of God, and strips him of one or other of his perfections. It is such a vilifying of God as if he were not God; as if he were not the supreme Creator and Benefactor of the world; as if we had not our being from him; as if the air we breathed in, the food we lived by, were our own by right of supremacy, not of donation. For a subject to slight his sovereign, is to slight his royalty; or a servant his master, is to deny his superiority.
– Stephen Charnock, Discourses Upon the Existence and Attributes of God
The violence of some present temptation may hurry a man into the commission of such sins himself in which the vitiated appetite may take a pleasure; but to be pleased with other people's sins is to love sin for sin's sake: it is joining in a confederacy for the devil's kingdom and interest . . . . Our own sins are much aggravated by our concurrence with, and complacency in, the sins of others.
– Matthew Henry, Commentary (Romans 1)
Those creature-comforts and confidences that we promise ourselves most from may fail us as soon as those that we promise ourselves least from, for they are all what God makes them, not what we fancy them.
– Matthew Henry, Commentary (Jeremiah 44)
Those that receive courtesies should study to return them; it ill becomes men of God to be ungrateful, or to sponge upon those that are generous.
– Matthew Henry, Commentary (2 Kings 4)
When diseased sinners come to this, that they are content to do any thing, to submit to any thing, to part with any thing, for a cure, then, and not till then, there begin to be some hopes of them. Then they will take Christ on his own terms when they are made willing to have Christ upon any terms.
– Matthew Henry, Commentary (2 Kings 5)
Those know not what religion is whose chief care it is to make it cheap and easy to themselves, and who are best pleased with that which costs them least pains or money. What have we our substance for but to honour God with it? and how can it be better bestowed?
– Matthew Henry, Commentary (2 Samuel 24)
We must feed upon Christ with sorrow and brokenness of heart, in remembrance of sin; this will give an admirable relish to the paschal lamb. Christ will be sweet to us if sin be bitter.
– Matthew Henry, Commentary (Exodus 12)
Consider sin in its nature. It is a moral evil, an irregularity in the soul and actions, an enmity to God the chief good; it is the worst evil, worse than the devil and Satan: he had not been a devil but for sin. Worse than hell, which, as it is a torment, is caused by sin, and is only contrary to the good of the creature, whereas sin itself is contrary to the good of the Creator. It is such a distemper of the soul, that the Scripture calleth it "wickedness of folly," even "foolishness of madness."
– Henry Scudder, The Christian's Daily Walk
[W]e must walk by rule, not by example when it varies from the rule, no, not even by those examples which Providence has owned.
– Matthew Henry, Commentary (1 Chronicles 13)
There is no having Christ to be our Saviour, unless we be willing to take him for our prince. We cannot expect to be redeemed and healed by him, unless we give up ourselves to be ruled by him. The judges of old were saviours. Christ's ruling is in order to his saving, and faith takes an entire Christ, that came, not to save us in our sins, but to save us from our sins.
– Matthew Henry, Commentary (Acts 5)
He is too covetous whom the great God of heaven cannot suffice.
– William Bridge, The Sinfulness of Sin and the Fulness of Christ
We are apt to call reproofs reproaches, and to think ourselves mocked when we are but advised and admonished; this peevishness is our folly, and a great wrong to ourselves and to our friends.
– Matthew Henry, Commentary (Job 12)
When our heads are fullest of care, and our hands of business, yet we must not forget our religion, nor suffer ourselves to be indisposed for acts of devotion.
– Matthew Henry, Commentary (Exodus 12)
We ought to observe what is our own iniquity, and, if we find ourselves addicted to flesh-pleasing, we must not only stand upon our guard against temptations from without, but subdue the corruption within. Nature is desirous of food, and we are taught to pray for it, but it is lust that is desirous of dainties, and we cannot in faith pray for them, for frequently they are not food convenient for mind, body, or estate. They are deceitful meat . . . . They are pleasant to the palate, but perhaps rise in the stomach, turn sour there, upbraid a man, and make him sick. They do not yield men the satisfaction they promised themselves from them; for those that are given to appetite, when they have that which is very dainty, are not pleased; they are soon weary of it; they must have something else more dainty. The more a luxurious appetite is humoured and indulged the more humour some and troublesome it grows, and the more hard to please; dainties will surfeit, but never satisfy. But especially they are upon this account deceitful meat, that, while they please the body, they prejudice the soul, they overcharge the heart, and unfit it for the service of God, nay, they take away the heart, and alienate the mind from spiritual delights, and spoil its relish of them. Why then should we covet that which will certainly cheat us?
– Matthew Henry, Commentary (Proverbs 23)
God's good work in us commences and keeps pace with his good-will towards us. When he remembers his covenant for us, that he may not remember our sins against us, he puts us upon remembering our sins against ourselves. And if we will but be brought to remember our ways, how crooked and perverse they have been and how we have walked contrary to God in them, we cannot but be ashamed; and, when we are so, we are best prepared to receive the honour and comfort of a sealed pardon and a settled peace.
– Matthew Henry, Commentary (Ezekiel 16)
It is a certain sign of an unhumbled heart to quarrel with those rebukes which we have, by our own sin, brought upon ourselves. The foolishness of man perverteth his way, and then, to make bad worse, his heart fretteth against the Lord, Prov. 19.3.
– Matthew Henry, Commentary
The wickedness of a people is great indeed when the most notorious sinners are men of renown among them. Things are bad when bad men are not only honoured notwithstanding their wickedness, but honoured for their wickedness, and the vilest men exalted. Wickedness is then great when great men are wicked.
– Matthew Henry, Commentary (Genesis 6)
Resolved, to act, in all respects, both speaking and doing, as if nobody had been so vile as I, and as if I had committed the same sins, or had the same infirmities or failings as others; and that I will let the knowledge of their failings promote nothing but shame in myself, and prove only an occasion of my confessing my own sins and misery to God.
– Jonathan Edwards, Resolutions
Whatever we [lack], it is God that withholds it, a sovereign Lord, most wise, holy, and just, that may do what he will with his own, and is debtor to no man, that never did, nor ever can do, any wrong to any of his creatures.
– Matthew Henry, Commentary (Genesis 30)
We abuse God's mercy when we reckon that his favours countenance and patronize our follies.
– Matthew Henry, Commentary (Genesis 30)
It is no breach of the law of meekness to show our displeasure at the wickedness of the wicked. Those are angry and sin not that are angry at sin only, not as against themselves, but as against God. Ephesus is famous for patience, and yet cannot bear those that are evil, Rev. 2.2. It becomes us to be cool in our own cause, but warm in God's.
– Matthew Henry, Commentary
It is common for those that have fretful uneasy spirits industriously to create inconveniences themselves, that, resolving to complain, they may still have something to complain of.
– Matthew Henry, Commentary (Jonah 4)
Those that would find Christ must seek till they find; for he will at length be found of those that seek him, and will be found their bountiful rewarder. Those that have lost their comforts in Christ, and the evidences of their interest in him, must bethink themselves where, and when, and how, they lost them, and must turn back again to the place where they last had them; must remember whence they are fallen, and repent, and do their first works, and return to their first love, Revelation 2.4,5. Those that would recover their lost acquaintance with Christ must go to Jerusalem, the city of our solemnities, the place which he has chosen to put his name there; must attend upon him in his ordinances, in the gospel-passover, there they may hope to meet him.
– Matthew Henry, Commentary (Luke 2)
Those that in a day of peace place themselves at Christ's feet, to receive instructions from him, may with comfort and confidence in a day of trouble cast themselves at his feet with hope to find favour with him.
– Matthew Henry, Commentary (John 11)
We invert the order Divine wisdom hath established, when we would have God save us in our own way, not in his. It is the same thing as if we would have God nourish us without bread, and cure our disease without medicines, and increase our wealth without our industry, and cherish our souls without his word and ordinances. It is to demand of him an alteration of his methods, and a separation of that which he hath by his eternal judgment joined together. Therefore for a man to pray to God to save him when he will not use the means he hath appointed for salvation, when he slights the word, which is the instrument of salvation, is a contempt of the wisdom of Divine institutions.
– Stephen Charnock, Discourses Upon the Existence and Attributes of God
All superstition is based upon ignorance more or less gross. Minds not capable of close and just discrimination are peculiarly liable to it. A carnal state of the heart works up the imagination, and the fleshly mind seizes with great vigour upon its own conceptions. When one has not been made wise by God's word, and the affections become highly excited, plausible pretences are sufficient to mislead. Once enlisted in the cause of superstition, self-love causes persistence in it. Having some persuasion that holiness is essential, and the natural heart rising in opposition to the requirements of God's law, the excited mind perversely seeks out some method whereby to delude itself into the persuasion that it is holy. The growth of superstition is by a very gradual process. Its whole history is written in three words, little by little. The only sure defence against it is the true knowledge and genuine love of God, accompanied by a firm determination to do what he commands, to worship as he directs, and to follow human devisings in nothing.
-William S. Plumer (The Law of God as Contained in the Ten Commandments, p. 230)
An immediate enjoyment of God in this world without [the appointed ordinances of worship] is but a delusion.
– George Gillespie, A Treatise of Miscellany Questions
When God has work to do he will never want instruments to do it with, for all hearts and heads too are under his eye, and in his hand; and those may cheerfully go about any service for God, and go on in it, who have reason to think that, one way or other, he has called them to it; for whom he calls he will own and bear out . . . . God dispenses his gifts variously, one gift to one, another to another, and all for the good of the whole body, both of mankind and of the church. Moses was fittest of all to govern Israel, but Bezaleel was fitter than he to build the tabernacle. The common benefit is very much supported by the variety of men's faculties and inclinations; the genius of some leads them to be serviceable one way, of others another way, and all these worketh that one and the self-same Spirit . . . . Those whom God calls to any service he will either find, or make, fit for it. If God give the commission, he will in some measure give the qualifications, according as the service is.
– Matthew Henry, Commentary
It is far more easy to shun the occasion of sin, than the sin when the occasion presents it; to resist the beginnings, than the progress, of sin. There must, therefore, be no tampering with it; no trial of strength, to see how far our resolutions will keep us.
– Charles Bridges, Commentary on Proverbs 4
The hours that are not spent in obedience against sin, are spent in sin against obedience. Wicked men think they commit but a single sin, when indeed they always double it; for while they do what they should not, they leave undone what they should, and so bind two sins together.
– Thomas Adams, An Exposition Upon the Second Epistle of St. Peter
Impenitent unhumbled hearts are therefore not reclaimed by God's rebukes because they think themselves wronged by them; and it is an evidence of great hardness to be more concerned about our sufferings than about our sins.
– Matthew Henry, Commentary
Affliction
Many are the afflictions of the righteous: but the Lord delivereth him out of them all. – Ps. 34.19
Happy are we when God's corrections are our instructions, his lashes our lessons, his scourges our schoolmasters, his chastisements our advertisements.
– Thomas Brooks, "Works" Vol. I, lxx
When God afflicts his people, yet he does not forget them; when he casts them out of their land, yet he does not cast them out of sight, nor out of mind. Even then when God is speaking against us, yet he is acting for us, and designing our good in all; and this is our comfort in our affliction, that the Lord thinks upon us, though we have forgotten him.
– Matthew Henry, Commentary (Jeremiah 31)
A gentleman highly prizes his hawk, he feeds her with his own hand, he carries her upon his fist, he takes a great deal of delight and pleasure in her; and therefore he puts vervels upon her legs, and a hood upon her head; he hoodwinks her, and fetters her, because he loves her, and takes delight in her; so the Lord by afflictions hoodwinks and fetters his children, but all is because he loves them, and takes delight and pleasure in them. There cannot be a greater evidence of God's hatred and wrath, than his refusing to correct men for their sinful courses and vanities . . . . Where God refuses to correct, there God resolves to destroy; there is no man so near the axe, so near the flames, so near hell, as he whom God will not so much as spend a rod upon. God is most angry where he shews no anger . . . . God afflicts thee, O Christian, in love; and therefore Luther cries out, "Strike, Lord; strike, Lord, and spare not." Who can seriously muse upon this, and not hold his peace, and not be silent under the most smarting rod?
– Thomas Brooks, "The Mute Christian Under the Smarting Rod"
That is best for us which is best for our souls, by which the heart is made better, though it be unpleasing to sense. Sadness is often a happy means of seriousness, and that affliction which is impairing to the health, estate, and family, may be improving to the mind, and make such impressions upon that as may alter its temper very much for the better, may make it humble and meek, loose from the world, penitent for sin, and careful of duty . . . . It will follow, on the contrary, that by the mirth and frolicsomeness of the countenance the heart is made worse, more vain, carnal, sensual, and secure, more in love with the world and more estranged from God and spiritual things (Job 21.12,14), till it become utterly unconcerned in the afflictions of Joseph, as those Amos 6.5,6, and the king and Haman, Esther 3.15.
– Matthew Henry, Commentary (Ecclesiastes 7)
Afflictions are a crystal glass, wherein the soul hath the clearest sight of the ugly face of sin. In this glass the soul comes to see sin to be but a bitter-sweet; yea, in this glass the soul comes to see sin not only to be an evil, but to be the greatest evil in the world, to be an evil far worse than hell itself.
– Thomas Brooks, Works Vol. I, 48
It is the character of God's people that they fear God, have an awe of him upon their hearts and make conscience of their duty to him, and this because they see his eye always upon them and they know it is their concern to approve themselves to him. When they lie at the mercy of proud oppressors they fear God more then they fear them. They do not quarrel with the providence of God, but submit to it.
– Matthew Henry, Commentary (Ecclesiastes 8)
We cannot judge of men by their sufferings, nor of sins by their present punishments; with some the flesh is destroyed that the spirit may be saved, while with others the flesh is pampered that the soul may ripen for hell.
– Matthew Henry, Commentary (1 Kings 13)
That is best for us which is best for our souls; and, in all our choices, advantages for religion must take place of all outward conveniences. Where God's faithful priests are his faithful people should be.
– Matthew Henry, Commentary (2 Chronicles 11)
The best men, and those that are dearest to God, often share, not only in the common calamities of this life, but in the public and national judgments that are inflicted for sin; those feel the smart who contributed nothing to the guilt, by which it appears that the difference between good and bad arises not from the events that befal them, but from the temper and disposition of their spirits under them.
– Matthew Henry, Commentary
The life of a Christian is filled up with interchanges of sickness and health, weakness and strength, want and wealth, disgrace and honour, crosses and comforts, miseries and mercies, joys and sorrows, mirth and mourning; all honey would harm us, all wormwood would undo us; a composition of both is the best way in the world to keep our souls in a healthy constitution. It is best and most for the health of the soul that the south wind of mercy, and the north wind of adversity, do both blow upon it; and though every wind that blows shall blow good to the saints, yet certainly their sins die most, and their graces thrive best, when they are under the drying, nipping north wind of calamity, as well as under the warm, cherishing south wind of mercy and prosperity.
– Thomas Brooks, The Mute Christian Under the Smarting Rod
When we complain to God of the badness of the times we ought to complain against ourselves for the badness of our own hearts.
– Matthew Henry, Commentary
It is God that multiplies our sorrows…. God, as a righteous Judge, does it, which ought to silence us under all our sorrows; as many as they are, we have deserved them all, and more: nay, God, as a tender Father, does it for our necessary correction, that we may be humbled for sin, and weaned from the world by all our sorrows; and the good we get by them, with the comfort we have under them, will abundantly balance our sorrows, how greatly soever they are multiplied.
– Matthew Henry, Commentary
Though the cup be bitter, yet it is put into your hand by your Father; though the cross be heavy, yet he that hath laid it on your shoulders will bear the heaviest end of it himself; and why, then, should you mutter? Shall bears and lions take blows and knocks from their keepers, and wilt thou not take a few blows and knocks from the keeper of Israel? Why should the clay contend with the potter, or the creature with his creator, or the servant with his lord, or weakness with strength, or a poor nothing creature with an omnipotent God? Can stubble stand before the fire? Can chaff abide before the whirlwind? Or can a worm ward off the blow of the Almighty? A froward and impatient spirit under the hand of God will but add chain to chain, cross to cross, yoke to yoke, and burden to burden. The more men tumble and toss in their feverish fits, the more they strengthen the distemper, and the longer it will be before the cure be ejected. The easiest and the surest way of cure is to lie still and quiet till the poison of the distemper be sweat out. Where patience hath its perfect work, there the cure will be certain and easy. When a man hath his broken leg set, he lies still and quiet, and so his cure is easily and speedily wrought; but when a horse's leg is set, he frets and flings, he flounces and flies out, unjointing it again and again, and so his cure is the more difficult and tedious. Such Christians that under the hand of God are like the horse or mule, fretting and flinging, will but add to their own sorrows and sufferings, and put the day of their deliverance further off.
– Thomas Brooks, The Mute Christian Under the Smarting Rod
It is a great mercy to have the word of God brought to us, and a great duty to attend to it diligently, when we are in affliction. The word of instruction and the rod of correction may be of great service to us, in concert and concurrence with each other, the word to explain the rod and the rod to enforce the word: both together give wisdom. It is happy for a man, when he is sick and in pain, to have a messenger with him, an interpreter, one among a thousand, if he have but his ear open to discipline, Job 23.23.
– Matthew Henry, Commentary
As there is a curse wrapped up in the best things he gives the wicked, so there is a blessing wrapped up in the worst things he brings upon his own, Ps. 25.10, Deut. 26.16. As there is a curse wrapped up in a wicked man's health, so there is a blessing wrapped up in a godly man's sickness; as there is a curse wrapped up in a wicked man's strength, so there is a blessing wrapped up in a godly man's weakness; as there is a curse wrapped up in a wicked man's wealth, so there is a blessing wrapped up in a godly man's wants; as there is a curse wrapped up in a wicked man's honour, so there is a blessing wrapped up in a godly man's reproach; as there is a curse wrapped up in all a wicked man's mercies, so there is a blessing wrapped up in all a godly man's crosses, losses, and changes: and why then should he not sit mute and silent before the Lord?
– Thomas Brooks, The Mute Christian Under the Smarting Rod
[I]t is better to be sick, providing Christ come to the bed-side, and draw aside the curtains, and say 'Courage, I am thy salvation,' than to enjoy health, being lusty and strong, and never to be visited of God.
– Samuel Rutherford, Letters
Prayer
O thou that hearest prayer, unto thee shall all flesh come. – Ps. 65.3
Prayer is a salve for every sore, even the sorest, a remedy for every malady, even the most grievous. And our business in prayer is not to prescribe, but to subscribe to the wisdom and will of God; to refer our case to him, and then to leave it with him. Lord, behold and consider, and thy will be done.
– Matthew Henry, Commentary (Lamentations 2)
[E]very man is that really which he is secretly. Never tell me, how handsomely, how purely, how bravely, this or that man acts his part before others but tell me, if you can, how he acts his part before God in his closet; for the man is that certainly, that he is secretly. There are many that sweat upon the stage that are keycold in their closets.
– Thomas Brooks, The Privy Key of Heaven
A man whose soul is conversant with God in a closet, in a hole, behind the door, or in a desert, a den, a dungeon, shall find more real pleasure, more choice delight, and more full content, than in the palace of a prince.
– Thomas Brooks, The Privy Key of Heaven
Bible Reading
Wherewithal shall a young man cleanse his way? by taking heed thereto according to thy word. – Ps. 119.9
Fasting
But thou, when thou fastest, anoint thine head, and wash thy face. – Matt. 5.17
The Sinfulness of Sin
Was then that which is good made death unto me? God forbid. But sin, that it might appear sin, working death in me by that which is good; that sin by the commandment might become exceeding sinful. – Rom. 7.13
If men did but consider as they ought, what would be the end of sin, they would be afraid of the beginnings of it.
– Matthew Henry, Commentary (Numbers 32)
Is it not a lamentable case that man, who, out of the very principles of nature, cannot but desire happiness and abhor misery, yet should be in love with eternal misery in the causes of it, and abhor happiness in the ways that lead unto it? This sheweth us what a wonderful deordination and disorder is brought upon man's nature; for every other creature is naturally carried to that which is helpful unto it, and shunneth that which is any way hurtful and offensive. Only man is in love with his own bane, and fights for those lusts that fight against his soul.
– Richard Sibbes, The Soul's Conflict and Victory Over Itself by Faith
To argue from mercy to sinful liberty, is the devil's logic, and such logicians do ever walk upon a mine of gunpowder ready to be blown up.
– Thomas Brooks, Works Vol. I, 43
As confidence in God is a hopeful presage of approaching deliverance, so security in sin is a sad omen of approaching destruction. When judgments are removed from a people before they have done their work, leave them, but leave them unhumbled and unreformed, it is . . . with a design to return; they do but retreat to come on again with so much the greater force; for when God judges he will overcome. It is just with God to disappoint those expectations of mercy which his providence had given cause for when we disappoint those expectations of duty which our professions, pretensions, and fair promises, had given cause for. If we repent of the good we had purposed, God will repent of the good he had purposed. "With the froward thou will show thyself froward."
– Matthew Henry, Commentary (Jeremiah 34)
[I]t is the greatest judgment in the world to be left to sin, upon any pretense whatever. O unhappy man! when God leaveth thee to thyself, and doth not resist thee in thy sins. Woe, woe to him at whose sins God doth wink. When God lets the way to hell be a smooth and pleasant way, that is hell on this side hell, and a dreadful sign of God's indignation against a man; a token of his rejection, and that God does not intend good unto him. That is a sad word, 'Ephraim is joined to idols: let him alone' (Hosea 4:17); he will be unteachable and incorrigible; he hath made a match with mischief, he shall have his bellyful of it; he falls with open eyes; let him fall at his own peril. And that is a terrible saying, 'So I gave them up unto their own hearts' lusts, and they walked in their own counsels' (Psalm 81:12). A soul given up to sin is a soul ripe for hell, a soul hastening to destruction!
– Thomas Brooks, "Works", Vol. I, 27
The custom of sinning takes away the sense of it, the course of the world takes away the shame of it.
– John Owen, The Mortification of Sin
There is a great deal of deceitfulness in sin; it appears fair, but is filthy; it appears pleasant, but is pernicious; it promises much, but performs nothing. The deceitfulness of sin is of a hardening nature to the soul; one sin allowed prepares for another; every act of sin confirms the habit; sinning against conscience is the way to sear the conscience; and therefore it should be the great concern of every one to exhort himself and others to beware of sin.
– Matthew Henry, Commentary
[A]s God is holy, all holy, only holy, altogether holy, and always holy, so sin is sinful, all sinful, only sinful, altogether sinful, and always sinful . . . . As in God there is no evil, so in sin there is no good. God is the chiefest of goods and sin is the chiefest of evils. As no good can be compared with God for goodness, so no evil can be compared with sin for evil.
– Ralph Venning, The Sinfulness of Sin
Consider sin in its nature. It is a moral evil, an irregularity in the soul and actions, an enmity to God the chief good; it is the worst evil, worse than the devil and Satan: he had not been a devil but for sin. Worse than hell, which, as it is a torment, is caused by sin, and is only contrary to the good of the creature, whereas sin itself is contrary to the good of the Creator. It is such a distemper of the soul, that the Scripture calleth it "wickedness of folly," even "foolishness of madness."
– Henry Scudder, The Christian's Daily Walk
Nothing but sin wrongs a man's soul, and there is no sin which does not do so.
– Ralph Venning, The Sinfulness of Sin
True, there is the bright glass of the Law, wherein we may see the evil of sin; but there is the red glass of the sufferings of Christ, and in that we may see more of the evil of sin that if God should let us down to hell and there let us see all the tortures and torments of the damned in hell. If you could see those people and how they lie sweltering under God's wrath there, it would not be as much as beholding sin through the red glass of sufferings of Jesus Christ and His agony.
– Jeremiah Burroughs, The Evil of Evils
[S]in is the dare of God's justice, the rape of his mercy, the jeer of his patience, the slight of his power, the contempt of his love . . . . [I]t is the upbraiding of his providence (Psalm 50), the scoff of his promise (2 Peter 3.3-4), [and] the reproach of his wisdom (Isaiah 29.16).
– Ralph Venning, The Sinfulness of Sin

Sin is so evil that it is not capable of any good at all. Though the air is never so dark, yet it is capable of light. That would be a dismal darkness that was not capable of light coming into it. That which is bitter, though never so bitter, yet is capable of recieving that which will sweeten. That which is never so venemous is yet capable of such things as will make it wholesome; but sin is so dark that it is incapable of light, so bitter that there is no way to make it sweet, so venemous that there is no way to make it wholesome.
– Jeremiah Burroughs, The Evil of Evils
Temptation
Watch and pray, that ye enter not into temptation. – Matt. 26.41a

– Stephen Charnock (The Complete Works of Stephen Charnock, vol. 5, p. 539)
He that, to avoid a greater sin, will yield to a lesser, ten thousand to one but God in justice will leave that soul to fall into a greater. If we commit one sin to avoid another, it is just we should avoid neither, we having not law nor power in our own hands to keep off sin as we please; and we, by yielding to the lesser, do tempt the tempter to tempt us to the greater. Sin is of an encroaching nature; it creeps on the soul by degrees, step by step, till it hath the soul to the very height of sin.
– Thomas Brooks, "Works" Vol. I, 18
How full is the world of specious pretences and pleadings! As there is the liberty and freedom of Christians, delivered from a bondage frame, this is a door that, in my own observation, I have seen sundry going out at, into sensuality and apostasy; beginning at a light conversation, proceeding to a neglect of the Sabbath, public and private duties, ending in dissoluteness and profaneness. And then there is leaving of public things to Providence, being contented with what is;—things good in themselves, but disputed into wretched, carnal compliances, and the utter ruin of all zeal for God, the interest of Christ or his people in the world. These and the like considerations, joined with the ease and plenty, the greatness and promotion of professors, have so brought things about, that whereas we have by Providence shifted places with the men of the world, we have by sin shifted spirits with them also. We are like a plantation of men carried into a foreign country. In a short space they degenerate from the manners of the people from whence they came, and fall into that thing in the soil and the air that transformed them. Give me leave a little to follow my similitude: He that should see the prevailing party of these nations, many of those in rule, power, favour, with all their adherents, and remember that they were a colony of Puritans,—whose habitation was "in a low place," as the prophet speaks of the city of God,—translated by a high hand to the mountains they now possess, cannot but wonder how soon they have forgot the customs, manners, ways, of their own old people, and are cast into the mould of them that went before them in the places whereunto they are translated. I speak of us all, especially of us who are amongst the lowest of the people, where perhaps this iniquity doth most abound. What were those before us that we are not? what did they that we do not? Prosperity hath slain the foolish and wounded the wise.
– John Owen, "Of Temptation"
It is impossible for that man to get the conquest of sin, that plays and sports with the occasion of sin. God will not remove the temptation, except you turn from the occasion. It is a just and righteous thing with God, that he should fall into the pit, that will adventure to dance upon the brink of the pit, and that he should be a slave to sin, that will not flee from the occasions of sin. As long as there is a fuel in our hearts for a temptation, we cannot be secure. He that hath gunpowder about him had need keep far enough off from sparkles. To rush upon the occasions of sin, is both to tempt ourselves, and to tempt Satan to tempt our souls. It is very rare that any soul plays with the occasions of sin, but that soul is ensnared by sin. It is seldom that God keeps that soul from the acts of sin, that will not keep off from the occasions of sin. He that adventures upon the occasions of sin is as he that would quench fire with oil, which is a fuel to maintain it, and increase it.
– Thomas Brooks, Works Vol. I, 39-40
I find it most true that the greatest temptation out of hell is to live without temptations. If my waters would stand, they would rot, Faith is the better for the free air and the sharp winter-storm in its face. Grace withereth without adversity. The devil is but God's master-fencer, to teach us to handle our weapons.
– Samuel Rutherford, Letters
Temptation is like a knife, that may either cut the meat or the throat of a man; it may be his food or his poison, his exercise or his destruction.
– John Owen, The Mortification of Sin
Steadfastness in believing doth not exclude all temptations from without. When we say a tree is firmly rooted, we do not say the wind never blows upon it.
– John Owen, Sermons
Mortification
For if ye live after the flesh, ye shall die: but if ye through the Spirit do mortify the deeds of the body, ye shall live. – Rom. 8.13
Let no man think to kill sin with few, easy, or gentle strokes. He who hath once smitten a serpent, if he follow not on his blow until he be slain, may repent that ever he began the quarrel. And so will he who undertakes to deal with sin, and pursues it not constantly to the death.
– John Owen, The Mortification of Sin
When sin lets us alone we may let sin alone; but as sin is never less quiet than when it seems to be most quiet, and its waters are for the most part deep when they are still, so ought our contrivances against it to be vigorous at all times and in all.
– John Owen, The Mortification of Sin
General Theology/Philosophy/Apologetics
Casting down imaginations, and every high thing that exalteth itself against the knowledge of God, and bringing into captivity every thought to the obedience of Christ. – 2 Cor. 10.5
Divine reason in Scripture, or, "thus saith the Lord," is the ground or reason of believing….[W]e are bound to believe, because of "thus saith the Lord," some things which we are not able to comprehend by our reason; for instance the trinity of persons in the Godhead; the incarnation of the Son of God; his conception of a virgin; the union of two natures, of God and man in one person. It is therefore a question tending of itself to the subversion of the Christian faith, and so of piety, which that querist there propoundeth, viz.: "Whether ought any man…to believe the deepest or highest mystery in religion, any farther, or any otherwise than as, and far as, he hath reason to judge it to be a truth?" The same writer…tells us, that "this is sound divinity, that reason ought to be every man's leader, guide and director, in his faith, or about what he is or ought to believe; and that no man ought to leap with his faith, till he hath looked with his reason, and discover what is meet to be believed, what not." If this be good divinity, then Paul's divinity is not good, Rom. 8.7; 1 Cor. 2.14; 2 Cor. 10.5.
– George Gillespie, A Treatise of Miscellany Questions
[T]he Christian system has a philosophy, and the only philosophy which satisfies both the common man and the highest intellectualism. He who gets his philosophy from the Scriptures gets it from God. It is a philosophy which involves the reality of both the infinite and the finite. God is not the Unknown and Unknowable, but the First Cause and Father of us all. Man is not a string of physical sensations, but an immortal soul. And the universe is not a mere mechanism that started without a starter, and ends, if ever, without an end—without First Cause or final cause or raison d'etre. Better than a philosophic basis of Christianity is a Christian basis of philosophy.
– David Scott Clark, The Philosophical Basis of Christianity
The Holy Scripture
The law of the Lord is perfect, converting the soul: the testimony of the Lord is sure, making wise the simple. – Ps. 19.7
The sensible phenomena connected with the life and death of Jesus may, indeed, be apprehended, but their significance in the economy of God it transcends the sphere of our faculties to discover. They are the counsels of His will, which none can penetrate but His own eternal Spirit; and unless He has revealed them, our speculations about them are little better than a sick man's dreams. They must be known by a Divine testimony, or they cannot be known at all.
James Henley Thornwell (Collected Writings, vol. 3, p. 227)
God, and of the Holy Trinity (Generally Considered)
For there are three that bear record in heaven, the Father, the Word, and the Holy Ghost: and these three are one. – 1 Jn. 5.7
God's Attributes
Remember the former things of old: for I am God, and there is none else; I am God, and there is none like me. – Isa. 46.9
Foolish men raise many grounds of quarrel with God, as if they held him subject to their accusations. First, they ask why God is offended with his creatures who have not provoked him by any previous offense; for to devote to destruction whomsoever he pleases, more resembles the caprice of a tyrant than the legal sentence of a judge; and, therefore, there is reason to expostulate with God, if at his mere pleasure men are, without any desert of their own, predestinated to eternal death. If at any time thoughts of this kind come into the minds of the pious, they will be sufficiently armed to repress them, by considering how sinful it is to insist on knowing the causes of the divine will, since it is itself, and justly ought to be, the cause of all that exists. For if his will has any cause, there must be something antecedent to it, and to which it is annexed; this it were impious to imagine. The will of God is the supreme rule of righteousness, so that everything which he wills must be held to be righteous by the mere fact of his willing it. Therefore, when it is asked why the Lord did so, we must answer, Because he pleased. But if you proceed farther to ask why he pleased, you ask for something greater and more sublime than the will of God, and nothing such can be found. Let human temerity then be quiet, and cease to inquire after what exists not, lest perhaps it fails to find what does exist. This, I say, will be sufficient to restrain any one who would reverently contemplate the secret things of God. Against the audacity of the wicked, who hesitate not openly to blaspheme, God will sufficiently defend himself by his own righteousness, without our assistance, when depriving their consciences of all means of evasion, he shall hold them under conviction, and make them feel their guilt. We, however, give no countenance to the fiction of absolute power, which, as it is heathenish, so it ought justly to be held in detestation by us. We do not imagine God to be lawless. He is a law to himself; because, as Plato says, men laboring under the influence of concupiscence 2228need law; but the will of God is not only free from all vice, but is the supreme standard of perfection, the law of all laws. But we deny that he is bound to give an account of his procedure; and we moreover deny that we are fit of our own ability to give judgment in such a case. Wherefore, when we are tempted to go farther than we ought, let this consideration deter us, Thou shalt be "justified when thou speakest, and be clear when thou judges," (Ps. 51.4).
– John Calvin, Institutes, III.XXIII.II
Secondly, they affirm that God is said properly to expect and desire divers things which yet never come to pass. "We grant," saith Corvinus, "that there are desires in God that never are fulfilled." Now, surely, to desire what one is sure will never come to pass is not an act regulated by wisdom or counsel; and, therefore, they must grant that before he did not know but perhaps so it might be. "God wisheth and desireth some good things, which yet come not to pass,"say they, in their Confession; whence one of these two things must needs follow, — either, first, that there is a great deal of imperfection in his nature, to desire and expect what he knows shall never come to pass; or else he did not know but it might, which overthrows his prescience. Yea, and say they expressly, "That the hope and expectation of God is deceived by man;" and confess, "that the strength of their strongest argument lies in this, that God hoped and expected obedience from Israel." Secondly, That he complaineth that his hope is deluded, which, being taken properly, and as they urge it, cannot consist with his eternal prescience; for they disesteem the usual answer of divines, that hope, expectation, and such like passions, which include in them any imperfection, are ascribed unto God per avnqrwpopa,qeian, — in regard of that analogy his actions hold with such of ours as we perform having those passions.
– John Owen, A Display of Arminianism
It is no reproach to the holiness of God that he suffers sin to be committed, since he knows, not only how to restrain it when he pleases, but how to make it serviceable to the designs of his own glory.
– Matthew Henry, Commentary
It is indeed true, that the brightest manifestation of divine glory finds not one genuine spectator among a hundred. Still, neither [God's] power nor his wisdom is shrouded in darkness. His power is strikingly displayed when the rage of the wicked, to all appearance irresistible, is crushed in a single moment; their arrogance subdued, their strongest bulwarks overthrown, their armour dashed to pieces, their strength broken, their schemes defeated without an effort, and audacity which set itself above the heavens is precipitated to the lowest depths of the earth. On the other hand, the poor are raised up out of the dust, and the needy lifted out of the dung hill (Ps. 113.7), the oppressed and afflicted are rescued in extremity, the despairing animated with hope, the unarmed defeat the armed, the few the many, the weak the strong. The excellence of the divine wisdom is manifested in distributing everything in due season, confounding the wisdom of the world, and taking the wise in their own craftiness (1 Cor. 3.19); in short, conducting all things in perfect accordance with reason.
– John Calvin, Institutes 1.5.8.
There is a consent and co-operation of all the persons of the Trinity in the affair of man's salvation, and their acts are commensurate one to another: whoever the Father elects the Spirit sanctifies unto obedience, and the Son redeems and sprinkles with his blood. The doctrine of the Trinity lies at the foundation of all revealed religion. If you deny the proper deity of the Son and Holy Spirit, you invalidate the redemption of the one and the gracious operations of the other, and by this means destroy the foundation of your own safety and comfort.
– Matthew Henry, Commentary 1 Peter
Christ the Mediator
For there is one God, and one mediator between God and men, the man Christ Jesus. – 1 Tim. 2.5
What bogs and miry places did Christ drain, and make fruitful gardens! what barren and thorny wildernesses did he change into pleasant paradises! He made subjects of vengeance objects of mercy.
Stephen Charnock (Complete Works, vol. 5, p. 530)
God's Providence
In whom also we have obtained an inheritance, being predestinated according to the purpose of him who worketh all things after the counsel of his own will. – Eph. 1.11
It is the character of God's people that they fear God, have an awe of him upon their hearts and make conscience of their duty to him, and this because they see his eye always upon them and they know it is their concern to approve themselves to him. When they lie at the mercy of proud oppressors they fear God more then they fear them. They do not quarrel with the providence of God, but submit to it.
– Matthew Henry, Commentary (Ecclesiastes 8)
God the Father
And because ye are sons, God hath sent forth the Spirit of his Son into your hearts, crying, Abba, Father. – Gal. 4.6
The Holy Spirit
But when the Comforter is come, whom I will send unto you from the Father, even the Spirit of truth, which proceedeth from the Father, he shall testify of me. – John 15.26
Soteriology (Genrally Considered)
But as many as received him, to them gave he power to become the sons of God, even to them that believe on his name:Which were born, not of blood, nor of the will of the flesh, nor of the will of man, but of God. – Jn. 1.12, 13
Free Will
And you hath he quickened, who were dead in trespasses and sins. – Eph. 2.1
Justification
Being justified freely by his grace through the redemption that is in Christ Jesus. – Rom. 3.24
[S]ince we are all naturally prone to hypocrisy, any empty semblance of righteousness is quite enough to satisfy us instead of righteousness itself. And since nothing appears within us or around us that is not tainted with very great impurity, so long as we keep our mind within the confines of human pollution, anything which is in some small degree less defiled delights us as if it were most pure just as an eye, to which nothing but black had been previously presented, deems an object of a whitish, or even of a brownish hue, to be perfectly white. Nay, the bodily sense may furnish a still stronger illustration of the extent to which we are deluded in estimating the powers of the mind. If, at mid-day, we either look down to the ground, or on the surrounding objects which lie open to our view, we think ourselves endued with a very strong and piercing eyesight; but when we look up to the sun, and gaze at it unveiled, the sight which did excellently well for the earth is instantly so dazzled and confounded by the refulgence, as to oblige us to confess that our acuteness in discerning terrestrial objects is mere dimness when applied to the sun. Thus too, it happens in estimating our spiritual qualities. So long as we do not look beyond the earth, we are quite pleased with our own righteousness, wisdom, and virtue; we address ourselves in the most flattering terms, and seem only less than demigods. But should we once begin to raise our thoughts to God, and reflect what kind of Being he is, and how absolute the perfection of that righteousness, and wisdom, and virtue, to which, as a standard, we are bound to be conformed, what formerly delighted us by its false show of righteousness will become polluted with the greatest iniquity; what strangely imposed upon us under the name of wisdom will disgust by its extreme folly; and what presented the appearance of virtuous energy will be condemned as the most miserable impotence. So far are those qualities in us, which seem most perfect, from corresponding to the divine purity.
– John Calvin, Institutes 1.1.2.
Whoever of you is willing to forsake your own righteousness, and to take Christ as your surety, God not only pardons, but is well pleased with you for his righteousness' sake. The same love wherewith he loves Christ, he will pour out on you ; and, O! who can wonder, when vou really think of the law-magnifying righteousness of the Lord Jesus ? It is an ocean of divine righteousness, and those who are plunged in it are, as it were, lost in divine righteousness. It is an atmosphere of light, ready to envelope the soul, so that the sinner may be covered entirely, and thus become divinely fair, and infinitely well pleasing to God.
– Robert Murray McCheyne
Sanctification
Sanctify them through thy truth: thy word is truth. – Jn. 17.7
[A godly man] esteems of all things that befall him, to be good or ill, as they further or hinder his best condition. If all be well, for that, he counts himself well, whatsoever else befalls him.
– Richard Sibbes, The Soul's Conflict and Victory Over Itself by Faith
The Fall of Man
But of the tree of the knowledge of good and evil, thou shalt not eat of it: for in the day that thou eatest thereof thou shalt surely die. – Gen. 2.17
[Man's pre-fall condition in the Garden] was a high position. But he who is least in the kingdom of God, is in a higher and better. The believer in Jesus has the sign and seal, not of his own fallible obedience, but of the perfect and perfected obedience of the Righteous One;—which is a surer title, and can never fail. And he is nourished for immortality, not by the tree of life springing from earth, but by the bread of life that came down from heaven.
Robert Smith Candlish, Studies in Genesis (Oak Harbor, WA: Logos Research Systems, Inc., 1997), Ge 2:4.
Repentance Unto Life
I tell you, Nay: but, except ye repent, ye shall all likewise perish. – Lk. 13.3
As the flood drowned Noah's own friends and servants, so must the flood of repenting tears drown our sweetest and most profitable sins.
– Thomas Brooks, Works Vol. I, 34
He that turns not from every sin, turns not aright from any one sin. Every sin strikes at the honour of God, the being of God, the glory of God, the heart of Christ, the joy of the Spirit, and the peace of a man's conscience; and therefore a soul truly penitent strikes at all, hates all, conflicts with all, and will labour to draw strength from a crucified Christ to crucify all. A true penitent knows neither father nor mother, neither right eye nor right hand, but will pluck out the one and cut off the other.
– Thomas Brooks, Works Vol. I, 33
True repentance is a continued spring, where the waters of godly sorrow are always flowing: 'My sins are ever before me,' Ps. 51.3. A true penitent is often casting his eyes back to the days of his former vanity, and this makes him morning and evening to 'water his couch with his tears.' 'Remember not against me the sins of my youth,' saith one blessed penitent; and 'I was a blasphemer, and a persecutor, and injurious,' saith another penitent. Repentance is a continued act of turning, a repentance never to be repented of, a turning never to turn again to folly. A true penitent hath ever something with him to turn from; he can never get near enough to God; no, not so near him as one he was; and therefore he is still turning and turning that he may get nearer and nearer to him, that is his chiefest good and his only happiness, optimum maximum, the best and the greatest.
Thomas Brooks, Works Vol. I, 34-35
Perseverance of the Saints
Being confident of this very thing, that he which hath begun a good work in you will perform it until the day of Jesus Christ. – Phil. 1.6
The believer is to persevere in his Christian course to the end of his life ; his work and his life must go off the stage together. This adds weight to every other difficulty of the Christian's calling: We have known many who have-gone into the field, and liked the work of a soldier for a battle or two, but soon have had enough, and came running home again; but few can bear it as a constant trade. Many are soon engaged in holy duties, easily persuaded to take up a profession of religion, and as easily persuaded to lay it down; like the new moon, which shines a little in the first part of the night, but is down before half the night be gone; lightsome professors in their youth, whose old age is wrapt up in thick darkness of sin and wickedness: O this persevering is a hard word! this taking up the cross daily, this praying always, this watching night and day, and never laying aside our clothes and armour; I mean, indulging ourselves to remit and unbend in our holy waiting on God, and walking with God, this sends many sorrowful away from Christ; yet this is the saint's duty, to make religion his everyday-work, without any vacation from one end of the year to the other.
William Gurnall, The Christian in Complete Armour
Assurance
Beloved, if our heart condemn us not, then have we confidence toward God. – 1 Jn. 3.21
God's Covenant
By so much was Jesus made a surety of a better testament. – Heb. 7.22
God's good work in us commences and keeps pace with his good-will towards us. When he remembers his covenant for us, that he may not remember our sins against us, he puts us upon remembering our sins against ourselves. And if we will but be brought to remember our ways, how crooked and perverse they have been and how we have walked contrary to God in them, we cannot but be ashamed; and, when we are so, we are best prepared to receive the honour and comfort of a sealed pardon and a settled peace.
Matthew Henry, Commentary (Ezekiel 16)
Let all believers, however tempted, however forsaken of man, hold fast the promises of God, and plead his covenant relation. In the words, "my King and my God," uttered in faith, there is more consolation than in all human reasonings.
William S. Plumer, Studies in the Book of Psalms
The Law of God (Generally Considered, Light of Nature, etc.)
Thou hast commanded us to keep thy precepts diligently. – Ps. 119.4
Concerning [creation] the pagan philosophers wretchedly blundered, and became vain in their imaginations, some asserting the world's eternity and self-existence, others ascribing it to a fortuitous concourse of atoms: thus "the world by wisdom knew not God," but took a great deal of pains to lose him. The holy scripture therefore, designing by revealed religion to maintain and improve natural religion, to repair the decays of it and supply the defects of it, since the fall, for the reviving of the precepts of the law of nature, lays down, at first, this principle of the unclouded light of nature, That this world was, in the beginning of time, created by a Being of infinite wisdom and power, who was himself before all time and all worlds.
Matthew Henry (Matthew Henry's Commentary on the Whole Bible: Complete and Unabridged in One Volume, Peabody: Hendrickson, 1994, 3.)
Consider the spiritualness and large extent of the law of God, together with the curse annexed, which forbids not only particular sins, but all the kinds, degrees, occasions, and furtherances of sin in the whole breadth and depth of it, and our very nature itself, so far as it is corrupted; for want of which we see many 'alive without the law,' Rom. 7:9, jovial and merry from ignorance of their misery, who, if they did but once see their natures and lives in that glass, it would take away that liveliness and courage from them, and make them vile in their own eyes. Men usually look themselves in the laws of the state wherein they live, and think themselves good enough, if they are free from the danger of penal statutes; this glass discovers only foul spots, gross scandals, and breakings out; or else they judge of themselves by parts of nature, or common grace, or by outward conformity to religion, or else by that light they have to guide themselves in the affairs of this life, by their fair and civil carriage, &c.; and thereupon live and die without any sense of the power of godliness, which begins in the right knowledge of ourselves, and ends in the right knowledge of God. The spiritualness and purity of the law should teach us to consider the purity and holiness of God; the bringing of our souls into whose presence will make us to abhor ourselves, with Job, 'in dust and ashes,' Job 42:6. Contraries are best seen by setting one near the other; whilst we look only on ourselves, and upon others amongst whom we live, we think ourselves to be somebody. It is an evidence of some sincerity wrought in the soul, not to shun that light which may let us see the foul corners of our hearts and lives.
– Richard Sibbes, The Soul's Conflict and Victory Over Itself by Faith
Those who measure actions by the consequences of them rather than by the divine law, will find themselves mistaken in their measures. The way of sin is down-hill; and if we cannot easily stop ourselves, much less can we stop others whom we have set a going in a sinful way.
– Matthew Henry, Commentary (Matthew 27)
The commands of the first table are not to be kept for the sake of the second; but the commands of the second are to be kept for the sake of the first. The worship and service of God are not to be performed out of respect to men; but our duty towards men is to be observed out of respect to God. For he that worships God that he might thereby recommend himself to men, is but a hypocrite and formalist; and he that performs his duty towards men without respecting God in it is but a mere civil moralist." Willard: 'God and our neighbour do not stand upon even ground, so as that these must divide our love and obedience between them; but though it may seem to be a paradox, yet it is a great truth, that God must have all our love, and yet our neighbour must have some of it too. God must have our whole heart and soul, and yet our neighbour must have our hearty and ' undissembled love.'
– William S. Plumer, The Law of God as Contained in the Ten Commandments
It is the undoubted character of every good man that he has a respect to all God's commandments. He has a respect to the command, eyes it as his copy, aims to conform to it, is sorry wherein he comes short; and what he does in religion he does with a conscientious regard to the command, because it is his duty. He has respect to all the commandments, one as well as another, because they are all backed with the same authority (James 2:10,11) and all levelled at the same end, the glorifying of God in our happiness. Those who have a sincere respect to any command will have a general respect to every command, to the commands of both testaments and both tables, to the prohibitions and the precepts, to those that concern both the inward and the outward man, both the head and the heart, to those that forbid the most pleasant and gainful sins and to those that require the most difficult and hazardous duties.
– Matthew Henry, Commentary (Ps. 119)
It is manifest, that others of them have been [engulfed] and sucked into those dangerous quicksands of Antinomian errors, by separating the Spirit from the written word. If once a man pretend the Spirit without the scriptures to be his rule, whither will not his own deluding fancies carry him, under a vain and sinful pretence of the Spirit?
– John Flavel, A Blow at the Root of Antinomianism
Because God is greater than man, his commands override all others. God's supremacy establishes the supremacy of his laws. If He is over all, so are they. If He admits no rivals, neither do they. If any authority must yield, surely it ought not to be that of Heaven. If any claims may be deferred, those of the decalogue must not. Obedience to it may be threatened and followed by imprisonment, expatriation, confiscation, and crucifixion; but still it must be rendered. Though all other governments be disobeyed, here is a government that must not be slighted.
– William S. Plumer, The Law of God as Contained in the Ten Commandments
But some may say, What is to be thought of men's dreaming that they are breaking God's commandments, e.g. profaning the sabbath-day, swearing, lying, &c. while really they are fast asleep, are not doing so, nor opening their mouths, &c.?
Ans. No doubt it is sin, and will damn thee if it be not pardoned, and washed away by the blood of Christ. For, (1.) The scripture condemns it. Hence the apostle, Jude 8 speaks of filthy dreams that defile the flesh. (2.) The consent of the heart unto sin, the delectation that it finds in it, makes a man guilty; and the soul is always a rational agent, and this consent is given to these temptations in sleep. (3.) A man when awake thinking what he doth is sinful, though upon the matter it be not, yet it is sin to him; .e.g. a man taking his own goods, which yet he thinks are another man's, is guilty of theft before God: for whatsoever is not of faith is sin. So is it in this case, (4.) As these things arise from corrupt nature, so readily they follow on some such motions that people have been taken up with when awake, or from a loose, carnal, and secure frame. They are looked on as sinful by tender consciences. (5.) As men may do something pleasing to God in a dream, so may they do something to displease him, 2 Kings 3.5. (6.) The law impressed upon the heart is designed to keep it even in sleep, Prov. vi. 22. 23. When thou sleepest, it shall keep thee. For the commandment is a lamp; and the law is light. But ye may say, What if a man has been watching against these things, praying against; them, &c. and yet in sleep falls into them? I answer, It is still sinful, in so far as the heart complies with the diabolic suggestion; and the truth is, by grace temptation is sometimes resisted in sleep, as well as when we are awake.
– Thomas Boston
It is making Christ the minister of sin, and his blood the justification of licentiousness, to hold that the gospel sets aside or relaxes the moral law.
– William S. Plumer, The Law of God as Contained in the Ten Commandments
The third argument is, That men are often accessory to these sinful dreams themselves, either, 1. By excess, disposing themselves to such inclinations; or, 2. By a loose mind, that delights in following such things throughout the day in their more reasonable meditations, and more determinate purposes; it being ordinary, that dreams follow much the constitution of the body, or the habitual strain of our practice: in which respect, men's callings, or particular employments, will run up and down before the fancy in their sleep, and so their sinful exercises also: or, 3. By not praying to God to guard against them, and neglecting to press more after mortification for that end: or, 4. By not being suitably affected with them after they are past and gone: In which cases, even the schoolmen (who are not the most rigid and tender casuists) will grant (all things being considered) sin to be ex-cotisequenti in dreams; and we suppose few fall in such dreams, who may not, in one circumstance or other, read their accession to sin therein: and tho' our frame and constitution be in itself natural, yet that it should incline us sleeping or waking to any thing sinful, that is and must be from corrupt nature, seeing it clearly speaketh the inordirateness of our natural inclination.
. . . .
The fifth argument may be taken from the extent of the law, which reacheth to the whole man outward and inward, soul, heart, mind ; and, if to the whole man, then why not to the fancy, memory, imagination? And we are sure, when spirits are made perfectly conform to the law of God, there will not be found in them any such fancy imaginable as consists with it. Besides, doth not this law oblige and always? even sleeping men (as we conceive) are under the negative precepts of it; that is, altho' they be not bound to pray and hear in their sleep, yet they are bound not to murder, nor commit adultery, &c, in their sleep; and the more renewed and holy Christians are in their ordinary walk, so are they in their dreams; and, even in this, sanctified persons differ from unrenewed ones.
. . . .
To conclude. Sure we are, this opinion is not unsuitable to the end of the law, and that absolute purity and angelical holiness God calleth for in it, namely, that not only when we are awake we are to be still with him, but that our sleep should not break our communion with him: And certainly, it is most safe for man to humble himself under the sense of his sinful nature, and the sad necessity of sinning, both waking and sleeping, he hath brought on himself, that thereby he may the better press on himself the necessity of a Mediator for righteousness; which are, the great ends and uses of the law.
– James Durham
Nothing is more opposite to looseness than the free grace of God, which teaches us, That denying all ungodliness and worldly lusts, we should live soberly, righteously, and godly in this present world. Nor can it without manifest violence be made pliable to such wicked purposes; and therefore the apostle tells us (Jude 4) that this is done by turning the grace of our God into lasciviousness . . . by a corrupt abusive interpretation, to such uses and purposes as it abhors. No such wanton, licentious conclusions can be inferred from the gospel-doctrines of grace and liberty, but by wrestling them against their true scope and intent, by the wicked arts and practices of deceivers upon them.
– John Flavel, A Strike at the Root of Antinomianism
The 1st Commandment
Thou shalt have no other gods before me. – Ex. 20.3
The 2nd Commandment
What thing soever I command you, observe to do it: thou shalt not add thereto, nor diminish from it. – Deut. 12.32
The story of the Bible, and of all ages, sheweth how prone men are to idolatry and will-worship, and what miseries ensued thereupon. Amongst other instances, we see how presently after that breach in the kingdom of David and Solomon, by Jeroboam's setting up of two calves, how suddenly they fell to idolatry, 1 Kings 13:33, seq.; 2 Chron. 13:8. So that after that, there was not one good king amongst them all, until the nation was destroyed. And so in the story of their antiquities, see how prone they were to idolatry in the wilderness. Moses doth but go up to the mount, and they fall to idolatry, cause Aaron to make a calf, and dance round about it, Exod. 32:4, seq.; Ps. 106:19. The thing is so palpable, that it need not be stood upon, that man's nature is prone to idolatry which will not raise itself up to God, but fetch God to itself, and conceive of him according to its false imaginations.
– Richard Sibbes (Works, Vol. 2, p. 287)
God loves willing worship, when we worship him willingly; but he loves not will-worship, when it is the device of our own brain how we will serve him. As if a servant or a slave must devise how his lord will be served; what impudency is this, if we consider what God is! They tyrannise over people's consciences, that equalise their own dotages, though they account them witty devices, and their own inventions with the worship of God; that jumble all together, as if conscience were equally bound to any device of their own, as to God's word.
– Richard Sibbes (Works, Vol. 3, p. 501)
Regular: such as the word of God calls for, and hath its warrant from thence. Whatsoever we do in the things of God, and what we would have looked on as acts of obedience, should be done with a respect to God's commands, and not of our own heads: obedience it is not, if it be not commanded. Men may do many seemingly good things, and place religion in them, and think they please God by them, which yet may be no true acts of obedience to him, because not according to his word. They do but obtrude a worship upon God, and fancy it will please him, because it pleaseth them: whereas, indeed, nothing is acceptable to him, but what is enjoined by him; nothing is duty, but that which hath a warrant from God for the performance of it. Men may abound in will-worship, and come short in obedience; they may do more than is enjoined them, and yet less too; much which will never be reckoned to them, as it was never required of them. You must judge of yourselves not merely by what you do, but by the ground you have for the doing of it; when God's will is the reason of it, and not the precepts of men, nor your own fancies. So much, and no more, you do for God, as you do in obedience to his command.
– Edward Veal (Puritan Sermons, Vol. 3, p. 52)
[A]fter the divulging of the gospel, the corrupters of religion did not fling off, but preserved the institutions of God, but painted and patched them up with pagan ceremonies; imposed their own dreams with as much force as the revelations of God. Thus hath the papacy turned the simplicity of the gospel into pagan pomp, and religion into politics; and revived the ceremonial law, and raked some limbs of it out of the grave, after the wisdom of God had rung her knell, and honourably interred her; and sheltered the heathenish superstitions in Christian temples, after the power of the gospel had chased the devils, with all their trumpery, from their ancient habitations. Whence should this proceed, but from a partial atheism, and a mean conceit of the divine wisdom? As though God had not understanding enough to prescribe the form of his own worship; and not wisdom enough to support it, without the crutches of human prudence.
Human prudence is too low to parallel divine wisdom; it is an incompetent judge of what is fit for an infinite majesty. It is sufficiently seen in the ridiculous and senseless rites among the heathens, and the cruel and devilish ones fetched from them by the Jews. What work will human wisdom make with divine worship, when it will presume to be the director of it, as a mate with the wisdom of God? Whence will it take its measures, but from sense, humour, and fancy; as though what is grateful and comely to a depraved reason, were as beautiful to an unspotted and infinite mind. Do not such tell the world, that they were of God's cabinet council, since they will take upon them to judge, as well as God, what is well pleasing to him? Where will it have the humility to stop, if it hath the presumption to add any one thing to revealed modes of worship? How did God tax the Israelites with making idols 'according to their own understanding,' Hosea 13:2, imagining their own understandings to be of a finer make and a perfecter mould than their Creator's; and that they had fetched more light from the chaos of their own brains, than God had from eternity in his own nature!
How slight will the excuse be, God hath not forbidden this or that, when God shall silence men with the question, Where, or when did I command this or that? There was no addition to be made under the law to the meanest instrument God had appointed in his service. The sacred perfume was not to have one ingredient more put into it, than what God had prescribed in the composition; nor was any man, upon pain of death, to imitate it; nor would God endure that sacrifices should be consumed with any other fire, than that which came down from heaven: so tender is God of any invasions of his wisdom and authority. In all things of his nature, whatsoever voluntary humility and respect to God they may be disguised with, there is a swelling of the fleshly mind against infinite understanding, which the apostle nauseates, Col. 2:18 . . . . To conclude; such as make alterations in religion, different from the first institution, are intolerable busy bodies, that will not let God alone with his own affairs. Vain man would be wiser than his maker, and be dabbling in that which is his sole prerogative.
– Stephen Charnock (Works, Vol. 2, pp. 81–83)
Let the sin of Uzza warn us all to take heed of presumption, rashness, and irreverence, in dealing about holy things, and not to think that a good intention will justify a bad action. In our communion with God we must carefully watch over our own hearts, lest familiarity breed contempt, and we think God is in any way beholden to us.
– Matthew Henry, Commentary (1 Chronicles 13)
I am not so scrupulous as to think that no images ought ever to be permitted. But since sculpture and painting are gifts of God, I wish for a pure and legitimate use of both; lest those things, which the Lord hath, conferred on us for his glory and our benefit, be not only corrupted by preposterous abuse, but even perverted to our ruin. We think it unlawful to make any visible figure as a representation of God, because he hath himself forbidden it, and it cannot be done without detracting, in some measure, from his glory. Let it not be supposed that we are singular in this opinion; for that all sound writers have uniformly reprobated the practice, must be evident to persons conversant with their works. If, then, it be not lawful to make any corporeal representation of God, much less will it be lawful to worship it for God, or to worship God in it. We conclude, therefore, that nothing should be painted and engraved but / objects visible to our eyes: The Divine Majesty, which is far above the reach of human sight, ought Hot to be corrupted by unseemly figures. The subjects of those arts consist partly of histories and transactions, partly of images and corporeal forms, without reference to any transactions. The former are of some Use in information or recollection; the latter, as far as I see, can furnish nothing but amusement. And yet it is evident, that almost all the images, which have hitherto been set up in the churches, have been of this latter description. Hence it may be seen, that they were placed there, not with judgment and discrimination, but from a foolish and inconsiderate passion for them. I say nothing here of the impropriety and indecency conspicuous in most of them, and the wanton licentiousness displayed in them by the painters and statuaries, at which I have before hinted: I only assert, that even if they were intrinsically faultless, still they would be altogether unavailing for the purposes of instruction.
– John Calvin (Institutes, Book 1, Chapter 11, Paragraph 12)
If a man come into a prince's presence undressed, unbrushed, or without his band, you may easily imagine how, when he is aware of the feathers or dirt that is about him, he is distracted ; so is the soul woefully carried off, when approaching to God; the follies of sin and vanities of the world disfigure and divert it from a close converse with Him.
– Richard Steele, A Remedy for Wandering Thoughts in the Worship of God
It is not lawful to have pictures of Jesus Christ, because his divine nature cannot be pictured at all, and because his body, as it is now glorified, cannot be pictured as it is, and because, if it do not stir up devotion, it is in vain; if it do stir up devotion, it is a worshipping by an image or picture, and so a palpable breach of the second commandment.
– Thomas Vincent
Every sovereign, as every court, has a right to regulate the manner in which petitioners shall approach. Nothing more effectually destroys all acceptableness in worship than that our fear towards God be taught by the precept of men. Isa. 29.13. Compare Matt. 15.9. Acceptable worship is therefore pure and simple, and free from superstition, pomp, and idle ceremony. All will-worship and all displays of magnificence invented by man are an offence to God. True worship, like real "beauty, when unadorned is adorned the most." We may not, therefore devise any false worship, Num. 15.37-40; nor recommend it to others, Deut. 13.6, 7, 8; nor enjoin it upon others,.Hosea 5.11; nor use it ourselves, 1 Kings 11.33; nor in any wise countenance it. Rev. 2.4.
– William S. Plumer, The Law of God as Contained in the Ten Commandments
Avoid superstition, which is a bridge that leads over to Rome. Superstition is bringing any ceremony, fancy, or innovation into God's worship, which he never appointed. It is provoking God, because it reflects much upon his honour, as if he were not wise enough to appoint the manner of his own worship. He hates all strange fire to be offered in his temple. Lev 10.1. A ceremony may in time lead to a crucifix. They who contend for the cross in baptism, why not have the oil, salt, and cream as well, the one being as ancient as the other? They who are for altar-worship, and will bow to the east, may in time bow to the Host. Take heed of all occasions of idolatry, for idolatry is devil-worship. Psalm 106.37.
– Thomas Watson (A Body of Practical Divinity, p. 340)
All holy ordinances and parts of worship, God has reserved to himself the making of them for us, saying, with respect to these, Thou shalt not make them to thyself. Men are said, in scripture, to make a thing to themselves, when they make it out of their own head, without the word of God for it. But when they make any thing according to God's word, God is said to do it, Matth. 19.6. If there be not then a divine law for what is brought into the worship and ordinances of God, it is an idol of men's making, a device of their own. And so Popery, Prelacy, ceremonies, and whatsoever is without the word, brought in God's matters, is overturned at once by his word, Thou shalt not make, be thou Pope, King, parliament, minister, private person, synod, or council.
– Thomas Boston (Works, Vol. 2, p. 139)
[D]iligence in outward worship is not to be rested in. Men may attend all their days on worship, with a juiceless heart and unquickened frame, and think to compensate the neglect of the manner, with abundance of the matter of service. Outward expressions are but the badges and liveries of service, not the service itself. As the strength of sin lies in the inward frame of the heart, so the strength of worship in the inward complexion and temper of the soul. What do a thousand services avail, without cutting the throat of our carnal affections! What are loud prayers, but as sounding brass and tinkling cymbals, without divine charity! A Pharisaical diligence in outward forms, without inward spirit, had no better a title vouchsafed by our Saviour, than that of hypocritical. God desires not sacrifices, nor delights in burn offerings. Shadows are not to be offered instead of substance. God required the heart of man for itself; but commanded outward ceremonies, as subservient to inward worship, and goads and spurs unto it. They were never appointed as the substance of religion, but auxiliaries to it. What value had the offering of the human nature of Christ been of, if he had not had a divine nature to qualify him to be the priest! And what is the oblation of our bodies, without a priestly act of the spirit in the presentation of it! Could the Israelites have called themselves worshippers of God according to his order, if they had brought a thousand lambs that had died in a ditch, or been killed at home? They were to be brought living to the altar, the blood shed at the foot of it. A thousand sacrifices killed without, had not been so valuable as one brought alive to the place of offering. One sounds sacrifice is better than a thousand rotten ones. As God took no pleasure in the blood of beasts without its relation the the antitype, so he takes no pleasure in the outward rites of worship, without faith in the Redeemer. To offer a body with a sapless spirit, is a sacrilege of the same nature with that of the Israelites when they offered dead beasts. A man without spiritual worship is dead whiles he worships, though by his diligence in the externals of it, he may, like the angel of the church of Sardis, 'have a name to live,' Rev. 3.1 What security can we expect from a multitude of dead services! What weak shields are they against the holy eye and revenging wrath of God! What man, but one out of his wits, would solicit a dead man to be his advocate or champion? Diligence in outward worship is not to be rested in.
– Stephen Charnock, Discourses Upon the Existence and Attributes of God
And if it be said man's soul cannot be painted, but his body may, and yet that picture representeth a man; I answer, it doth so, because he has but one nature, and what representeth that representeth the person; but it is not so with Christ: his Godhead is not a distinct part of the human nature, as the soul of man is (which is necessarily supposed in every living man), but a distinct nature, only united with the manhood in that one person, Christ, who has no fellow; therefore what representeth him must not represent a man only, but must represent Christ, Immanuel, God-man, otherwise it is not his image. Beside, there is no warrant for representing him in his manhood; nor any colourable possibility of it, but as men fancy; and shall that be called Christ's portraiture? would that be called any other man's portraiture which were drawn at men's pleasure, without regard to the pattern? Again, there is no use of it; for either that image behoved to have but common estimation with other images, and that would wrong Christ, or a peculiar respect and reverence, and so it sinneth against the commandment that forbiddeth all religious reverence to images, but he being God and so the object of worship, we must either divide his natures, or say, that image or picture representeth not Christ.
– James Durham
We are no more at liberty to entertain loose opinions, however popular or plausible, than we are to indulge in loose practices, because they are common or agreeable. We have no more right to modify or alter the principles of church government, as learned from the revealed will of God, than we have to change the objects of religious worship. The Bible tells what elements shall be used both in baptism and the Lord's supper. It has declared one day in seven to be holy time ; and all attempts to introduce into the church more holy days, or more elements in the sacraments, are as truly offensive to God as idol worship itself.
– William S. Plumer, The Law of God as Contained in the Ten Commandments
[I]f idolaters adorn all their places of worship with pictures, images and idols, that they might feign the presence of a God; I ought to act faith particularly upon the real presence of the immense and omnipresent God.
– John Owen
There is superstition and will-worship; that is, whatever (though not idolatry) is brought into religion as a part of it, which God has not appointed in his word. The command says, Thou shalt not make, &c. that is, but thou shalt receive the worship and ordinances as God hath appointed them, and not add to them or men's inventions, Deut. iv. 2. As irreligion regards not God's ordinances, so superstition brings in others; by irreligion men take away from the ordinances of God, by superstition they add to them. Both are hateful to God.
– Thomas Boston (The Doctrine of the Christian Religion, pp. 152-153)
It is sad indeed, because it is sinful, when we introduce will-worship into God's service. Col.2.18-23. If penances, pilgrimages, postures in worship, days and times are laid before us as matters to be conscientiously observed, it is mere superstition to yield to such demands.
– William S. Plumer, The Law of God as Contained in the Ten Commandments
See the goodness of God to our nation, who hath brought us out of mystical Egypt, delivering us from popery, which is Romish idolatry, and hath caused the light of his truth to break forth gloriously among us. In former times, and more lately in the Marian days, England was overspread with idolatry,—we worshipped God after a false manner; that is idolatry, not only to worship a false God, but the true God in a false manner, this was our case formerly;—we had purgatory, indulgences, the idolatrous mass, the scriptures locked up in an unknown tongue, invocation of saints and angels, image worship. Images are teachers of lies, Hab. 2.18. Wherein do they teach lies? Because they represent God in a bodily shape, whereas he cannot be seen, Deut. iv. 12., " But saw no similitude, only ye heard a voice." Quod invisibile est, pingi nun potest, Am Br. God cannot be pictured out by any finger; you cannot picture the soul being a spirit, much less God, Isa. 40.18, "To whom then will ye liken God?" The Papists say, they worship God by the image; which hath a great absurdity in it, for if it be absurd to bow down to the picture of a king, when the king himself is present, then much more to bow down to the image of God, when God himself is present, Jer. 23.24. What is the popish religion, but a bundle of ridiculous ceremonies?
– Thomas Watson
All superstition is based upon ignorance more or less gross. Minds not capable of close and just discrimination are peculiarly liable to it. A carnal state of the heart works up the imagination, and the fleshly mind seizes with great vigour upon its own conceptions. When one has not been made wise by God's word, and the affections become highly excited, plausible pretences are sufficient to mislead. Once enlisted in the cause of superstition, self-love causes persistence in it. Having some persuasion that holiness is essential, and the natural heart rising in opposition to the requirements of God's law, the excited mind perversely seeks out some method whereby to delude itself into the persuasion that it is holy. The growth of superstition is by a very gradual process. Its whole history is written in three words, little by little. The only sure defence against it is the true knowledge and genuine love of God, accompanied by a firm determination to do what he commands, to worship as he directs, and to follow human devisings in nothing.
– William S. Plumer, The Law of God as Contained in the Ten Commandments
[It is forbidden] religiously abstaining from any thing which God does not require us so to abstain from. Men will have their ordinances as God has his; and O how hard is it to keep men from religious inventions of their own! Col. 2.20, 21. This is sinful, in itself, religiously binding up ourselves where God has left us free, as if that could be acceptable service to God, which, like Jereboam's feast-day, 1 Kings 12. ult. is deivsed of our own heart. But much more is it so when it justles out plain commanded duty, Matth. 15.5, 6. Such is the withdrawing from the public ordinances dispenses by Christ's sent servants lawfully called, and not mixed with men's inventions.
– Thomas Boston
The New Testament plainly discourages the attempt to fill up the calendar with holidays. Gal. 4.9-11; Col. 2.16-23. Even days of fasting or thanksgiving are not holy days; but they are a part of secular time voluntarily devoted to God's service. And if we are to perform these things at all, we must take some time for them. Yet none but God can sanctify a day so as to make it holy. The attempt to do this was one of the sins of Jeroboam. 1 Kings 12.33. If the clause, Six days shalt thou labour, is merely permissive, it is still enough for us. For who dare take away the liberty which God has here given us?
– William S. Plumer, The Law of God as Contained in the Ten Commandments
1st, The making any representation or image of God inwardly in our mind, all carnal imaginations of him, as to conceive of him like a reverend old man, &c. Acts xvii. 29. for God is the object of our understanding, not our imagination, being invisible. This is mental idolatry, which the best are in hazard of.
2dly, The making any outward representation of God by any image. Remarkable is the connection of the first and second command, Thou shalt have no other gods before me: Thou shalt not make unto thee any graven image, &c. It is impossible to get any bodily likeness that can truly represent God as he is ; and therefore men that, over the belly of reason and God's own will, will needs have representations of God, are fain to betake themselves to images of some corruptible thing, the very thing condemned in the Heathens, Rom. i. 23. And therefore it is abominable imagery, and highly injurious to the great God, to represent him any manner of way. Such abominations are the representing of God by a fun shining with beams, with the name JEHOVAH in it or over it, as in several Bibles: the representing of the Father by an image of an old man ; the Son by that of a lamb, or a young man ; or the Father by a large shining sun, the Son by a lesser sun shining, and the Holy Ghost by a dove, as in some great Bibles from England. It is lamentable to think how frequent of late the blasphemous pictures of Christ hanging on the cross are grown among Protestants, by Rome's art no doubt, to sit the nations for their idolatry. All these are directly contrary to God's word, Is 40.18. Deut.4.5.—Iq.Though Christ be man, yet he is God too, and therefore no image can nor may represent him. Yea, what image can there be of his body now, seeing he never sat for it ? He is now glorified, and so cannot be pictured as he is even in his human nature. There is nothing more ready to beget mean thoughts of Christ, Hab. 2.18.; and if it should stir up devotion, that is worshipping by an image, which is idolatry here forbidden.
3dly, The having of these images, though we do not worship them. For if it be a sin in itself to make them, how can they be innocent that keep them? Deut. 7.5. It is a strange inconsistency in some to pretend to abhor images, and yet themselves will keep them. They may be a snare to others, and therefore should be removed, blotted or torn out of books, if in them. For their very being is an injury to the great, invisible, and incomprehensible Majesty.
– Thomas Boston
What then are we to say of pictures of Christ? First of all, it must be said that we have no data whatsoever on the basis of which to make a pictorial representation; we have no descriptions of his physical features which would enable even the most accomplished artist to make an approximate portrait. In view of the profound influence exerted by a picture, especially on the minds of young people, we should perceive the peril involved in a portrayal for which there is no warrant, a portrayal which is the creation of pure imagination. It may help to point up the folly to ask: what would be the reaction of a disciple, who had actually seen the Lord in the days of his flesh, to a portrait which would be the work of imagination on the part of one who had never seen the Saviour? We can readily detect what his recoil would be. No impression we have of Jesus should be created without the proper revelatory data, and every impression, every thought, should evoke worship. Hence, since we possess no revelatory data for a picture or portrait in the proper sense of the term, we are precluded from making one or using any that have been made.
Secondly, pictures of Christ are in principle a violation of the second commandment. A picture of Christ, if it serves any useful purpose, must evoke some thought or feeling respecting him and, in view of what he is, this thought or feeling will be worshipful. We cannot avoid making the picture a medium of worship. But since the materials for this medium of worship are not derived from the only revelation we possess respecting Jesus, namely, Scripture, the worship is constrained by a creation of the human mind that has no revelatory warrant. This is will-worship. For the principle of the second commandment is that we are to worship God only in ways prescribed and authorized by him. It is a grievous sin to have worship constrained by a human figment, and that is what a picture of the Saviour involves.
Thirdly, the second commandment forbids bowing down to an image or likeness of anything in heaven above, or in the earth beneath, or that is in the water under the earth. A picture of the Saviour purports to be a representation or likeness of him who is now in heaven or, at least, of him when he sojourned upon the earth. It is plainly forbidden, therefore, to bow down in worship before such a representation or likeness. This exposes the iniquity involved in the practice of exhibiting pictorial representations of the Saviour in places of worship. When we worship before a picture of our Lord, whether it be in the form of a mural, or on canvas, or in stained glass, we are doing what the second commandment expressly forbids. This is rendered all the more apparent when we bear in mind that the only reason why a picture of him should be exhibited in a place is the supposition that it contributes to the worship of him who is our Lord. The practice only demonstrates how insensitive we readily become to the commandments of God and to the inroads of idolatry. May the Churches of Christ be awake to the deceptive expedients by which the archenemy ever seeks to corrupt the worship of the Saviour.In summary, what is at stake in this question is the unique place which Jesus Christ as the God-man occupies in our faith and worship and the unique place which the Scripture occupies as the only revelation, the only medium of communication, respecting him whom we worship as Lord and Saviour. The incarnate Word and the written Word are correlative. We dare not use other media of impression or of sentiment but those of his institution and prescription. Every thought and impression of him should evoke worship. We worship him with the Father and the Holy Spirit, one God. To use a likeness of Christ as an aid to worship is forbidden by the second commandment as much in this case as in that of the Father and Spirit.
– John Murray
The 3rd Commandment
Thou shalt not take the name of the Lord thy God in vain; for the Lord will not hold him guiltless that taketh his name in vain. – Ex. 20.7
God would preserve in the people's minds a reverence for his own institutions, and teach us not to profane nor abuse any thing whereby God makes himself known, as those did who invented to themselves (for their common entertainments) instruments of music like David, Amos vi. 5. It is a great affront to God to jest with sacred things, particularly to make sport with the word and ordinances of God, or to treat them with lightness, Matt. xxii. 5. That which is God's peculiar must not be used as a common thing.
– Matthew Henry, Commentary
The 4th Commandment
Remember the sabbath day, to keep it holy. – Ex. 20.8
What a riddle is this to most people, to tell them of spending the strength of their bodies in prayer, or hearing of the Word, or sanctifying a Sabbath; they think the Sabbath is a time of rest. I confess it is a time of rest from an outward labour, but it is a time of spending strength in a spiritual way; and those that shall worship God aright on the Sabbath, will find it a spending of a great deal of strength, and blessed is that strength that is spent in the worship of God rather than in  the ways of sin, as most  spend their strength. If God gives thee a heart to spend thy strength in his worship, thou mayest think thus, "Lord thou mightest have left me to have spent my strength in sin, how much better is it spent in the worshipping of thy Name."
– Jeremiah Burroughs, "Gospel Worship"
Delight in God is a gospel frame; therefore the more joyful, the more spiritual: "The sabbath is to be a delight;" not only in regard of the day, but in regard to the duties of it (Isa. 54.13); in regard of the marvellous work he wrought on it; raising up our blessed Redeemer on that day, whereby a foundation was laid for the rendering our persons and services acceptable to God (Ps. 118.24); "This is the day which the Lord hath made, we will be glad and rejoice in it." A lumpish frame becomes not a day and a duty, that hath so noble and spiritual a mark upon it.
– Stephen Charnock, Discourses Upon the Existence and Attributes of God
The observance of the uncommanded holy-days is ever found to interfere with the due sanctification of the Lord's-day. Adding to the appointments of God is superstition; and superstition has ever been found unfriendly to genuine obedience. Its [adherents], like the Jews of old, have ever been found more tenacious of their own inventions, of traditionary dreams, than of God's revealed code of duty. Accordingly, there is perhaps no fact more universal and unquestionable, than that the zealous observers of stated fasts and festivals are characteristically lax in the observance of that one day which God has eminently set apart for himself, and on the sanctification of which all the vital interests of practical religion are suspended.
– Samuel Miller, "Manual of Presbytery," p. 133
It is just with God to deprive those of the benefit and comfort of sabbaths and solemn feasts who have not duly valued them, nor conscientiously observed them, but have profaned them, which was one of the sins that the Jews were often charged with. Those that have seen the days of the Son of man, and slighted them, may desire to see one of those days and not be permitted, Luke 17:22.
– Matthew Henry, Commentary (Lamentations 2)
God would have us upon the Sabbath rest from all other works, that we may be free to converse with him. Therefore it is so much the more inexcusable if we have nothing else to do , [if we should] deny to converse with God as he requireth of us. If a friend should come to your house to converse with you, and he should know you have no business to take you up, yet you will scarce see him, or spend a little time with him, will he not take it ill? If indeed you could have such an excuse that your business is extraordinary, though your time be less you spend with him, it would not be so ill taken; but when he knows you have nothing to do, and yet you deny time to converse with him, will not this be taken for a slighting him? Thus you deal with God; Had you indeed great occasions and business to do upon that day, though you did not so converse with God in holy duties, it were another matter. God might accept of mercy rather than sacrifice. But when he shall appoint you a day to rest, wherein you have nothing to do but converse with him, yet then to deny it, this is a slighting of the Majesty of God.
– Jeremiah Burroughs, An Exposition of the Prophecy of Hosea
The conscionable keeping of the Sabbath is the mother of all Religion, and good discipline in the Church. Take away the Sabbath, and let every man serve God when he listeth, and what will shortly become of religion and that peace and order which God will have to be kept in his Church? The Sabbath day is God's Market day, for the week's provision, wherein he will have us to come unto him, and buy of him without silver or money, the bread of Angels, and water of life, the wine of the Sacrament, and Milk of the Word to feed our fouls; tried gold, to enrich our faith; precious eye-salve to heal our spiritual blindness; and the white raiment of Christ's righteousness, to cover our filthy nakedness. He is not far from true piety, who makes conscience to keep the Sabbath day, but he who can dispense with his conscience to break the Sabbath for his own profit or pleasure, his heart never yet felt, what either the law of God, or true Religion meaneth. for of this Commandment may that speech of St. James be verified, "He that faileth in one is guilty of all.
– Lewis Bayly, (The Practice of Piety, pp. 229, 230)
[I]t is a very great trouble to all that love God to hear his ordinances mocked at, and particularly his sabbaths. Zion calls them her sabbaths, for the sabbath was made for men; they are his institutions, but they are her privileges; and the contempt put upon sabbaths all the sons of Zion take to themselves and lay to heart accordingly; nor will they look upon sabbaths, or any other divine ordinances, as less honourable, nor value them less, for their being mocked at.
– Matthew Henry, Commentary (Lamentations 1)
[W]herever the Lord's Day is presumptuously ignored or defiantly desecrated and people absent themselves from corporate worship of the living and true God, there true religious knowledge wanes and, without that, idolatry, immorality, and disrespect for law are spawned (see Rom. 1.18-32). In short, the result of Sabbath neglect on a wide scale is inevitably national and international paganism and moral perversity.
– Dr. Robert Reymond, Contending for the Faith
Men think that neglecting and slighting of ordinances, profaning of the Lord's day and holy things, is no such great evil, if it be an evil at all; but there is hardly any thing kindles the wrath of God hotter than the casting off, despising, and abusing the ordinances and mediums appointed of God, for his worship, our good, comfort, and salvation. Their sins here of this nature put God into fury, which is more than anger or wrath; upon pouring out of fury, and such pouring out as to consume them. Heb. 10.25—27, he tells you of some that did forsake the assemblies, cast off the ordinances of God, which was a wilful and provoking sin, excluding mercy, and hastening judgment and fierce indignation, which should destroy. When God in his infinite wisdom and mercy hath condescended to man's weakness, given him ordinances and mediums wherein he will be worshipped, and through which he will do good to the creature, and now the foolish creature to neglect, despise, or profane them, this pierces God's heart, and transforms his patience into fury, and puts him into ways of destruction.
– William Greenhill, (An Exposition of the Prophet Ezekiel, p. 499)
Was it the will of God that his glorious rest from the work of creation, wherein the Eternal Mind took a complacency in the copies of its own wisdom, and the products of its own power, should be thus commemorated here on earth, by a holy rest every seventh day from worldly employments, while it is continually celebrated in heaven, by those blessed spirits there, who rest not day nor night from praising him? And will you in effect tell him to his face, that [the Sabbath] does not deserve such a frequent and solemn commemoration? And is the will and law of the eternal God nothing with you? Is his authority and honour of so small account in your eyes? Shall the service of the flesh, to which you are not debtors, be preferred before the service of your God, to whom you are infinitely indebted?
– Matthew Henry, A Serious Address to Those Who Profane the Lord's Day
He who never works is unfitted for worship. Work is to pave the way for worship, as worship is to fit us for work….The more diligent and faithful we are in performing the duties of the six days, the more shall we value the rest of the seventh.
– A.W. Pink
[Saturday] Evening preparation will be like the tuning of an instrument, it will fit the heart better for the duties of the ensuing Sabbath.
– Thomas Watson
[W]e love the Lord's day, because it is his. Every hour of it is dear to us – sweeter than honey, more precious than gold. It is the day He rose for our justification. It reminds us of His love, and His finished work, and His rest. And we may boldly say that that man does not love the Lord Jesus Christ who does not love the entire Lord's day.
– Robert Murray M'Cheyne
[The Sabbath] is a day which God hath seen fit to usher in with a memento in the Fourth Commandment, "Remember that thou keep holy the Sabbath day." As if the Lord should have said, "I know your frailty, that you have slippery and treacherous memories, and possibly may, yea certainly will forget some, nay many other things, in which you are concerned, but let this be fastened as a nail in a sure place, be sure to think of this, to be mindful of this. I charge and command you to remember it. Remember the Sabbath day before it comes, so as to rejoice in the thoughts of it, to long for it, and to prepare for it, that upon the day of praise you may have on your garments of praise, souls in a right frame, and remember to sanctify and keep it holy when it is come."
– Samuel Slater
Constraint makes a thing easy in its own nature, to become toilsome; love makes a difficult thing easy. He that is banished his native country, thinks every step tedious: let his own will call him forth, his travel is pleasant; else men would not cross the seas to see fashions. There was a man so well affected to his own city, that in fifty years he never went a league out of it; as if, like a fish, he must needs die if taken out of his own element. Not long after his luck was to commit an offence; whereof being convicted, and liable to severe punishment, the favouring judge, intending to mitigate it, because this was his first error, confined him on the pain of death to the limits of that city. Now what was to his opinion formerly a delight, becomes a bondage and vexation; nothing in the city pleaseth him, all his desire is to gad abroad. How many miles can we ride and run in a day to see one beast pursue another! The unevenness of the way, the uncertainty of the weather, troubles us not, because we have a love to the sport. If the charge of a superior commands us to measure over so many miles, we soon complain of weariness. The sabbath finds many in the fields, walking to the neighbour villages, for wanton delights. If they were commanded to travel so far to church, and to serve God, they would say, with Jeroboam, it was too long a journey. All negligence in good things is from the [lack] of love.
– Thomas Adams, An Exposition Upon the Second Epistle General of St. Peter
It is not too much to say that the prosperity or decay of organized Christianity depends on the maintenance of the Christian Sabbath. Break down the fence which now surrounds the Sunday, and our Sunday schools will soon come to an end. Let in the Hood of worldliness and pleasure-seeking on the Lord's Day, without check or hindrance, and our congregations will soon dwindle away. There is not too much religion in the land now. Destroy the sanctity of the Sabbath, and there would soon be far less. Nothing in short, I believe, would so thoroughly advance the kingdom of Satan as to withdraw legal protection from the Lord's Day. It would be a joy to the infidel; but it would be an insult and offense to God . . . . I am no Pharisee. Let no hard-working man who has been confined to a close room for six weary days, suppose that I object to his taking any lawful relaxation for his body on the Sunday. I see no harm in a quiet walk on a Sunday, provided always that it does not take the place of going to public worship, and is really quiet, and like that of Isaac (Gen. 24.63). I read of our Lord and His disciples walking through the cornfields on the Sabbath Day. All I say is, beware that you do not turn liberty into license — beware that you do not injure the souls of others in seeking relaxation for yourself — and beware that you never forget you have a soul as well as a body . . . . I am no enthusiast. I want no tired laborer to misunderstand my meaning, when I bid him to keep the Sabbath holy. I do not tell anyone that he ought to pray all day, or read his Bible all day, or go to church all day, or meditate all day, without let or cessation, on a Sunday. All I say is, that the Sunday rest should be a holy rest. God ought to be kept in view; God's Word ought to be studied; God's House ought to be attended; the soul's business ought to be specially considered; and I say that everything which prevents the day being kept holy in this way, ought as far as possible to be avoided.
– J.C. Ryle
Consider, sirs, you are God's creatures, and the work of his hands; you are his reasonable creatures, the priests of the visible creation, the collectors of his praises, to gather them in from the inferior creatures, which do all praise him objectively, and to pay them in by actual adorations. For this noble purpose you were endued with noble powers, those of reason; you were taught more than the beasts of the earth, and were made wiser than the fowls of heaven. All the supports and comforts of your lives are likewise the creatures of God's power, and the gifts of his providence; so that you are bound both in duty and gratitude to serve and praise him. And dare you then prostitute that time [Lord's Day] to the world and the flesh which is consecrated to the honour of your great Lord, the author of your beings, the protector of your lives, and the giver of all your comforts? You do thus in effect say to the Almighty, "Depart from us, we desire not the knowledge of thy ways," like those impudent sinners, Job 21.14. And "do ye thus requite the Lord, oh foolish creatures and unwise?" Oh faithless creatures and unjust?
– Matthew Henry
[W]e love the Lord's day, because it is his. Every hour of it is dear to us – sweeter than honey, more precious than gold. It is the day He rose for our justification. It reminds us of His love, and His finished work, and His rest. And we may boldly say that that man does not love the Lord Jesus Christ who does not love the entire Lord's day.
– Robert Murray M'Cheyne
Social worship cannot be conducted without the appointment of a stated day; and what more reasonable than that the Divine authority, who is the object of this worship, should meet this necessity, by Himself fixing the day for all mankind? And even for the cultivation of our individual devotion, a periodical season is absolutely necessary to creatures of habit and of finite capacities, like us. What is not regularly done will soon be omitted; for periodical recurrence is the very foundation of habit. Unless these spiritual thoughts and exercises were attached to some certain season, they would inevitably be pushed out of the minds of carnal and sensuous beings like man, by the cares of this world. Now when it is our duty to perform a certain work, it is also our duty to employ all the necessary means for it. The question, whether the Sabbath command is moral or positive, seems therefore, to admit of a very simple solution. Whether one day in six., or one in eight, might not have seemed to the Divine wisdom admissible for this purpose; or which day of the seven, the first or last, should be consecrated to it, or what should be the particular external ceremonies for its observance; all these things, we freely admit, are of merely positive institution, and may be changed by the Divine Legislator. But that man shall observe some stated, recurring period of religious worship, is as much a dictate of the natural reason and conscience, as immediate a result of the natural relations of man to God, as that man shall worship his God at all. And no reason can be shown why this original moral obligation was more or less stringent upon the Israelites of the Mosaic period, than on men before or since them. If the ground of the Sabbath institution, in the moral relations existing by nature, is universal and perpetual, is it not reasonable to expect the precept to be so also?
– R.L. Dabney
Reading the Holy Bible and other good books, repetition, catechising, singing psalms, praying, praising, profitable discourse; these are the exercises which, if they meet with a heart piously and devoutly affected toward God, will furnish us with such a pleasing variety of good works, to fill up those hours of the Lord's day which are not spent in public worship, or in works of necessity and mercy, and will turn so much to our advantage that we shall complain of nothing so much as the speedy returns of the Sabbath evening, and the shadows thereof.
– Matthew Henry
Covetousness needs neither clock nor bell to waken it; its own desires will not allow it to take rest. Want does not break so many sleeps for provision the next day, as abundance doth for increase. Where shall we find men thus eager after spiritual wealth, which alone can make them happy? We seek for that, as the Israelites did for Canaan, when they made forty years' travel of a forty days' journey: so softly do we pursue the blessings of our eternal peace, that if we can reach home by that time we come to threescore, we think it time enough. But in the pursuit of profit and pleasure, we drive Jehu's pace, as if we were mad. Under religion men travel a pack-horse motion, as if they were weary of their burden; but run after vanity, like horses with an empty coach. We would be strong at twenty, rich at thirty, we would be wise at forty, but to be holy we can tarry till fifty. When our own business wakens us, what common day in the week finds us tardy? But on the sabbath, when God's special service calls us up, we take our ease, and make bold to lie in bed. Nature and our vain misconstruction of God hath taught us, that if any work be left undone, it shall be his.
– Thomas Adams, (An Exposition Upon the Second Epistle General of St. Peter, pp. 508, 509)
The very fact that this precept found a place in the awful "ten words," is of itself strong evidence that it is not a positive and ceremonial, but a more; and perpetual statute. Confessedly, there is nothing else ceremonial here. An eminent distinction was given as we saw, Lect. 30th to the subjects of these ten commands, by the mode in which God delivered them. How can it be believed that this one ceremonial precept has been thrust in here, where all else is of obligation as old, and as universal as the race? This is strengthened also by the reflection that the ground first assigned in Genesis, and here repeated for its enactment, is in no sense Jewish or national. God's work of creation in six days, and His rest on the seventh, have just as much relation to one tribe of Adam's descendants as to another. Note the contrast: that, in many cases, when ceremonial and Jewish commands are given, like the Passover, a national or Jewish event is assigned as its ground, like the exodus from Egypt.
– R.L. Dabney
[The Sabbath] is holy of the Lord and honourable: and he has put blessings into it, which he has encouraged us to expect from him in the religious observance of that day. It is the day which the Lord hath made, let not us do what we can to unmake it. He has blessed, honoured, and sanctified it, let not us profane it, dishonour it, and level that with common time which God's blessing has thus dignified and distinguished.
– Matthew Henry
We love God's day. We do not only keep a sabbath, but love a sabbath. 'If thou call the sabbath a delight' (Isaiah 58.13). The sabbath is that which keeps up the face of religion amongst us; this day must be consecrated as glorious to the Lord. The house of God is the palace of the great King, on the sabbath God shows Himself there through the lattice. If we love God we prize His day above all other days. All the week would be dark if it were not for this day; on this day manna falls double. Now, if ever, heaven gate stands open, and God comes down in a golden shower. This blessed day the Sun of righteousness rises upon the soul. How does a gracious heart prize that day which was made on purpose to enjoy God in!
– Thomas Watson, All Things for Good
I confess this rule is not absolute as unto all seasons and occasions: there may be a time wherein the observation of the Sabbath must give place to the pulling an ox or an ass out of a pit; and on all such occasions the rule is, that mercy is to be preferred before sacrifice. But, in the ordinary course of our walking before God, faith will take care that a due attendance unto all duties of religion be preferred to all the occasions of this life; they shall not be shuffled off on trifling pretences, nor cast into such unseasonable seasons as otherwise they will be. There also belongs unto that weanedness from this world, which is necessary unto an eminency in degrees of humiliation and repentance, watching unto prayer.
– John Owen, Gospel Grounds and Evidences of the Faith of God's Elect
[T]he observance of the sabbath is indeed the hem and hedge of the whole law; where no conscience is made of that, farewell both godliness and honesty; for, in the moral law, it stands in the midst between the two tables.
– Matthew Henry
Among all the visible creatures, it is man's peculiar excellency, that he is capable of considering and worshipping his Maker, and was made for that purpose; yet being composed of the dust of the earth and the breath of God, a body and a soul, the necessities of that meaner part, while we are in this life, employ as much, and take up a great part of our little time. And in this regard God hath wisely and graciously set apart a day for us, one of each seven, to be appropriate to that our highest employment, the contemplating and solemn worshipping of his Majesty. This is the scope of this precept.
– Robert Leighton, Works
[T]he chief reason of [the institution of the Sabbath day] seems to be that of recalling mankind to a reflection upon the goodness of God in the creation. For God, who knoweth what is in man, could not be ignorant that without such an injunction, everyone would eagerly pursue their several projects and employments without stopping to reflect; leaving their piety behind them, and ending their course at downright atheism.
– John Brailsford
The sabbath is a day of special concernment to God and his people. "I gave them my sabbaths, to be a sign between me and them." As the rainbow is a sign of special concernment between God and the world, so is the sabbath. It is an argument and evidence that God looks upon them as his people, where his sabbath is, and that they acknowledge God their God, who keep his sabbaths; by it God keeps alive the memory of his glorious, great, and gracious works, and by it the people are brought to glorify and magnify his name for those works; by it he distinguisheth his people from the profane, and by it they distinguish him from the idol gods; in it the Lord sanctifies his people, and they in it do worship him; it is the day wherein they meet, visit, and make each other cheerful and glorious. Let us have more honourable thoughts of the sabbath, and not think it concerns not us; if we be his people, it is still a "sign" between him and them.
– William Greenhill, An Exposition of the Prophet Ezekiel
If God by his grace incline our hearts to keep the law of the fourth commandment, it will be an evidence of a good work wrought in us by his Spirit. If we sanctify God's day, it is a sign between him and us that he has sanctified our hearts: hence it is the character of the blessed man that he keepeth the sabbath from polluting it, Isa. 56.2.
– Matthew Henry
[One] glorious end for which God made the Sabbath was that the Sabbath on Earth might be a type and figure of the Sabbath in Heaven. That in this initial and imperfect Sabbath on earth, we might see (though in a glass darkly) what the Saints and Angels are doing in Heaven without ceasing; that we might peep into Heaven before we come thither, and long and wait for that eternal Sabbath. A day wherein God bows the Heaven and comes down, and offers himself in wayes of sweet and friendly Communion with his people, Exod. 20.23.
– Thomas Case, Supplement to Exercises at Cripplegate
Disobedience, even in a small matter, is very provoking. (2.) God is jealous for the honour of his sabbaths. If walking out on the sabbath to seek for food was thus reproved, walking out on that day purely to find our own pleasure cannot be justified.
– Matthew Henry
When we are to attend upon God in solemn ordinances it concerns us to sanctify ourselves, and to get ready beforehand. Wandering thoughts must be gathered in, impure affections abandoned, disquieting passions suppressed, nay, and all cares about secular business, for the present, dismissed and laid by, that our hearts may be engaged to approach unto God.
– Matthew Henry
This is a fit thought for the sabbath day, morning: -"Now I rest from the world; how shall I rest from it eternally? Now I deal with God invisibly, but one day visibly."-They who love eternal rest, will certainly love the sabbath.
– John Lightfoot
Herein he receives the clearest apprehension of all his duties and of all his privileges – his most delightful views of the Divine character, and his most lively devotion to the Divine service – his chief supplies of strength to overcome temptation, and his most cheering anticipations of an evangelical rest.
Herein he is called off from the seducing world – he is roused from the insinuating sloth – he is warned of the besetting sin – he is reminded of the forgotten duty – he is led away from the slippery path and his feet, shod anew, with the preparation of the Gospel of peace, are helped forward in the journey to his heavenly home: and it is a sign of what has been preparing for him there, where his mind and heart shall be consummated in that holiness which is the image of the heavenly Adam, and so enter in its comprehensive powers on the fulness of his everlasting joy; there, where God shall unveil to him his face, and disclose the full beams of his unutterable love; and where the Lamb, the glory of God, and the light of Heaven, shall illuminate all his thoughts, quicken all his affections, feed him with living bread, lead him to fountains of living waters, and awaken his new song of never-ending praise.
– Rev. John Crosthwaite
The Sabbath day is a market day, a harvest day for the soul; it is an opportunity,—it is a time fitted for the doing of that which cannot be done at all, or not so well done, at another time: now, if this day be suffered to run waste, and other business minded than that which is the proper work of the day, our souls cannot but be miserably impoverished and neglected, and the vineyards we are made keepers of cannot but be like the field of the slothful, and the vineyard of the man void of understanding.
– Matthew Henry
[T]he Sabbath-day is a type of the eternal Sabbath which we shall keep for ever in Heaven; and shall not I think of my eternal sabbath upon the Sabbath? shall not I be much in Heaven when I am keeping a rest upon earth, that represents my eternal rest in Heaven? let us upon our day of rest meditate much upon our eternal rest. Oh let us upon our Sabbath-day meditate upon the Everlasting Sabbath which we shall keep with God Almighty, the Father, Son and Holy Ghost, for ever in Heaven.
– Edmund Calamy, "The Art of Divine Meditation"
God bids men pray in their family, they live in the total neglect of it: he bids them sanctify the sabbath, they follow their pleasures on that day: God bis them abstain from the appearance of sin, they do not abstain from the act; they live in the act of revenge, in the act of uncleanness. This is an high contempt of God; it is rebellion, and rebellion is as the sin of witchcraft.
– Thomas Watson
Rest assured, that a Christian, having the love of God written in his heart, and denying the Sabbath a place in its affections, is an anomaly that is no where to be found. Every Sabbath image, and every Sabbath circumstance, is dear to him. He loves the quietness of that hallowed- morn. He loves the church-bell sound, which summons him to the house of prayer. He loves to join the chorus of devotion, and to sit and listen to that voice of persuasion which is lifted in the hearing of an assembled multitude. He loves the retirement of this day from the din of worldly business, and the inroads of worldly men. He loves the leisure it brings along with it— and sweet to his soul is the exercise of that hallowed hour, when there is no eye to witness him but the eye of heaven— and when in solemn audience with the Father, who seeth him in secret, he can, on the wings of celestial contemplation, leave all the cares, and all the vexations, and all the secularities of an alienated world behind him.
O how is it possible, that a man can be under the dominion of a principle of piety, who does not love that day which brings round to piety its most precious opportunities ? How is it possible, that he can wear the character of a religious being, if the very day which offers him the freest time for the lessons and the exercises of religion, is spent in other exercises or idly suffered to roll over his head in no exercise at all ? How is it possible, that there can exist within him any honest care of his eternity, if the best season for carrying on, without disturbance, the preparations of eternity, pass away in disgust and in weariness? How is it possible, with all the tenderness of his instinctive nature for the members of his family, that there ban be one particle of tenderness for their souls, if this day run on at large from all the restraints of Christian discipline, and careless parents giving themselves up to neglect and to indolence, make no effort to reclaim the wild ignorance of children, untaught and untrained to that wisdom which is unto salvation ?
The thing is not to be conceived ; and upon the strength of all these impossibles, do we assert, that every real Christian has the love of the Sabbath engraven on the tablet of the inner man—that if you had a window to his bosom, you would there see the fourth commandment filling up as large a space of that epistle, which is written not with ink, but with the Spirit of the living God, as it does on the decalogue of Moses—that this is not the peculiarity of some accidental Christians, meeting our observation on some random walk over the face of 'Christian' society—that it is the constant and universal attribute of all Christians—that in every age of the church the love of the Sabbath, and an honest delight in all its pious and profitable observances, have ever stood out among the visible lineaments of the new creature in Jesus Christ our Lord—that the great Spirit, whose office it is to inscribe the law of God on the hearts of those whose sins are forgiven them; and whom he has admitted into the privileges of his new and his better covenant, has never omitted, in a single instance, to make the remembrance of the Sabbath one of the most conspicuous, and one of the mo6t indelible articles of that inscription. And thus has it happened, that without any statutory enactment in the whole compass of the New Testament upon the subject —without any formal setting forth of Sabbath observation, or any laying down of a Sabbath ceremonial, the grave, the solemn, the regular, and with all this, the affectionate keeping of this distinguished day, has come down to us through a series of eighteen centuries, and may be recognised to this hour as the ever present badge of every Christian individual; and as the great index and palladium of religion in every Christian land.
– Thomas Chalmers
Reader, suppose thou wert a person of great quality and estate, and the king should send thee word that he would dine with thee to-morrow, what preparation wouldst thou make for his entertainment ? Would not thy first work be to cleanse thy house, by causing the dust to be swept out, the floors to be washed, nay, rubbed, everything to be neat and cleanly ? Wouldst thou not put up thy choicest hangings, lay on thy richest carpets, bring out thy best plate, adorn thy room with thy costliest furniture, endeavour that all things should be in point, somewhat suitable to the dignity of so great a prince ? I tell thee, that the great King of all the world doth give thee notice in his word, that on such a day, being the Sabbath, he intends to sup with thee. Now, friend, what preparation wilt thou make to testify thy respect to this blessed and only potentate ? Canst thou beforehand do less than sweep out the dust of sin, and wash the room of thine heart clean, adorn it with the best furniture, the graces, the embroidery of the Holy Ghost ? Truly unless this be done, Christ will not think himself welcome; nay, all thy pretended entertainment of him, will be not only infinitely unworthy of, but also provoking to, so jealous and glorious a prince.
– George Swinnock
Such as care not for ordinances, but say, "When will the sabbath be over?" plainly discover want of love to God.
– Thomas Watson
We do not give good heed to the second commandment when we read or hear God's word in a prayer-less temper, 2 Thess. 3.1; when we do not labour to attend upon the word without distraction, 1 Cor. 7.35; when we are not thankful for the privilege of hearing God's word, Ps. 103.2; Heb. 13.15; when we do not, as new-born babes, desire the pure word of God, 1 Peter2.2; when we read or hear with our minds full of prejudice, 1 Kings 22.8; when we are actuated by no regard to God, but are merely following a custom, being satisfied with a decent appearance, Ezek.33.31; when we do not earnestly lay hold of divine truth, Heb. 2.1; when we do not believe the truth read or heard, Heb. 4.2; when we soon forget the truth, or fail to practise it, James 1.22-25; when we do not tremble at God's word, Isa. 66.2; when from mere stupidity of mind, we sleep when we should be all attention ; Rom. 11.8; when we are offended at the truth. Acts 7.54; when we have itching ears, 2 Tim. 4.3; when we are satisfied with the gifts of the preacher, though there be no growth of grace in our own hearts; when we go to the house of God rather to see and be seen, to notice and be noticed, than to hear what God the Lord will say; when we are more pleased with enticing words of man's wisdom than with the words and wisdom of the Holy Ghost, 1 Cor. 2.1-5; when we do not set our hearts as a fair mark for the arrows of truth; when we dislike clear, discriminating, searching sermons; when we are more anxious after the curious than the profitable; when we do not embrace the promises of God; when we believe that we have little more to do with God's word than to hear it and criticise the preacher; when we irreverently treat any sacred truth; when we have little or no love to the truth as it is in Jesus; When slight excuses hinder us from hearing God's word; and when we put a low estimate upon the gospel ministry.
– William S. Plumer
I beseech you observe this, when a man's spirit is in this kind of temper, let him but be busied about earthly things, wherein earthly advantage comes in, no difficulties will hinder him, no wind or weather, he will rise in cold mornings and go abroad, do anything in the world.
Oh! What difficulties will men endure in storms at sea, and hazards there, and troubles at land many ways for things of the earth, and sit up late, and rise early, and toil themselves, and complain of no weariness nor no difficulties. But now, let them come but to spiritual things, to soul businesses that concern God and their spiritual estates, every little difficulty puts them aside and discourages them, every mole hill is a mountain in their way, I would do so and so indeed, but 'tis so hard, and 'tis tedious to rise in a morning, especially in a cold winter's morning; it is very hard and difficult to read and pray and so he is complaining of the difficulty of these things: And to watch over the heart, it's a mighty difficulty: to an earthly man any spiritual thing is difficult, and the difficulties doth discourage him, and in spiritual things, Oh how weary are they! As they in [Micah 1.13] they cried out "What a weariness is it!" But in the business of the world they can follow it, from morning to night they are never tired, they can work (as we say sometimes of men) like a horse and yet never [run] out of breath:
Oh! I would but desire you to try your hearts once, but to endeavor to spend one Sabbath exactly, and see what a weariness that would be to you, resolve but one Sabbath to rise early in the morning, & to have your thoughts spiritual & heavenly as much as you can, and then get up & pray alone in your closet, then read, and hear, and meditate, and mark what you hear; and when you go home think of it, and confer about it; and when you come again attend upon the word, and so spend the whole day in hearing, reading, meditating, and conference about good things, calling your family to account, and praying again, and see how tiresome this will be unto your hearts if they be carnal. But now a spiritual heart will call the Sabbath a delight unto it: And the Sabbath unto such an one is no other than the type and fore-runner of that eternal day of rest it shall enjoy in the kingdom of heaven: one that is spiritual accounts the Sabbath to be a day of rest, but an earthly man is quickly tired in spiritual things, he will give over his work and not go through it:
We read in [Neh. 4.6], Nehemiah having spoken of the great difficulties that they met withal in their work, and yet (said he) the work went on, "for they had a mind to it," So look how a man's mind is, so he will be able to go through his work; If a man be an earthly-minded man, such a man will go through-stick with his work, if he take up business for the world he will go through with it, for he hath a mind to it, he is a man of an earthly mind; But let him take in hand a spiritual work, and he will lay it aside before it be half done, he will seldom bring to perfection any spiritual work, why? because he hath no mind to it, whereas were the heart spiritual, and there were any spiritual work undertaken, such a one would go through with it till all were finished.
– Jeremiah Burroughs
The sabbath-day is not only a day of honour to God, but a day of blessing to us; it not only a day wherein we give God worship, but a day wherein he gives us grace; on this day a blessing drops down from heaven. This is a great argument for the keeping the sabbath-day holy. God is not benefited by it, we cannot add one cubit to his essential glory, but we ourselves are advantaged; the sabbath-day, religiously observed, entails a blessing upon our souls, our estate, our posterity; as the not keeping this day holy, brings a curse, Jer. 17.27
– Thomas Watson
By [keeping the Sabbath day holy], we build up ourselves, and advance our communion that we have with God: For seeing that by worldly occupations through the six days of the week, our mind is somewhat pressed towards the earth, it was by a most wise purpose and counsel of God ordain'd, that every seventh day at least again they should be lifted up to heaven, and sent up thitherwards by all such means, that they might be restored to their former step or degree, from which they had been declining: And seeing we contract also some filthiness from such worldly businesses, on the Lord's Day they should be wiped off, and we cleansed from them by the exercises of sanctification. And seeing many occasions fall on the other days, which bring their own difficulties and tentations with them; on this day we ought to be well-furnished and armed, so that it ought to be our day of spiritual mustering or weapon-showing; and a day of lustration. A cleansing ourselves from all filthinesses before contracted; and a day of our ascending into heaven, in as far as our Faith and Charity, with other heavenly gifts, on this day should be singularly kindled in our hearts.
– William Ames
[The command to keep the Sabbath-day holy] pertain as well unto us at this time, as they pertained to [people in the times of the Old Testament] at their time: for God hateth the disallowing of the sabbath as well now as then; for he is and remaineth still the old God: he will have us to keep his sabbath, as well now as then: for upon the sabbath-day God's seed-plough goeth; that is to say, the ministry of his word is executed; for the ministering of God's word is God's plough. Now upon the Sundays God sendeth his husbandment to come and till; he sendeth his callers to come and call to the wedding, to bid the gues; that is, all the world to come to that supper. Thereofre, for the reverence of God, consider these things: consider who calleth, namely, God; consider againw ho be the guests; all ye. Therefore I call you in God's name, come to this supper; hallow the sabbath-day; that is, do your holy-day work, come to this supper; for this day was appointed of God to that end, that his word should be taaught and heard. Prefer not your own business therefore before the hearing of the word of God . . . . The almighty ever-living God give us grace to live so in this miserable world, that we may at the end come to the great sabbath-day, where there shall be everlasting joy and gladness! Amen.
– Hugh Latimer
Metal that hath the king's stamp upon it, is honourable and of great value. God hath set his royal stamp upon the sabbath; it is the sabbath of the Lord, this makes it honourable. This day we should look upon as the best day in the week. What the Phoenix is among the birds, what the sun is among the planets, that the Lord's day is among other days.
– Thomas Watson
We find now who are chargeable with the sin of profaning the Lord's day; let the conscience of every one that is guilty herein deal faithfully with him in the reading of this, and say, Thou art the man; thou art the man, the woman that makest the day of the Lord either a day of idleness, or a day of worldly business, and dost not spend it in the service of God and communion with him. Either thou dost not diligently attend the public worship in its season, or but one part of the day, or without any just cause stayest at home, or walkest abroad, when thou shouldst be in the holy convocation; or, if thou go to church for fashion sake, thou thinkest when that service is over thou hast no more to do, and dost not spend the remaining part of the day as thou oughtest, in prayer, reading, meditation, and other religious exercises, alone and with thy family. God's time, which is devoted to him, and should be employed for him, thou givest to the world, and thy worldly business, or (which is perhaps more common) to the body, and to the ease and pleasure of it, and to the entertainments of a vain and foolish conversation. Art thou verily guilty in these or any of these things? This paper comes with an humble request to thee, that thou wouldest consider thy ways and amend them.
– Matthew Henry
It tramples on all the infinitely powerful motives or reasons with which God himself hath enforced his command, in order to promote the exact observation of it. He hath allowed us six days every week for our own employments: "Six days shalt thou labour and do all thy work." Doth not God know what time is sufficient for men's worldly business, as well as any of our British governors or subjects? Hath he allowed us, for our worldly employments, six times as much time as he hath reserved for himself; and will we, notwithstanding, rob him, in order to have more? Are not six days, spent in due labour, sufficient to make our bodies need a day of rest and refreshment? Are not six days, spent in thoughts and cares about the things of this transitory world, sufficient to make our immortal soul need and long for one to be spent in fellowship with God, and in securing our everlasting enjoyment of him?
God challengeth a *special propriety* in the Sabbath-day. "It is," saith he, "the Sabbath of the Lord thy God." Is it too much for Jehovah, our Maker, Preserver, and Redeemer, who graciously grants us all our time, all our opportunities, strength for, and success in our worldly labours, to claim a seventh part of it for his special worship and service, that thereby he may prepare us for the most happy and everlasting enjoyment of himself? If his claim be just, why rob him of his property, or any part of it? How inconsistent to hold infamous, and hang thieves, and robbers of men, and to indulge, nay encourage a weekly robbing of God himself, by multitudes of the nation! Mal. 3.8, 9.
Is the Sabbath the *property* of the Lord our God? Then, in our indulged robbing him of it, we not only renounce him as our commanding Lord, but as the everlasting God and portion of our souls. Will all the worldly gain procured by arrival of mails on Sabbath counterbalance the loss? "What is a man profited, if he shall gain the whole world, and lose his own soul?" Matt 16.26
– John Brown
We keep the sabbath-day holy, by "consecrating and dedicating" this day to the "service of the high God." 'Tis good to rest on the sabbath-day from the works of our calling; but if we rest from labour and do no more, the ox and the ass keep the sabbath as well as we, for they rest from labour. We must dedicate the day to God; we must not only "keep a sabbath," but "sanctify" a sabbath.
– Thomas Watson
Nothing more effectually tends to banish virtue, and introduce all manner of vice into a nation, than the indulged public profanation of the Sabbath. The Christian Sabbath, and all the ordinances to be observed in it, are calculated to promote the knowledge, belief, and impression of the existence, infinity, supreme authority, unbounded wisdom, power, holiness, justice, goodness, and truth of God, and of his future judgment of the world, and the infinitely important and everlasting consequences of it. Such views, belief, and impressions are the most powerful determents from vice, and excitements to virtue of every kind. By a cordial and spiritual sanctification of the Sabbath, we enjoy familiar fellowship with Christ, and his Father, and Spirit; and receive out of his fulness grace, which effectually teacheth, and enableth us to deny ungodliness and worldly lust, and to live soberly, righteously, and godly, in this present sinful world, Tit. 22.11-13.
– John Brown
As . . . all men were made for eternity, nothing is in the main convenient or advantageous, but what is either directly or indirectly conducive to [their] eternal welfare. Dispatch, conveniency, and advantage, which entice and lead men to neglect the concerns of their soul, to sin against God, are but ensnaring traps, or tempting baits, tending to promote their eternal damnation.
– John Brown
We must not, however, fall into the snare of libertinism because we want to avoid the charybdis of pharisaism. The opponents of Sabbath observance and of its complementary restrictions like to peddle the charge of pharisaism when efforts are made to preserve the Sabbath from desecration and to maintain its sanctity. We should not be disturbed by this type of vilification. Why should insistence upon Sabbath observance be pharisaical or legalistic? The question is: is it a divine ordinance? If it is, then adherence to it is not legalistic any more than adherence to the other commandments of God. Are we to be charged with legalism if we are meticulously honest? If we are jealous not to deprive our neighbour unjustly of one penny which is his, and are therefore meticulous in the details of money transactions, are we necessarily legalistic? Our Christianity is not worth much if we can knowingly and deliberately deprive our neighbour of one penny that belongs to him and not to us. Are we to be charged with legalism if we are scrupulously chaste and condemn the very suggestions of gesture of lewdness? How distorted our conception of the Christian ethic and of the demands of holiness has become if we associate concern for the details of integrity with pharisaism and legalism! … Why then should insistence upon Sabbath observance be legalism and pharisaism? This charge can appear plausible only because our consciences have become insensitive to the demands of the sanctity which the ordinance entails. The charge really springs from failure to understand what is the liberty of the Christian man. The law of God is the royal law of liberty and liberty consists in being captive to the Word and law of God. All other liberty is not liberty but the thralldom of servitude to sin.
– John Murray, "The Sabbath Institution", The Collected Writings of John Murray (Cambridge: Banner of Truth, The University Press, 1976), p 214-215.
You must remember that in dealing with the Sabbath you are not dealing with a mere human device. It is not like a tariff bill or a lodge bill that men may quarrel over. It not an enactment of the state. It is God's institution; the creation of God's will and armed with God's sanction. As, then, God made it, no man has a right to unmake it.
– Rev. W.F.V. Bartlett (Southern Presbyterian Pulpit: A Collection of Sermons, pp. 385, 386)
The obligation of the Sabbath rests primarily upon this; that it belongs to God by a solemn and exclusive reservation of it to Himself; and it is ours to be employed for Him and to the manifestation of His glory. It raises its testimonial spire from the first Sabbath in Paradise to the eternal Sabbath in Heaven, proclaiming that Jehovah is the proprietor of all things, and the supreme object of worship in heaven and in Earth. The misappropriation of it to foreign uses is simply theft. What right has any man to that which is not his?
Ah, my friends, when we are talking about rights, let us remember that Almighty God has His, as well as we; and of these He cannot be divested: for of all proprietors, He has the most power to enforce His claims. Never forget that, however long these may be held in abeyance through the audacious usurpation of the creature, there will come a fearful reclamation when the world is summoned to the judgment of the great day. The violation of the sanctity of the Sabbath is not only an act of simple disobedience to authority, but of contumacy and constructive apostasy.
– B.M. Palmer
Money gained on Sabbath-day is a loss, I dare to say. No blessing can come with that which comes to us, on the devil's back, by our willful disobedience of God's law. The loss of health by neglect of rest, and the loss of soul by neglect of hearing the gospel, soon turn all seeming profit into real loss.
– Charles Spurgeon (The Salt-Cellars, p. 22)
As for the minor proposition, that the work of the Sabbath is so great and necessary, it is plain, if we consider that the Sabbath is the great market day of heaven: upon which we ought to take in and lay up provision for our souls for the rest of the week, yea, for eternity itself. It is the usual day of sinners' conversion and acquaintance with God: It is the day wherein we have our sins to bewail, our needs to get supplied, our hard hearts to get melted, our dead affections to get raised, our guilty conscience to get disburdened, our dark minds to get enlightened, our weak graces to get strengthened. We have this day God's word to teach our families, our children to instruct, Christ's love to commemorate, death and judgment to provide for, and our Redeemer to treat with about the saving of our souls. In a word, this is a day wherein we are to make visits to God, and receive visits from him. Now, I do appeal to every serious soul that knows anything of real godliness, if these things be not so weight and necessary as to challenge the whole of the day, and the attendance of all our powers and faculties: and if so, then we are bound carefully to avoid everything that may prove an avocation or diversion from doing them.
– The Rev. John Willison
You have your lives from God, your bodies, your souls, all your powers, and all your comforts, and therefore you ought to be his subjects, and to pay him tribute; you are his tenants, and must not withhold his rent: this is his tribute, and this is his rent. Sabbath time is demanded as part of your time; let this then that is his due be justly and faithfully paid him in full: for will a man rob God? Your receivings from him are rich and constant; grudge him not these poor returns in their season.
– Matthew Henry
It is the character of a good man, that "he orders his affairs with discretion," Ps. 112.5, and renders every thing beautiful in its time. For it is a true observation, that an indiscreet ordering of Saturday's business, hath great influence upon the unprofitableness of the Sabbath's ordinances.
– Richard Steele
In hearing of God's word, let the eye be chained to the preacher with the greatest attention and reverence; as if you saw an angel in the pulpit, or Christ himself. And beware, lest your needless compliments to men be interrupted as a neglect of God. It is small manners to be complimenting the king's servants in his presence chamber, till you have done your homage to the king. Do your work with God; it is time enough to perform your civilities to men, when that is done. Look then to God; from him is thy expectation, with him is thy business. "The eyes of all them that were in the synagogue, were fasted on him." Luke 4.20. And therein, also, let your ears be only open heavenward. Lord! to deal with thee I am come, and thou shalt have all, both my soul and my body.
– The Rev. John Willison
In that the Lord hath afforded unto us six days in seven for our own work, and reserved to himself but one for his worship and service; whereas he might have required six days for his worship, and afforded but one for our work: Is it not most just and equal, that we should make conscience of giving unto God his Day, by consecrating it wholly to his worship and service? As Joseph said to Potiphar's wife, when she tempted him to uncleanness, My Master hath not kept back anything from me, but Thee, because thou art his wife; how then can I do this great wickedness, and sin against God? Gen. 39.9. In like manner say thou to thy vain companions, when thou art tempted any way to profane the Sabbath; God the Sovereign Lord and Master of the World, hath kept back no time from me, but one day, because it was his: How then can I do this great wickedness, and sin against [Him]?
– Thomas Gouge
On your way to the house of God, let your meditations, and, if you converse, your words be such as to prepare you the better for the solemnities in which you are to mingle; and when you pass the consecrated threshold, realize that you have come hither for no other purposes than to worship God, and to listen to his truth. It is no part of your errand here to engage in worldly civilities; or hear worldly news; or count the number of strangers, and prepare to comment upon their appearance. Your business here lies between God and your own souls; and it will never advance, while your attention is absorbed by external objects.
– Samuel Miller
A Sabbath [well] spent will be a blessing to you, not only for the six days following, but as long as you live. It will contribute to the formation of religious habits that you will be thankful for to the day of your death. And when you become accustomed to spending your Sabbaths [well], so far from finding them long and tedious days, you will find them the most delightful of the seven, and will only regret that they are too short – they come to an end before you have finished all the good designs you have formed.
– Harvey Newcomb (Youth and Its Duties, p. 90)
[The Fourth Commandment] is marked with a Memento above all other Commands, Exod. 20.8 Remember the sabbath-day to keep it holy, and that partly, because we are so desperately apt and prone to forget it; and partly, because none can keep it holy when it comes, that do not remember it before it comes; and partly, because this is one of the greatest (if not absolutely the greatest) of all the Commandments: it is sometimes put for all the Ten; it is the Synopsis of them all: and partly, because the observation of all the Commandments depends chiefly upon the observation of this fourth. None walk so much after the Spirit on other days, as they who are most in the Spirit on the Lord's day. There are none that walk so close with God all the six days, as those that keep closest to God on the seventh day. In the due observation of this Command, obedience to all the rest is comprised; and partly, because this Command has least light of Nature to direct us to the observation of it; and partly, because the forgetting of this Duty, and profaning of this Day, is one of the greatest sins that a people can be guilty of: it is a violation of all the Decalogue at once: it is a sin against all the concernments and Commandments of God at once.
– Thomas Brooks
The reason why the Psalmist appropriated [Psalm 92] to the Sabbath is sufficiently obvious. That day is not to be holy, in the sense of being devoted to idleness, as if this could be an acceptable worship to God, but in the sense of our separating ourselves from all other occupations, to engage in meditating upon the Divine works. As our minds are inconstant, we are apt, when exposed to various distractions, to wander from God. We need to be disentangled from all cares if we would seriously apply ourselves to the praises of God. The Psalmist then would teach us that the right observance of the Sabbath does not consist in idleness, as some absurdly imagine, but in the celebration of the Divine name.
– John Calvin (Commentary, Ps. 92)
The profaning of the sabbath is a most eminent and signal contempt of God and of his works. Did God rest on the sabbath, taking a complacency in the six days works? Our not doing so is an undervaluing of what God so highly esteemed, slighting of what he so much prized, and consequently a contempt of himself and his works too
– Thomas Boston
I say further that the poor craftsman can not lawfully be commanded to lay aside his tools, and go pass his time, no not for an hour, let be for a day, as long as he is willing to work, and perhaps urged with the sharpness of present necessity. And yet further, that he ought not to be compelled to leave his work to go to divine service except on the day that the Lord has sanctified.
– David Calderwood, Reasons Against Festival Days:
Idolaters are proud men, and idolatry is a proud sin . . . . [Idolaters] honour what is a man's own because it is his own, rather than what is God's. Do not you see it plainly in all superstitious, idolatrous people? As in that one thing of days? God has set one day apart for the honouring of himself, and for the celebration of the birth, death, resurrection, and ascension of Jesus Christ, and of the whole work of redemption : how is that day slighted and neglected! But what a horrible wickedness is it accounted not to keep that which man sets apart by himself, that day which is of man's appointment! Men will set apart a day for the honour of Christ and insist that Christ is quite forgotten if that day be forgotten, and Christ is much dishonoured if that day be not regarded. I appeal to you, who sets it apart? whose is it? Is it God's, or is it yours? God's? Certainly, if such a thing were so acceptable to God as men conceive it to be, we should have some little hint, somewhat in the book of God regarding it. We have the story of all the acts of the apostles, what they did in several places, and there is not the least mention of of any such thing of their honouring Christ, by setting a day apart for the celebration of his nativity : we have the epistles to several churches upon several occasions, and we find no notice taken of any such thing in any church they established. Surely therefore it is men's own, there is nothing in God's word for it, how highly soever it is honoured. But we have enough in Scripture for God's own day, the Lord's day; it is appointed by God himself to be a day of thanksgiving for the birth, resurrection and ascension of Christ, and for the whole work of our redemption : but man, out of his pride, will have another day, and so set his post by God's post; he thinks it is not honour enough to Christ to put the celebration of his birth, death, resurrection, ascension, all together in one day; no, he thinks it conduces more to the honour of Christ to have several days, one for his birth, another for his resurrection, and another for his ascension; whereas God hath put all into one, and would have his Son honoured by the observation of that one day.
– Jeremiah Burroughs (Exposition of the Prophecy of Hosea, pp. 274-275)
As food is absolutely necessary to the subsistence of the body, according to the laws which regulate the animal economy; and as bread is the chief article of food, and therefore called, " the staff of life," it furnishes an expressive emblem of that grace and truth by which the soul is nourished in the spiritual life. When the body is in want, hunger impels us to seek for bread, and to go wherever it can be obtained. In vain do we endeavour to satisfy the cravings of hunger with any thing but food. The most precious metals and jewels will be spurned by one perishing with famine, unless they can be made available to procure nourishment. The soul needs nourishment as well as the body. The soul is famished while it has nothing better to feed on than the husks of this world. But a gracious God has made ample provision for our spiritual refreshment. He has prepared "a feast of fat things," and the invitation is gone out, "that all things are ready;" and that there is room and a welcome for all who will come. This feast is exhibited in the courts of the Lord; it is presented to all believers, in the word and sacraments of the church. Here Christ, the true bread, that came down from heaven, may be eaten. The hungry soul may here feast on the hidden manna. Here, the body of Christ, broken for us on the cross, is meat indeed. Here, also, babes in Christ are fed with the pure milk of the word, and grow thereby. Under all dispensations, bread has been an emblem of that grace which nourishes the soul. In the wilderness God prepares a table for his people; and as there is no stint of spiritual provision, his language to them is, "Eat, O friends; drink, O beloved." On every holy Sabbath, the bread is renewed; the ministers of God, by the faithful preaching of his word, bring forth the precious food, and when the table of the Lord is spread, there is a rich feast for God's hungering people. His kind inviting language to them is, "O taste, and see that God is good. Blessed is every one that trusteth in him." Well, then, might the Psalmist exclaim, when for a season separated from the house of God, "How amiable are thy tabernacles, O Lord! My soul longeth, yea, even fainteth for the courts of the Lord."
– Archibald Alexander
Delight in the worship of God. We soon disrespect that which we take no pleasure in; and, therefore, when the Lord is commanding the sanctifying of his Sabbath, he joins these: Isa. 58.13, 'If thou turn away thy foot from the Sabbath, from doing thy pleasure on my holy day, and call the Sabbath a delight, the holy of the Lord, honourable,' &c. If it be not your delight, it will not be honourable. If you be of their temper who say, ' When will the new moon be gone, that we may sell corn; and the Sabbath, that we may set forth wheat ?' Amos 8.5; if public ordinances, praying, preaching, be a burden to you: not only private duties, but the base things of the world, will take place of it in your minds and hearts. When we axe weary of a thing, take no pleasure in it, we easily give way to any suggestion that may disparage it. Let the worship of God be yonr delight, the joy and solace of your souls. Be glad of all opportunities to worship God in public, in season, and out of season, like David: Ps. 122.1. 'I was glad when they said unto me, Let us go unto the house of the Lord.' Let it be your meat and drink to he thus employed; go, as to a feast; sit down under the shadow with great delight, while the fruits of ordinances, the shadow of heavenly enjoyments, are sweet.
– David Clarkson
When Ministers threaten you in God's Name, if his Authority were stamped on the Threatening, if Men did seriously apprehend it were God's own Voice, would they not tremble? When the Gospel and the joyful Sound comes forth, if ye apprehended that same Authority upon it, which ye who are convinced, believes, in the Law, would ye not be comforted? Finally, I may say, it is this Point of Atheism, of Inconsideration and Brutishness that destroys the Multitude, makes all Means ineffectual to them, and retards the Progress of Christians. Men do not consider, that this Word is the Word of the eternal and true and faithful God, and that not one Jot of it will fail. Here is a Point of Reformation I would put you to; if ye mind indeed to reform, let this enter into your Hearts and sink down, that the Law and Gospel is, the Word of God, and resolve to come and hear Preachings so, as the Voice of Jesus Christ the true and faithful witness: If ye do not take it so now, yet God will judge you so at the End. "He that despiseth you, despisetb me, and he that bears not you, bears not me." If ye thought ye had to do with God every Sabbath, would ye come so carelesly, and be so stupid and inconsiderate before the Judge of all the Earth? But ye will find in the End, that it was God whom ye knew not.
– Hugh Binning
It is a desperate hazard . . . to be weary of one sabbath here, and yet presume upon the expectation of an eternity which shall be nothing else but sabbath.
– Edward Reynolds (1599-1676, Westminster Assemblyman)
[R]eligion is just as the Sabbath is, and decays and grows as the Sabbath is esteemed : the immediate honor and worship of God, which is brought forth and swaddled in the three first commandments, is nursed up and suckled in the bosom of the Sabbath.
– Thomas Shepard (1605-1649)
We call it honourable when we have a precious esteem of every moment of sabbath time, and are jealous, lest any drop of it should run waste. Even the filings of gold and the dust of diamonds are precious. No man can call the sabbath glorious that sets light by an hour, a minute, or moment of so divine a creation. Time is a ring of gold, but the sabbath is the rich sparkling diamond in it. David's heart smote him for cutting off but a lap of Saul's royal coat. So should ours for profaning, for unprofitably wasting any part of Christ's Day. It is like a seamless coat and it cannot be divided without sacrilege.
– Thomas Case
Now, lest this so strict observance of the Lord's day in spending the whole day in holy meditation, holy exercises, and works of mercy, excepting only necessary repasts, should be thought, as it is by some, to be merely Jewish, or only the private opinion of some zealots, more nice than wise,—know, that as the fourth commandment is of moral obligation, there is the same reason for the strict observance of it, as any other divine precept, as against idolatry, murder, fornication, &c. And the taking away of the morality of the fourth commandment, and unloosing the conscience from the immediate bonds of God's command to observe a day for his solemn worship, doth overthrow true religion, and the power of godliness, and opens a wide gap to atheism, profaneness, and all licentiousness; as daily experience proves in those persons and places, by whom, and where, the Lord's day is not holily and duly observed.
– Henry Scudder, The Christian's Daily Walk
How rich a boon has celestial mercy bestowed upon our laboring, toil-worn world in the way of sacred rest. What would we do, as regards either body or soul, without the Sabbath, to invigorate the impaired energies of the one, and recruit the weakened piety of the other? If the man of wealth and leisure, whose time is all his own, to spend it, if it pleases him so to do, in reading, meditation, and prayer, feels little need of such a season of repose—not so the tradesman, the servant, and the laborer. How sweet to them, as Saturday evening is closing upon them, and all the weariness of six days' labor is pressing them down, is the reflection, "Tomorrow is the sabbath of the Lord." There is no need to prove to them by elaborate argumentation, that the sabbath is of perpetual obligation, for they cannot persuade themselves that He who has loved them in Christ Jesus, would have left them without such an opportunity as this affords, in their scene of toil, to dwell upon his love, and enjoy it.
– John Angell James
We cannot easily make so sudden and entire a transition from things secular to things sacred—as to be wholly carnal and worldly up to Saturday night, and then entirely to throw off the world on Sunday morning, and be wholly spiritual through that one day. The day of devotion and the days of labor act and react upon each other; they who would keep up their piety in the week, must be diligent in cultivating it on the sabbath, and they who would successfully cultivate it on the sabbath, must not let it down very low during the days of the week. It is a fatal error, and sad delusion, for a professor to quiet his conscience, when reproaching him for his backslidings of heart, by the answer, "Sunday is coming, when I shall fetch up this lost ground."
– John Angell James
Of course he who loves Christ loves his Sabbaths, his worship, his truth, his laws, his people, and all that brings him to mind. To such the Sabbath is a delight, the holy of the Lord, and honorable. There is no uncharitableness in supposing that he who hates holy time hates a holy God and a holy Saviour. And if any man loves not the worship of Christ on earth, surely he cannot love the temper of the redeemed above; for nothing is more clearly revealed than that Christ receives the highest adorations of heaven.
– William S. Plumer
A right observance of the Lord's Day lies at the foundation of national happiness and prosperity. So prolific of good is this blessed day that its powerful influences on the well-being of our country vitally affects its spiritual intelligence, the morality of its social order, and the liberties of its people.
So far, then, from the Sabbath law being a heavy burden which God has laid on His creatures, it is a noble boon and an inestimable blessing. So far from it being an unkind deprivation of our liberty, its right observance makes for an entrance into real spiritual freedom. "God blessed the seventh day" (Gen. 2.3). The Sabbath was Divinely designed, from its original institution, to be a day of blessing to all who duly observed it. Therefore has the Lord declared, "Blessed is the man that keepeth the Sabbath from polluting it" (Isa. 56.2): it is not a day of irksome restraint, but one of peace and good. It is a gracious gift whereby, in the midst of our toils, we are granted a deliverance even from that curse, "in the sweat of thy face shalt thou eat bread, till thou return unto the ground" (Gen. 3.19). Man's Maker has mercifully secured to him one seventh portion of his whole life wherein he may rest his wearied body and refresh his needy soul, by separating himself from the toil of this life and fixing his contemplation on the life to come.
– Arthur W. Pink
Now, whereas the solemn worship of God, is the spring, rule and measure of all our obedience unto him, it may justly be thought that the neglect thereof, so brought about as hath been declared, hath been a great, if not a principal occasion, of that sad degeneracy from the power, purity, and glory of Christian religion; which all men may see, and many do complain of at this day in the world.
– John Owen (Works, Vol. 19, p. 272)
The sabbath day is our market day; and then after we have bought our market on the sabbath, we should roast it by meditation on the week. We do not go to the market on the market day, to buy meat into the house only for the market day, but for all the time until the market day comes about again. Indeed Solomon saith of the sluggard, that he is so sluggish and slothful, that "he doth not roast what he hath taken in hunting." The sabbath day is the hunting day for souls wherein the venison is taken: on the week day we are to roast it, and to live upon it by meditation, and otherwise.
– William Bridge
The religious rest of the fourth commandment, is to be observed by Christians so far as it is requisite for attendance on the service of God. It is not only our duty, but our heavenly privilege, that being tired in the dust and toil of the world, we have a freedom, and are called to draw near to God, with the promise that "he will draw near to us," that when we pay our homage, we shall receive infinite blessings: for then in the communion of saints we present our requests with a filial freedom to God, and we receive his precepts for the ordering our lives to please him: and by a temporal holy rest, are prepared for an eternal glorious rest.
– William Bates
It is a great truth that the Sabbath was made for man, both for the health of his body and for the good of his mind. But when this oracle was uttered, it was to overthrow the idea that man was made for the Sabbath, not the idea that the Sabbath was made for God. Man himself was made for the Divine service and glory, and this is the highest end of the Sabbath as of all things.
– James Gilfillan (The Sabbath Viewed in the Light of Reason, Revelation, and History, p. 323)
He that is not faithful in his calling, will never care to keep the Sabbath; and he that keepeth the Sabbath, will be diligent in his calling. Those two are like the two cherubim whose faces looked one towards another.
– John Weemes
[We are to refrain] from, all recreations and sports [on the sabbath day], which at some other times are lawful: for if lawful works be forbidden on this day, much more lawful sports; which do more steal away our affections from the contemplation of heavenly things (Isa. 58.13, 14), than any bodily work or labour. Neither can there be to a man that delighteth in the Lord (Psal. 37.4), any greater delight or recreation than the sanctifying of the Lord's day. For can there be any greater joy for a person condemned than to come to his prince's house to have his pardon sealed?—for one that is deadly sick to come to a physician that can cure him?—or for a prodigal child that fed on the husks of swine to be admitted to eat the bread of life at his father's table?—or for him who fears for sin the tidings of death, to come to hear from God the assurance of eternal life? If thou wilt allow thyself or thy servants recreation, allow it in the six days which are thine, not on the Lord's day, which is neither thine nor theirs. No bodily recreation, therefore, is to be used on this day, but so far as it may help the soul to do more cheerfully the service of God.
– Lewis Bayly
To suit the practice of some, the fourth commandment should be so altered as to read: Remember the Sabbath-day to keep half of it holy. Did God sanctify and bless the Sabbath-day? He sanctified and blessed the WHOLE of it. Religiously to observe a part, and slight the rest, would show a mind and heart strangely contradictory. Indeed, it can not possibly be done. Those who seem to do it only show that they have too much conscience to live wholly as infidels, but too little to live as true Christians.
– William S. Plumer (Hints and Helps in Pastoral Theology, William S. Plumer, p. 143)
The first of these, not doing thy ways, is parallel in thought to the earlier doing thy pleasure. There is no need to restrict these phrases to matters of business. The 'way' is a course of conduct and refers to all courses and actions that men choose in preference to the commands of God. These courses and actions may be right and legitimate on other days, but when they obtrude in the place of that delight, which is to find expression in the observance of the sabbath, they are to be refrained from. Secondly, not finding thy pleasure also refers to one's own pleasure in distinction from what pleases God; and the third expression, speaking words (the noun is best understood as collective), probably refers to idle and vain talk, in which God is forgotten or ignored. What is mentioned tends to draw the heart away from God to the consideration of one's own occupations. This is wrong conduct on the holy sabbath.
– E.J. Young
The happiness of heaven is the constant keeping of the Sabbath. Heaven is called a Sabbath, to make those who have Sabbaths long for heaven, and those who long for heaven love Sabbaths.
– Philip Henry (Forty Thousand Subulime and Beautiful Thoughts, p. 1519)
As the Jewish sabbath was appointed to celebrate the perfections of God, discovered in creation, so is the Christian sabbath appointed to meditate on, and bless God, for the discovery of his perfections in redemption.
– Stephen Charnock
We should count it an experiment of the most fearful audacity, without the intimation of any act of repeal passed in the high legislature of heaven, to fly in the face of that Sabbath law, which stands enrolled among the items of so notable and so illustrious a document [the Decalogue]; and nothing short of a formal and absolute recallment can ever tempt us to think, that the new dispensation of the Gospel has created so much as one vacancy in that register of duties, which bears upon the aspect of its whole history the impress of a revealed standard that is unalienable and everlasting. We cannot give up one article in that series of enactments which, in every one age of the Christian world, has been revealed as a code, not of ceremonial but of moral law. We cannot consent, but on the ground of some resistless and overbearing argument, to the mutilation of the integrity of this venerable record. We see throughout the whole line of the Jewish history, that it stood separate and alone; and that free from all the marks of national or local peculiarity, it bore upon it none of the frailty of the other institutions, but has been preserved and handed down to us an unchanged standard of duty, for all generations. We see, at the very commencement of the Mosaic dispensation how God himself thought fit to signalize it; for, from the place where he stood, did he proclaim the ten commandments of the law, in the hearing of the assembled multitude; while every other enactment, whether moral or ceremonial, was conveyed to the knowledge of the people, through the medium of a human legislator. And we should feel that, in dethroning any one of the perceptive impositions of the decalogue from its authority over our practice, we were bidding defiance to the declared will of the Eternal; and resisting a voice which sounds as loudly and as impressively to our conscience, as the one that issued in thunder from the flaming top of Sinai, and scattered dismay among the thousands of Israel.
– Thomas Chalmers
Nothing more effectually tends to banish virtue, and introduce all manner of vice into a nation, than the indulged public profanation of the Sabbath. The Christian Sabbath and all the ordinances to be observed in it, are calculated to promote the knowledge, belief, and impression of the existence, infinity, supreme authority, unbounded wisdom, power, holiness, justice, goodness, and truth of God, and of his future judgment of the world, and the infinitely important and everlasting consequences of it. Such views, belief, and impressions are the most powerful determents from vice, and excitements to virtue of every kind. By a cordial and spiritual sanctification of the Sabbath, we enjoy familiar fellowship with Christ, and his Father, and Spirit ; and receive out of his fulness grace, which effectually teacheth, and enableth us to deny ungodliness and worldly lusts, and to live soberly, righteously, and godly, in this present sinful world, Tit. ii. ii, 12, 13. And hence the truly strict observers of the religious duties of the Sabbath, have, in every age, been the most exact practisers of virtue. But neglect of Sabbath-sanctification, and especially the indulged or authorised public profanation of it, tends to prevent, or root out, all proper knowledge, belief, or impression of God's existence and perfections, and of the future judgment and eternal state, from which all the proper obligations and motives to hate and restrain from vice are derived. Hence, having no faith, or fear of God before their eyes, men abandon themselves to every form of vice, dishonesty, theft, whoredom, murder, treachery, treason, &c. which, of themselves, render a nation miserable,- and also draw down the ruinous judgments of God upon it, Exod. v. 2, 5. PsaL x. 6,—10, I1, 12, xiv. 1,—4. and iixvi. i,—4. Rom. L 21,—32. Eph. w. 17, 18, 19. Isa. xxiv; 5, 6. and v. 11,—30. Hos. iv. 1,—3. Mic vii. 1,—6.
– John Brown of Haddington
[S]piritual joy carries the soul through duty cheerfully; the Sabbath becomes a delight, and religion is a recreation.
– Thomas Watson
The sanctification of [the Sabbath] day is a special applying of ourselves to worship God, upon that day which is intimated in those phrases, "He sanctified that day," and "it is a Sabbath to the Lord thy God." Here public worship ought chiefly to be respected, whence also it is that the Sabbath is called an holy convocation, Levit. 23.13. Acts 13. 14. 15. 23. 16. 13 But that that public convocation of the Church ought to be had both before and after noon upon the Lord's day, it appeares sufficiently, by that double burnt-offering of the Sabbath, in the morning and the evening, Num. 28.9. But the rest of the day ought to be spent in exercises of piety: for although there was of old an offering peculiar to the Sabbath, yet the continual or daily offering with his drink-offering was not to be omitted, Num. 28.10. Also the public worship itself seeing it is most solemnly to be celebrated, doth necessarily require these exercises of reading the Scripture, meditation, prayer, holy conferences and contemplation of the works of God: whereby we may be both more prepared to public worship, and that worship may be made truly effectual to us.
– William Ames
On sabbath days we must not walk in our own ways (that is, not follow our callings), not find our own pleasure(that is, not follow our sports and recreations); nay, we must not speak our own words, words that concern either our callings or our pleasures; we must not allow ourselves a liberty of speech on that day as on other days, for we must then mind God's ways, make religion the business of the day; we must choose the things that please him; and speak his words, speak of divine things as we sit in the house and walk by the way. In all we say and do we must put a difference between this day and other days.
– Matthew Henry
[I]t is only [God's] appointment that can make time holy; for he is the Lord of time, and as soon as ever he had set its wheels a-going it was he that sanctified and blessed one day above the rest, Genesis 2.3. Man may by his appointment make a good day (Esther 9.19), but it is God's prerogative to make a holy day; nor is any thing sanctified but by the stamp of his institution. As all inherent holiness comes from his special grace, so all adherent holiness from his special appointment.
– Matthew Henry
Personal religion is "the one thing needful." But its attainments and duties are next to impracticable without a Sabbath. How without this institution would men, oppressed with toil, and allured by temptations to drown their cares in sleep or intoxication, feel any disposition for communing with their own hearts, with their Creator, or with a future world? Is it not true that many do not call on the Almighty, or study the truths and facts of Christianity, because, keeping no holy day, they are continually immersed in business or in worldly pleasure. It is sad to think that those who might redeem one day in seven for attending to the claims of God, of their souls, and of a future existence, do not avail themselves of the opportunity. How much more melancholy were this, from the want of a Sabbath, the inevitable condition of all!
– James Gilfillan
God . . . sanctified the Sabbath, when he selected it out of the course of other days, and set it apart from the common employments and services of life; ordaining that the spiritual concernments of his glory and our salvation should be therein especially transacted. And this is that blessing which God hath conferred upon this day. For what other benefit is a day capable of, but only, that, when the other six days, like the unregarded vulgar of the year, were to be employed in the low and sordid drudgery of earthly affairs. This Seventh Day God hath raised from the dunghill, and set upon the throne, appointing it, according to Ignatius's phrase, "The prince and sovereign of days," exempting it form all servile works; and designing it for such spiritual and celestial employments, that, were it observed according to God's command, eternity itself would not have much advantage above it, but only that it is longer. So that, in the ring of the week, the Sabbath is the jewel, the most excellent and precious of days.
– Ezekiel Hopkins
God is in a special manner concerned for the keeping of the Sabbath, it being that on which all religion depends. Accordingly, as it is observed or disregarded, so it readily goes with the other parts of religion.
– Thomas Boston
How many young men are now in everlasting chains, who would give ten thousand worlds, had they so many in their hands to give—to enjoy but an opportunity to hear one sermon more, to make one prayer more, to keep one Sabbath more—but cannot! This is their hell, their torment; this is the scorpion that is still biting, this is the worm that is always gnawing. Woe! woe! to us, that we have neglected and trifled away those golden opportunities that once we had to get our sins pardoned, our natures changed, our hearts bettered, our consciences purged, and our souls saved, etc.
– Thomas Brooks
[Christ] bids you sanctify the Sabbath. Is it not better to keep a holy rest to the Lord than to be forever without rest? Hell is a restless place. There is no intermission of torment for one moment in all eternity! I appeal to the consciences of men. Are not Christ's commands sweet and—pleasant in comparison of the insupportable pains of reprobates? Is not obeying better than damning! Are not the cords of love—better than the chains of darkness!
– Thomas Watson
Variety of voices pleases the ear, variety of colours delights the eye, the same meat prepared several ways, pleases the palate more, and clogs it less. But oh the variety of choice dishes wherewith God entertains his people in a Sabbath! as the word, prayer, sacraments, &c. Isa.58.13. If thou call the Sabbath thy delights; or, as Tremellius renders it, thy delicate things. " My soul (saith David) shall be satisfied as with marrow and fatness," Psal. 63.5.
– John Flavel
Second, be especially careful to improve those parts of time which are most precious. Though all time is very precious, yet some parts are more precious than others; as, particularly, holy time is more precious than common time. Such time is of great advantage for our everlasting welfare. Therefore, above all, improve your Sabbaths, and especially the time of public worship, which is the most precious part. Lose it not either in sleep, or in carelessness, inattention, and wandering imaginations. How sottish are they who waste away, not only their common, but holy time, yea the very season of attendance on the holy ordinances of God.
– Jonathan Edwards
[H]e who makes no conscience to keep holy the Sabbath-day, will make little conscience of keeping any of the other commandments, so he may do it without discredit to his reputation, or danger of man's law. But look how a man is careful and conscionable in the performance of the duties of piety to God on the Sabbath-day: In like manner is he careful and conscionable in the performance both of the duties of holiness to God, and of righteousness towards his neighbour on the weekdays.
– Thomas Gouge
Precious time and seasons of grace, Sabbaths, communions, prayers, sermons, and the like, are by many, now-a-days made light of; but the day is coming when one of these will be reckoned more valuable than a thousand worlds by those who now have the least value for them! When they are gone forever, and the loss cannot be retrieved, those will see the worth of them who will not now see it.
– Thomas Boston
Let none pretend that multiplicity of business will not allow them time and disposition for sabbath-work. If you be too busy to attend the Lord's service, he can quickly give you a writ of ease, and make you keep more resting days from your hours than you are willing to do. The Lord would not excuse the Israelites, no, not in their busiest seasons, the times of earing and harvest, and the very building of the tabernacle; but all must give way to the sabbath. And I am sure the promise of blessing and success is made to the conscientious observation of it: Isa. 58.13, 14 "If thou turn away thy foot from the sabbath, from doing thy pleasure upon my holy day; and call the sabbath a Delight, the holy of the Lord, honourable; and shalt honour him, not doing thine own ways, nor finding thine own pleasures, nor speaking thine own words: Then shalt thou delight thyself in the Lord." There is a recompence to the soul. "And he shall cause thee to ride on high places of the earth." There is a reward to the body. Godliness is profitable to all things.
– John Flavel
We think the Sabbath long, and ordinances long and tedious, and are secretly glad when they are over: and what should such as we are do in heaven, where there is a sabbath as long as eternity, and nothing but holiness there? And, therefore we had need pray earnestly, that God would now fit and prepare us for the work of heaven, while we are here on earth; for else heaven will not be heaven, or a place of happiness unto us.
– Ezekiel Hopkins
It is sacrilege, the worst of theft, to profane the Sabbath-day. It is a robbing of God, a stealing of time from him that is consecrated to him, and that is dangerous, Prov. 22.25. We justly blame the churches of Rome and England, for robbing people of a great many days which God has given us; but how may we blame ourselves for robbing God of the day he has kept from us, and taken to himself? Alas! our zeal for God is far below our zeal for ourselves. They stick to their saint's days, but how weary are we of God's days? Mal. 3.8
– Thomas Boston
A right sanctification of the Sabbath is very delightful to the people of God, in that they do enjoy intimate society and communion with God in his ordinances on that day, which is the greatest happiness poor creatures can possibly attain unto in this life, it being an heaven upon earth to enjoy communion with God; and some degree of those heavenly joys which we shall enjoy hereafter, more fully in heaven. How should the consideration hereof stir you up to a careful conscionable sanctifying of the Lord's Day, that so you may taste of those sweet comforts and refreshments which others have so plentifully enjoyed?
– Thomas Gouge
There is as much reason that you should keep the sabbath holy with your tongues, as with your hands. If it be unsuitable for you to employ your hands about common and worldly things, why is it not as unsuitable for you to employ your tongues about them?
– Jonathan Edwards
The fourth commandment is put in the middle of the decalogue with a 'remember the Sabbath day," as being the bond of all religion. The growth of religion, or decay of it, goes hand in hand with the keeping, or neglecting of the sabbath, Isa. 58.13, 14, Amos 5.8, But alas! if we take our mark by this, we may say religion is at a low ebb. Few sermons in the year serve some people, and little thing will make some turn their backs on them. If people would do with their meat, win which there is a mote, real or supposed, as they do with the ordinances, some would come quickly to the churchyard, that will not come to the church.
– Thomas Boston
You have no more warrant to be out with your team, or to be cutting wood, or doing any other worldly business, immediately after the sabbath is begun, than you have to do it in the middle of the day. The time is as holy near the beginning of the sabbath as it is in the middle. It is the whole that we are to rest, and to keep holy, and devote to God. We have no license to take any part of it to ourselves.
– Jonathan Edwards
How much do you prize God's day, the means of grace, opportunities of worship, that are for the inward man? The Sabbath-day is a feast-day for souls. Now, when men are wary of it, it is the most burdensome day of all the week round: Amos 8.5, "When will the Sabbath be gone, that we may set forth wheat?" It is a sign they are carnal, when men count that day the only lost day . . . . So carnal men think it is a lost day to them, they look upon the Sabbath as a melancholy interruption of their affairs and business. The apostle James saith of those that are begotten by God, they are "swift to hear," (Jas. 1.9). Certainly they have an inward man to maintain, another life than an outward and animal life, must have the supply and will look after the comforts of it.
– Thomas Manton
The Sabbath-day is a day of blessing, the preaching of the gospel is the great means for the salvation of sinners, 1 Cor. 1.21. Is it not then a slighting of communion with God, for people to idle away so many Sabbaths at home, in making so little conscience of attending on public ordinances? Read through the whole Bible, and ye will not find a gracious person but was much addicted to the place where his honour dwells, to public ordinances. And I assure you, the godly in some places would wonder if they could have any good in them at all, that can contentedly sit at home, when they are neither sick nor sore, nor have any providential necessity put upon them . . . [T]hose who against their wills are forced to be absent from God's ordinances, may expect the favours of his grace under their affliction; so those who of choice absent themselves, may expect the tokens of his wrath for their sin.
– Thomas Boston
Every sabbath, sermon, communion, &c. is a fair opportunity for peace with God, seeing to and advancing the soul's interest. In these the market of free grace is opened, and heaven's peace and pardon are proclaimed to rebels. These precious seasons will not last as to us, Christ will call in his ambassadors, and how soon his last call to us may come, we know not, Luke 14.24.
– Thomas Boston
Christ spends all his time for us and our salvation; let us spend all our time for him, and in his service. The apostle tells us, that he ever lives to make intercession for us; it is not for a day, or a month, or a year, but he lives for ever upon this account; for ever (i.e.) during all the time from his ascension, until the end of the world, he is still interceding; surely people do not think what Christ is doing in heaven for them. If you would but seriously consider, that Christ, without any weariness or intermission, is ever interceding; how would this engage you in his service? Ah Christians! if you should continue praying, praising, reading, hearing, all this day without any intermission, how would you say, 'When will the day be done, when will the Sabbath be at an end?' Well, but Christ is not weary of serving you: when you have done your duties, he takes your persons and duties, and presents all unto his Father; he prays over your prayers, continues praying, and saying, 'Lord accept of a short, poor, imperfect service done on earth, for my sake, and for my sake, and for those merits' sake which I am continually presenting to thee in heaven.' O why do we not come up to this conformity? O why are we so uncomformable to the actings of Christ? We cannot but judge this to be most equal, that they who live, should not henceforth live unto themselves, but unto him who ever lives to make intercession for them.
– Isaac Ambrose
[T]here is not a clearer sign to distinguish you from one that is profane, than this, of conscientiously keeping holy the Lord's day. Neither is there any ordinary means of gaining strength and growth of grace in the inward man like this, of due observing the sabbath. For this is God's great mart or fair-day for the soul, on which you may buy of Christ wine, milk, bread, marrow and fatness, gold, white raiment, eye salve,—even all things which are necessary, and which will satisfy, and cause the soul to live. It is the special day of proclaiming and sealing of pardons to penitent sinners. It is God's special day of publishing and sealing your patent of eternal life. It is a blessed day, sanctified for all these blessed purposes.
– Henry Scudder
Is the sabbath our delight? Do we long for it before it come? Do we rejoice in it when it is come? Do we consecrate it as "glorious to the Lord," Isa. 58.13. Do we come to the exercise of religion, whether public or private, with much delight, and with cheerfulness as to a feast? What is this but the life of God? But if these things be harsh and unpleasant, if the Sabbath be a burden, if holy exercises be irksome and tedious, if in attending on the word we are heavy and drowsy, and we find no relish, no sweet, no savor, in the ointments of Christ, no goings out of the soul with an activity to the things proponded; O then deceive not ourselves; we have no good evidence of our vivification.
– Isaac Ambrose
[The Sabbath] is not an arbitrary appointment, but a most benevolent institution, designed for the benefit and advantage of man . . . . [It] is not merely a season of rest from the fatigues and anxieties of secular business; it is a cessation from ordinary labour, that we may attend with greater diligence to theduties of religion. And surely one whole day in seven is not too much for the immediate service of God, for the improvement of our souls, and for preparation for eternity.
– Robert Shaw
The Lord's Sabbaths [should] be dear unto us, because the goodness and mercy of God appears nowhere more, than in giving us his Sabbath; calling upon us thereby to rest from the world unto him (and God knows, a Christian soul finds no rest anywhere but in him) and to walk with him in holy meditation, as he is pleased to walk in the midst of us, as the Holy One of Israel: so to draw us away from worldly cares and pleasures, to the entertaining of heavenly and holy cares, to enrich ourselves with the knowledge of God, and to recreate our souls in the Lord, as he solaceth himself in us, according to that in Proverbs 8.31 where he took solace in the compass of the earth, and his delight was in the children of men.
– William Twisse
The religious observation of the Lord's day is an excellent means for the increase of holiness. It is worthy of our serious observing, that the fourth commandment is enforced with a note of excitation, "Remember thou keep holy the sabbath-day," to impress the sense of our duty upon conscience, and to confine our transgressing nature, that is so apt to alienate that time which is sacred to God, and the interest of our souls, to carnal and profane uses. It is sanctified and set apart by the Lord of our persons and time, for the celebrating the most excellent works of his power and goodness in creation and redemption ; He that gave us our beings, and raised us from the dust to an honour little -lower than the angels, those heavenly spirits, and has ransomed us from our woeful bondage; he that dignified us with the impression of his own image, and the assumption of ours.
– William Bates
The law of the Sabbath stands as the fourth of these commands. It is graven on the same stone tables with the other nine; it was written with the same finger which wrote the others; it was deposited under the mercy seat, in the ark of the covenant, and between the outstretched wings of the cherubim in the holy of holies with the rest; and if the other nine are moral laws, the fourth is also; if the fourth is not, the other nine are not. If the nine are designed for all men, so is the fourth; if the fourth is not designed for all, neither are the other nine. They stand or fall together. The attempt made by men who would relax the obligation of the Sabbath, to sever the fourth command from the decalogue, and designate it as ceremonial and partial, is a rude dislocation of that command from its true articulations and attachments, that destroys at once the majesty and symmetry of that moral code, the ten laws of which seem to be the ten fingers of the two hands of God, whereby he upholds the moral government of the world.
– Wm. B. Stevens
[The sabbath] is God's day: it is "the sabbath of the Lord thy God," not only instituted by him, but consecrated to him. It is sacrilege to alienate it; the sanctification of it is a debt.
– Matthew Henry
On the Lord's Day it is that in special sort we Christians take hold of that holy communion which God, in great mercy in his Son Jesus Christ vouchsafeth unto us with himself, speaking unto us as from heaven in his holy Word, and giving us liberty to speak unto him. The Lord pitchest his tabernacle amongst us here on earth, and we are, as it were, taken up into the mount of God, there to be transfigured before him.
– William Twisse
[A]re not our temples the houses of God? Are they not the very gates of heaven? In our solemn assemblies is not a ladder erected between earth and heaven? Is not the Lord on the top of it, and are not we humbled at his feet to hear his Word (Deut. 33.3)? The gracious instructions which we receive from him, are they not as so many angels descending unto us; the gracious motions that arise in our hearts, upon meditation of his Word, of thanksgiving to him, or rejoicing in him, yea, or sorrowing for our sins, are they not as so many angels ascending to him? Our tears have a double motion, one natural, downwards, another spiritual, upwards, for the Lord puts them into his bottles. The hairs of our hear are numbered, how much more the sighs of our heart, and groans of our spirit? And have we not great cause to inure ourselves betimes thus to sabbatize with God, as he sabbatizeth with us, that we may be the fitter to keep our eternal Sabbath with him?
– William Twisse
The proper observation of the Sabbath is a principal means of promoting the temporal welfare of individuals and of nations, of elevating the tone of public morals, of advancing the interests of religion, and of drawing down the divine favour and blessing. The desecration of the Sabbath, on the other hand, is detrimental to the temporal interests of men; demoralizes the community, lays waste religion, and calls down the displeasure and judgments of God upon a nation. Every one, therefore, should exert all his influence to arrest the progress of this increasing evil, and should resolve that, whatever others do, he will "keep the Sabbath from polluting it."
– Robert Shaw
Make the Sabbath the Market-Day for thy soul. Lose not one hour, but be either praying, conferring, or meditating. Think not thy own thoughts. Let every day have its duties. Turn the sermon heard into matter of prayer, instruction into petitions, reproof into confession, consolation into thanksgiving. Think much of the sermon heard, and make something of it all the week long.
– Puritan Divine John Dod, also known as 'Decalogue Dod
No truth was ever more distinctly and palpably confirmed by the history of man, than that the neglecters of the Sabbath neglect their own mercies.
– Samuel Miller
For my part, I must not only say, but plead, whilst I live in this world, and leave this testimony to the present and future ages, that, if ever I have seen anything of the ways and worship of God, wherein the power of religion or godliness hath been expressed; anything that hath represented the holiness of the gospel, and the Author of it; anything that looked like a prelude to the everlasting Sabbath, and rest with God, which we aim through grace to come unto, – it hath been there, and with them, where, and among whom, the Lord's day hath been held in highest esteem, and a strict observation of it attended unto, as an ordinance of our Lord Jesus Christ.
– John Owen
Where there is no Christian Sabbath, there is no Christian morality; and without this, free government cannot long be sustained.
– 19th Century U.S. Supreme Court Justice, John McLean
O what a blessed day is the Sabbath, which allows us a precious interval wherein to pause, to come out from the thickets of worldly concerns, and give ourselves up to heavenly and spiritual objects.
– William Wilberforce
Is there obligation in the commandments of the second table, in which God has set the fence of his high authority around our honour, life, substance, and character, and no obligation in the precept in which God has appointed a season for the special acknowledgment of his being, the celebration of his worship, and the hallowing of his name; and in which, while consulting his own glory, He has at the same time regarded the true interest of man, ordaining that this portion of time shall be a season of relief to the body from laborious toil, and escape to the mind from engrossing secular care? We are, of course, addressing ourselves particularly to persons acknowledging the obligation of the Fourth Commandment, and find it utterly impossible to reconcile the practice condemned with such acknowledgment.
– Andrew Symington, 19th Century RP Minister (Paisley)
[If] you would be patriots: remember that the truest patriotism is not that which passeth off under the name of glory, but which standeth by religion as the strongest pillar of the state, and, by the observance of the Sabbath, as the main prop of religion, and which maintains its position by the ark of the Lord, amidst the scorn and contradictions of men, who have no eyes to see the indissoluble connection between the ruin and impiety of nations.
– John Angell James
All declension and decay may be said to be begun wherever we see these two ordinances despised–the Sabbath and the sanctuary. They are the outward fence around the inward love commanded by [Lev. 26.1].
– Andrew Bonar
As the Sabbath law stands in the centre of the Decalogue, and cannot be removed but on principles which tend to abrogate the other precepts of it, so it will be found in fact, that Sabbath obedience constitutes the centre of all sound morality. It binds the soul in submission to God, and necessarily creates and sustains a supreme regard to all his commandments.
– 19th Century RP Minister (Glasgow), the Rev. Stewart Bates
The holy Sabbath unites in it the interests of God and man, of individuals and communities; it binds together the whole moral law; and from its very nature, and from the history of its working, is the best defense of religion and morality, the grand conservatory of universal righteousness.
– Andrew Symington, 19th Century RP Minister(Paisley)
There is nothing in which I would recommend you to be more strictly conscientious than in keeping the Sabbath holy. By this I mean not only abstaining from all unbecoming sports, and common business, but from consuming time in frivolous conversation, paying or receiving visits, which, among relations, often leads to a sad waste of this precious day. I can truly declare that to me the Sabbath has been invaluable.
– William Wilberforce
[T]he proper observance of the Lord's Day lies at the foundation of all that is pure and regular, and morally healthful, both in the church and in the world.
– Samuel Miller
It gives joy to the famishing to be invited to a feast, where they may satisfy their hunger without scruple and without charge. It gives joy to the sick when a physician of surpassing skill administers to their complaints, and comforts them with the assurance of restored health. It gives joy to the prisoner under condemnation to receive the tidings of pardon, and of a speedy release. Still more exquisite, as well as more enduring, is the joy of the contrite sinner, to whom a Saviour is revealed [on the Sabbath day] in the house of prayer. Such an one is taught to say, "O Lord, I will praise thee: though thou wast angry with me, thine anger is turned away, and thou comfortedst me. Behold, God is my salvation; I will trust and not be afraid: for the Lord Jehovah is my strength and my song; he also is become my salvation."
– Stewart Bates
God has said of the Sabbath, "On it thou shalt not do any work;" and in the [violations] of which we complain, the authority and goodness of God, thus interposed, are resisted and set at nought. The lightnings, it is true, do not flash in our eyes as in the eyes of ancient Israel; the thunders are not reverberating from the trembling mountain; the voice is not giving forth the audible utterances which made those who heard it entreat that it should not be spoken to them any more; yet the commandment stands on the sacred page unrevoked by the authority by which it was enacted, and by which alone it can be repealed, and is recognised by prophets and apostles, and by Him who came not to destroy the law and the prophets, but to fulfil and establish them – the Lord of all, and the "Lord also of the Sabbath."
– Andrew Symington
Lev. 19.30 Ye shall keep my sabbaths, and reverence my sanctuary: I am the Lord.
Their streets must not only be free of trade and common business on Sabbaths, but be full of worshippers going up to the house of the Lord. This precept is inserted here, as if to say, "The foregoing duties will be remembered and enforced just in proportion as you keep up in your souls my worship, by seeing me set forth in the sanctuary, and by spending the Sabbaths in my fellowship." All immorality, and all manner of evil, will attend upon the neglect of the Sabbath. Take away yon river that waters the roots of the tree, and soon you will see the leaves wither and, the sap dry up.
– Andrew Bonar
It gives joy to the famishing to be invited to a feast, where they may satisfy their hunger without scruple and without charge. It gives joy to the sick when a physician of surpassing skill administers to their complaints, and comforts them with the assurance of restored health. It gives joy to the prisoner under condemnation to receive the tidings of pardon, and of a speedy release. Still more exquisite, as well as more enduring, is the joy of the contrite sinner, to whom a Saviour is revealed [on the Sabbath day] in the house of prayer. Such an one is taught to say, "O Lord, I will praise thee: though thou wast angry with me, thine anger is turned away, and thou comfortedst me. Behold, God is my salvation; I will trust and not be afraid: for the Lord Jehovah is my strength and my song; he also is become my salvation."
– The Reverend Stewart Bates
Sabbath observance is essentially a direct and permanent proof of God's sovereignty, and a test of man's allegiance, and must therefore necessarily be, to both communities and individuals, a direct and permanent test of the primary moral relation in which they stand to God, their Creator, Preserver, and Redeemer.
– W.M. Hetherington, 19th Century Free Church Minister
In that hour when you joined yourselves in fellowship with the Church of Christ, you entered solemnly into covenant with God, and in effect swore to be his liege subjects—to honour all his institutes, to observe all his statutes, and to obey all his laws: and sustaining a high place among these, is the Sabbath. Will you break, forget, or think lightly of, your bond? Will you ever be seen trampling under foot your Lord's command, and your own engagement to obey it? Will you be the person to proclaim revolt, and set the example of rebellion? Will you buy and sell and get gain on the holy day? Will you travel for business or for pleasure on this day? Will you read newspapers, have parties, saunter away the hours over the dinner-table and the wine? Will you be heard pleading for a relaxation of the strictness of Sabbath observance, and seen joining with those who are seeking its desecration? Professors, will you forsake the Lord's side, and go over to that of the aliens? What, you who profess to know the worth of the soul, the importance of salvation, the danger of being lost not only by the practice of sin, but by the love of the world? What, you who know, or profess to know, the connection between the right observance of the Sabbath, and personal religion? Ye followers of Christ, will not ye keep up the remembrance of his work in our world? Ye servants of the living God, will not ye maintain his authority in his own domain? Ye friends of religion, will not ye keep up that institute on which religion so vitally depends? Ye lovers of the souls of your fellow-creatures, will not ye stand forward to promote that on which more depends for arresting the tide of perdition, and advancing the cause of salvation, than any thing else that could be mentioned? We call upon you, by all these considerations, to come forth and to rally round the law of your God.
– John Angell James
Is there obligation in the commandments, "Thou shalt not kill, Thou shalt not steal," and the other precepts of the Decalogue, and none in the precept addressed, with so marked specifications, to the parent, to the child, to the master, to the servant, and to him that sits in the gates to administer righteousness? Is no heed whatever to be given to the Divine caveat which introduces this commandment, "remember the Sabbath-day?" Is no deference to be paid to the Divine Wisdom, in distributing the time of labour and of rest? Is no grateful return to be made to the Divine Benevolence, in granting us six days for our own work; nor reverential obedience to be yielded to the Divine Supremacy, in challenging a special propriety in the seventh portion of time? Is there to be no sense nor acknowledgment of the Divine Mercy, in instituting a day of rest from labour and toil to man and to cattle, and giving opportunity to man of moral and spiritual improvement? Is the Divine Benediction, which was conjoined with the keeping of the Sabbath when God first consecrated it to his special service, to be treated as a thing of nought? Is there no fear of the blight or moth of the curse on the work of the six days, in treating with neglect the day which He who blesses and it shall be blessed, has specially blessed and hallowed?
– Andrew Symington
But for the moral power of Sabbatical institutions, whose property or reputation would be safe for a single day? Much as the Lord's day is profaned in this country, even now it does more than our magistrates and prisons, and other legal terrors, to perpetuate and multiply our social, civil, and religious things. Take away this barrier, and you open the flood-gates of vice and irreligion upon a godless and suffering people. You may try to prop up your free and admired civil institutions, but all your efforts will be in vain. The overflowing scourge will pass through, and neither you nor your children can hope to escape. Who and where is the patriot that would thrust out our ship, from her peaceful moorings, on a starless night, upon an ocean of storms, without anchor or rudder, compass or chart? The elements around us may remain, and our giant rivers and mountains. Our miserable descendants also may multiply and vegetate, and sit in moral darkness and putrefaction. But the American character, and our glorious institutions, will go down into the same grave that entombs the Sabbath, and our epitaph will stand forth a warning to the world: Thus Endeth The Nation That Despised The Lord, And Gloried In Wisdom, Wealth, And Power.
– Heman Humphrey, 19th Century Congregational Minister
"If a man cannot support a family by keeping the Sabbath, he certainly cannot support them by breaking it."
– Taken from "Permanent Sabbath Documents of the American and Foreign Sabbath Union" #1
Beasts of burden may feed and rest on the Sabbath, or, under the impulse of youthful vigour, they may feed and play. Such a Sabbath is what their nature is capable of, and it is pleasant to see them enjoy it . But when man, to whom God has given an immortal soul, and the Sabbath to prepare for eternity, is satisfied with the Sabbath of the jaded ox, or of the well-fed carriage horse, he has miserably mistaken his duty and his destiny. Such as remember the Sabbath to keep it holy, take loftier aims, and spend the day in more hallowed exercises. Nor are these found to be either hurtful to their health or a drawback on their enjoyment. It may not at first be their own choice to come to the house of God. Either their parents, or other Christian friends, may be God's instruments in bringing them. But when he reveals himself graciously unto them, they exclaim, with the king of Israel, "How amiable are thy tabernacles, O Lord of hosts! Blessed are they who dwell in thy house." "O send out thy light and thy truth; let them lead me, let them bring me unto thine holy hill, and to thy tabernacles. Then will I go unto the altar of God, unto God my exceeding joy: yea, upon the harp will I praise thee, O God, my God."
– Stewart Bates
The sins of teachers are the teachers of sin; and of all Sabbath breakers, none are so guilty before God, nor do such mischief among men, as they who, whatever they say, teach men, by their actions, to break the commandments of the divine law.
– John Angell James
The Sabbath stood high among the privileges of the Jews, and its profanation has a specification and a reiteration in the indictment of their sins, and stands connected with their awful judgments[Jer. 17.21, 22; Ezek. 20.12, 13, 16, 20, 21, 24; Hosea 2.11, etc.]. Though the peculiarities of the Jewish polity have now passed away, there is a residuum of moral instruction and admonition in such passages of Scripture which it would be equally foolish and criminal to overlook. While the recorded judgments happened unto the Jews for ensamples, they are written in the Word of God and in the historic page for our admonition, upon whom the ends of the world have come. Let us not be high-minded, but fear. Our Sabbaths have been profaned by business and by pleasure . . . . Oh, for some noble-minded and disinterested Nehemiah, braced with moral courage, to speak to nobles, to rulers, and to bearers of burdens, to merchants, and sellers of all kinds of ware; and wise in counsel to devise, and resolute in purpose to prosecute, legitimate measures of reformation !" What evil thing is this that ye do, and profane the Sabbath day? Did not our fathers thus, and did not our God bring all this evil upon us and our city? Yet ye bring more wrath upon Israel by profaning the Sabbath."
– Andrew Symington
What hearts have those men, that [on the sabbath day] had rather be in an ale-house, or a play-house, or asleep, than to be in heart with God! that can find so much pleasure in jesting, and idle talking, and foolery, that they can better endure it, than to peruse a map of heaven, and to read and hear the sacred oracles! who think it a toil to praise their Maker and Redeemer, and a pleasure to game, and dance, and drink! who turn the glass upon the preacher, and grudge if he exceed his hour; and can sit in a tavern or ale-house, or hold on in any thing that is vain, many hours, and never complain of weariness! Do they not tell the world what enemies they are to God, who love a pair of cards, or dice, or wanton dalliance, better than his word and worship? who think six days together little enough for their worldly work and profit, and one day in seven too much to spend in the thoughts of God and life eternal ? who love the dung of this present world, so much better than all the joys above, as that they are weary to hear of heaven above an hour at a time, and long to be wallowing in the dirt again ? Is it not made by the Holy Gnost, a mark not only of wicked men, but of men notoriously wicked, to be "lovers of pleasures more than of God?" 2 Tim. 3.4.
– Richard Baxter
The Sabbath frame is concerned not so much with the passing acts of a providence that cannot be scanned, as with the grace of a covenant ordered in all things and sure. Christian men among us have mistaken the use of the day, when they have suffered it to be distracted by curiosity concerning human achievements even in a holy cause. Better for that day at least to " dwell in the secret place of the most High, and abide under the shadow of the Almighty."
– The Rev. H.D. Ganse, Christian Sabbath: its history, authority, duties, benefits and civil relations
Come a little nearer, get better acquainted with God, and you shall find such entertainment from him, that you will scarce be able to keep long from his house; get oft into his company, and you shall feel your soul strengthened with new spirits, animated with a strange life, heat, and warmth. You will not complain that the Sabbath is the longest day in the week; you will not say, "What a weariness is it! when will the new moons and sabbaths be at an end?" But you would think long till the Sabbathday come, and when it is come, the pleasure that you take in the work of that day would make you think it the shortest day, and gone too soon: and when you have spent it in the most diligent attendance upon God, you would wish it were to begin again, or that you were to begin such a Sabbath as would never have an end. This is the condition of one that is very intimately acquainted with God; his nearness to his Master makes him follow his work, and he knows he shall lose nothing by it; something will be coming in owr and anon, which will more than quit his cost; so that when God calls, he is at hand, and readily answers, "Speak, Lord, for thy servant heareth."
– James Janeway, Heaven Upon Earth.
[W]here there is no care of sanctifying the sabbath by nations, families, or persons, it is a plain case, it amounts to a demonstration, that they are unsanctified nations, families, and persons. It is an evident sign of a people estranged and alienated from the life of God; of a wicked people, that savour not the things of God, but only those things that be of men; of a people that have not the fear of God before their eyes; that are not earned out in desires of honouring him and lifting up his name, or of enjoying communion with him in the world.
– Samuel Slater, Morning exercises at Cripplegate
The Lord's day was appointed to be an earnest and sign of our everlasting rest; the rest that remains for the people of God. It is intended to remind us of heaven, to fit us for heaven, and to give some comfortable pledges and foretastes of the joys and glories of that blessed state, to all those who have their conversation in heaven, and their affections set upon things above. These are the days of heaven, and if heaven be an everlasting sabbath, surely sabbaths are a heaven upon earth, in them the tabernacle of God is with men.
– Matthew Henry, The Miscellaneous Works of the Rev. Matthew Henry
The Sabbath is the dyke which God has reared against the sea of human passion. Behind it lie the green fields. While it is firm, they are safe. When it is thrown down, neither waving corn, nor sacred homes, can stand up against the turbid flood.
– The Rev. H.D. Ganse, Christian Sabbath: its history, authority, duties, benefits and civil relations
[I]f you will tolerate the profanation of the sabbath, you can rationally promise to yourselves no other but a tremendous overflowing of wickedness all the week after; it will be so through the corruption of man, and the most righteous judgment of God, with whom it is far from unusual to punish sin with sin. Do but read histories, and, if you have minded things, consult your own observations, and you will find that, according to a people's holy care, or vile neglect, of keeping holy the sabbath-day, religion doth flourish, or wickedness abounds, and grows rank and rampant, among them.
– Samuel Slater, Morning exercises at Cripplegate
Six days the God of heaven hath allowed us for our ordinary actions, and he is no hard master that reserves but a seventh as a tribute of the time he lends us, especially considering this day he reserves, he reserves it for our advantage more than for his own.
– Sir Matthew Hale, A Letter of Advice to His Grandchildren, Matthew, Gabriel, Anne, Mary, and Frances Hale
I pray you deal openly, and tell me, you that think a day too long for God, and are weary of all holy work, what would you be doing that while, if you had your choice? Is it any thing which you dare say is better? Dare you say, that playing is better than praying, or a piper or dancing better than praising God with psalms? Or that your sleep, or games, or chat, or worldly business, is better than the contemplation of God and glory? And will those deceivers of the people also say this, who teach them that it is a tedious, uncommanded thing to serve God so long? 1 think they dare not speak it out. If they dare, let them not grudge that they must for ever be shut out of heaven, where there will be nothing else but holiness. But if you dare not say so, why will you be weary of well-doing, that you may do ill? Why are you not more weary of every thing than of holiness, unless you think every thing better than holiness?
– Richard Baxter
In monarchical countries, the national flag floating over the palace is a sign that the monarch is within. God has set up his Sabbath on earth as the signal of his royal presence. And there is no truer test of loyalty than the kind of regard that is paid to the sacred emblem. The law of the Sabbath, morethan any other, puts men to the proof, "whether they will keep God's commandments or no."
– The Rev. H.D. Ganse, Christian Sabbath: its history, authority, duties, benefits and civil relations
[I]t is a certain truth, that we never spend any time with better husbandry, and more advantage to ourselves, than that time we spend in the service of God [on the sabbath day], and to his honour, and according to his will; and that man is very ill-natured, that thinks it much to consecrate one day of seven to the special service and honour of him that doth not only lend him the seventh to live, but the other six to his ordinary use and employments.
– Sir Matthew Hale, A Letter of Advice to His Grandchildren, Matthew, Gabriel, Anne, Mary, and Frances Hale
[The sabbath's] office is to lay up a store of spiritual thought and feeling. A man who lives beside a spring may drink and go his way. But the fainting traveller across a desert, feels his heart leap for joyat the first sight of the palm trees. He hastens to the refreshing waters; he drinks his fill of them; he bathes his brow in them. But he does not turn his back on the green leaves, till he has filled every vessel with the precious fluid. If his flask were filled with diamonds, he would pour them out that he might fill it with water. The Sabbath is our spring in the desert, and its supplies are equal to our needs.
– The Rev. H.D. Ganse, Christian Sabbath: its history, authority, duties, benefits and civil relations
[I]f you defraud the glorious God of this small portion of time, consecrated to his service by the equity of the fourth commandment, by the example of Christ, by the practice of the primitive chin ch from the death of Christ, and by the custom and laws of that kingdom and church wherein you live, how can you expect a blessing upon the week following, or your labours, or employments, or concerns, happening therein ?
– Sir Matthew Hale, A Letter of Advice to His Grandchildren, Matthew, Gabriel, Anne, Mary, and Frances Hale
We are now prepared to understand those words of our Redeemer, which the enemies of a spiritual Sabbath so often quote against it. "The Sabbath was made for man, and not man for the Sabbath." Could any words be truer, or of more transparent meaning? Christ says the Sabbath is the means; and man's advantage is the end. But what advantage? Evidently that which the Sabbath is adapted to secure. Just so, in an important sense, nature was made for man, and not man for nature. "God hath made him to have dominion over the beasts of the field, the fowl of the air, and the fish of the sea, and whatsoeverpasseth through the paths of the sea." Then how shall nature serve her lord? In part, with harvests from her fields, and fleeces from her flocks; with music for his ear, and beauties for his sight. But is this all? And have those perverted nature, who stand with tearful ecstacy within the sanctuary of towering mountains, and make ladders of their glittering steeps, with which their souls mount up to the very throne of God? Nay, in heaven itself, there are seats prepared for man. Is heaven, therefore, a mere elysium—a paradise of the false prophet, with pleasures for every sense and none for the soul? The Sabbath was made for man. Let it do its whole work. Let it relieve the weary limbs. Let it smooth the brow of care. And let it lead the penitent to the Cross. Let it "preach good tidings unto the meek; let it bind up the broken-hearted and proclaim liberty to the captives, and the opening of the prisons to them that are bound." And if any would limit its office to rest and pleasure, they must seek a better warrant than this; that he, who counted men's souls worth dying for, declared that "the Sabbath was made for man."
– The Rev. H.D. Ganse, Christian Sabbath: its history, authority, duties, benefits and civil relations
They that understand the true use of that holy rest of the sabbath day, do know that it frees the soul, and makes it vacant from earthly things for this purpose, that it may fully apply itself to the worship and contemplation of God, and converse with him at greater length. Then, certainly, where there is this entire love to God, this will not weigh heavy, will be no grievous task for it: it will embrace and gladly obey this fourth commandment, not only as its duly, but as its great delight. For there is nothing that love rejoices in more, than in the converse and society of those on whom it is placed: it would willingly bestow most of its time that way, and thinks all hours too short that are spent in that society. Therefore not only they who profanely break, but they who keep it heavily and wearily, who find it rather a burden than a delight, may justly suspect that the love of God is not in them : but he that keeps his day cheerfully, and loves it, because on it he may more liberally solace and refresh himself in God, may safely take it as an evidence of his love to God.
– Robert Leighton, Works
The 5th Commandment
Honour thy father and thy mother: that thy days may be long upon the land which the Lord thy God giveth thee. – Ex. 20.12
The 6th Commandment
Thou shalt not kill. – Ex. 20.13
The 7th Commandment
Thou shalt not commit adultery. – Ex. 20.14
The 8th Commandment
Thou shalt not steal. – Ex. 20.15
The 9th Commandment
Thou shalt not bear false witness against thy neighbour. – Ex. 20.16
The 10th Commandment
Thou shalt not covet thy neighbour's house, thou shalt not covet thy neighbour's wife, nor his manservant, nor his maidservant, nor his ox, nor his ass, nor any thing that is thy neighbour's. – Ex. 20.17
The Civil Magistrate
The God of Israel said, the Rock of Israel spake to me, He that ruleth over men must be just, ruling in the fear of God. – 2 Sam. 23.3
When the gospel [goes from a people], the honour and glory, splendour and beauty of a nation goes. It is the gospel that is the honour and glory of a nation, and when that goes, all the glory goes. As old Eli said when the ark was taken away, "The glory is departed from Israel," 1 Sam. 4.32. Jer. 2.11-13, "Hath a nation changed their gods, which are yet no gods? but my people have changed their glory for that which doth not profit," that is, the worship of God into the traditions of men. What is it that lifts up one nation above another but the gospel?
– Thomas Brooks, "Works" Vol. I, lxi
A nation is sometimes justly punished with the miseries of a bad reign for not improving the blessings and advantages of a good one.
– Matthew Henry, Commentary (2 Kings 8)
[S]peaking of the use of civil government. All we wish to be understood at present is, that it is perfect barbarism to think of exterminating it, its use among men being not less than that of bread and water, light and air, while its dignity is much more excellent. Its object is not merely, like those things, to enable men to breathe, eat, drink, and be warmed (though it certainly includes all these, while it enables them to live together); this, I say, is not its only object, but it is, that no idolatry, no blasphemy against the name of God, no calumnies against his truth, nor other offences to religion, break out and be disseminated among the people; that the public quiet be not disturbed, that every man's property be kept secure, that men may carry on innocent commerce with each other, that honesty and modesty be cultivated; in short, that a public form of religion may exist among Christians, and humanity among men. Let no one be surprised that I now attribute the task of constituting religion aright to human polity, though I seem above to have placed it beyond the will of man, since I no more than formerly allow men at pleasure to enact laws concerning religion and the worship of God, when I approve of civil order which is directed to this end—viz. to prevent the true religion, which is contained in the law of God, from being with impunity openly violated and polluted by public blasphemy.
– John Calvin, Institutes IV.XX.III
Those do the greatest good to their country that lay out themselves in their places to promote religion.
– Matthew Henry, Commentary (2 Chronicles 24)
It is a pity that ever a throne, which should be a terror to evil-doers and a protection and praise to those that do well, should be the seat and shelter of iniquity. That is a throne of iniquity which by the policy of its council frames mischief, and by its sovereignty enacts it and turns it into a law. Iniquity is daring enough even when human laws are against it, which often prove too weak to give an effectual check to it; but how insolent, how mischievous, is it when it is backed by a law! Iniquity is not the better, but much the worse, for being enacted by law; nor will it excuse those that practise it to say that they did but do as they were bidden.
– Matthew Henry, Commentary (Psalm 94)
The religion of the Lord Jesus, unless we greatly mistake its spirit, binds all who receive it to prefer the true to the false, the right to the wrong, the good to the evil; and for us to be tempted by any consideration to hold them in equal reverence and render them equal support is to fling one of the first requirements of Christianity away from us. The influence of a Christian is often very little in this world; but whatever it is, it is a talent, for, which, like his time, his money or his intellectual power, he is accountable to God, and that influence ought ever to be on the side of the truth, never against the truth.
– Thomas Witherow, Which is the Apostolic Church?
Rulers should be fathers to those that are under their government, to teach them with wisdom, rule them with love, and correct what is amiss with tenderness, to protect them and provide for them, and be solicitous about them as a man is for his own children and family. It is happy with a people when the court, the city, and the country, have no separate interests, but all centre in the same, so that the courtiers are true patriots, and whom the court blesses the country has reason to bless too; and when those who are fathers to Jerusalem, the royal city, are no less so to the house of Judah.
– Matthew Henry, Commentary (Isaiah 22)
The moral nature of man is inseparably linked with immortality, and immortality as inseparably linked with religion. Among Pagan idolaters, the instinct of immortality, though not developed into a doctrine, nor realized as a fact in reflection, is yet the secret power which, in the spontaneous workings of the soul, gives efficacy to punishment, and energy to rewards. Man feels himself immortal, and this feeling, though operating blindly, colours his hopes and his fears. The State, therefore, which should undertake to accomplish the ends of its being, without taking into account the religious element in man, palsies its own arm. Subjects that have no religion are incapable of law. Rules of prudence they may institute; measures of precaution they may adopt; a routine of coercion and constraint they may establish; but laws they cannot have. They may be governed like a lunatic asylum; but where there is no nature which responds to the sentiment of duty, there is no nature which confesses the majesty of law. Every State, therefore, must have a religion, or it must cease to be a government of men. Hence no Commonwealth has ever existed without religions sanctions. "Whether true or false, sublime or ridiculous," says the author of the Consulate and the Empire, "man must have a religion. Everywhere, in all ages, in all countries, in ancient as in modern times, in civilized as well as in barbarian nations, we find him a worshipper at some altar, be it venerable, degraded, or blood-stained."
– J.H. Thornwell, Sermon on National Sins
[I]f any magistrate will not have respect to the honour of God and salvation of souls, let them take heed to their own interest. When the church of Christ sinketh in a state, let not that state think to swim. Religion and righteousness must flourish or fade away, stand or fall together. They who are false to God, shall not be faithful to men.
– George Gillespie, A Treatise of Miscellany Questions
Toleration . . . hath done much more towards the rooting of Religion, out of the hearts of many men, in 7 years,than the enforcing of uniformity did in 70 years . . . . To compel uniformity , (in a true, or false way) may, by the corruptions of men's hearts, breed Hypocrisy, Formality, Atheism and Anxiety of conscience in some. But good and gracious souls, have been discovered, and purified by it, as the three Children, and Martyrs have manifested . . . . Many, at least some that were enforced to conformity in the worship of God, in families, or congregations, have blessed God for that compulsion; who before were Atheists or profane while they had a cursed intolerable toleration, to be of any or no Religion. Lastly, the will indeed cannot be forced to believe; but that professed Christians should be compelled to the external profession of that only way of worship, which Christ hath instituted seems as equal & reasonable , as it is unreasonable, that men be left to their own choice, to worship God, either not at all, or after their own fancies. And he that denies this, seems to me, to be, if not an Atheist, a Skeptic in Religion.
– Daniel Cawdrey, Independency a Great Schism
It is not only necessary that the State should have a religion; it is equally necessary, in order to an adequate fulfilment of its own idea, that it have the true religion.
– J.H. Thornwell, Sermon on National Sins
If you do not labour according to your duty and according to your power, to suppress the errors and heresies that are spread in the Kingdom, all these errors are your errors….You are Anabaptists and you are the Antinomians, and it is you that hold all religions are to be tolerated, even Judaism and Turkism.
– Edmund Calamy, England's Antidote Against the Plague of Civil War
As every legislator is bound to be a Christian man, he has no right to vote for any laws whicli are inconsistent with the teachings of the Scriptures. He must carry his Christian conscience into the halls of legislation.
– J.H. Thornwell, Sermon on National Sins
'Tis a deceitful new Light, which makes men forbear to reprove, speak, or petition against those evils in a state which their consciences know to be sinful, and to wink at such things, as publicly dishonour God in a nation, upon hopes that themselves shall be winked at and tolerated.
– George Gillespie, A Treatise of Miscellany Questions
The Church (Generally Considered)
But if I tarry long, that thou mayest know how thou oughtest to behave thyself in the house of God, which is the church of the living God, the pillar and ground of the truth. – 1 Tim. 3.15
For such is the value which the Lord sets on the communion of his Church, that all who contumaciously alienate themselves from any Christian society, in which the true ministry of his word and sacraments is maintained, he regards as deserters of religion. So highly does he recommend her authority, that when it is violated he considers that his own authority is impaired. For there is no small weight in the designation given to her, "the house of God," "the pillar and ground of the truth" (1 Tim. 3.15). By these words Paul intimates, that to prevent the truth from perishing in the world, the Church is its faithful guardian, because God has been pleased to preserve the pure preaching of his word by her instrumentality, and to exhibit himself to us as a parent while he feeds us with spiritual nourishment, and provides whatever is conducive to our salvation. Moreover, no mean praise is conferred on the Church when she is said to have been chosen and set apart by Christ as his spouse, "not having spot or wrinkle, or any such thing" (Eph. 5.27), as "his body, the fulness of him that filleth all in all" (Eph. 1.23). Whence it follows, that revolt from the Church is denial of God and Christ. Wherefore there is the more necessity to beware of a dissent so iniquitous; for seeing by it we aim as far as in us lies at the destruction of God's truth, we deserve to be crushed by the full thunder of his anger. No crime can be imagined more atrocious than that of sacrilegiously and perfidiously violating the sacred marriage which the only begotten Son of God has condescended to contract with us.
– John Calvin, Institutes
Those that have the benefit of God's tabernacle among them must be willing to defray the expenses of it, and not grudge the necessary charges of God's public worship. Thus we must honour the Lord with our substance, and reckon that best laid out which is laid out in the service of God. Money indeed cannot make an atonement for the soul, but it may be used for the honour of him who has made the atonement, and for the maintenance of the gospel by which the atonement is applied.
– Matthew Henry, Commentary
The Sacraments (Generally Considered)
Now I say that Jesus Christ was a minister of the circumcision for the truth of God, to confirm the promises made unto the fathers. – Rom. 15.8
Baptism
Go ye therefore, and teach all nations, baptizing them in the name of the Father, and of the Son, and of the Holy Ghost. – Matt. 28.19
[T]hough the infants of the people of Israel were not fit to eat of the manna, and drink of the water out of the rock, as those of some age did, yet the youngest of their infants were baptised, and received a sacramental seal of their interest in Christ and the covenant of grace, which is a notable precedent to our infant baptism; and it must needs hold, unless we weaken, yea, subvert, the Apostle's argumentation in that place. For what more certain than that among so many hundred thousand people there were divers infants who had not yet the use of reason, nor were able to give an account of their faith? What more uncontrovertible than that these infants were, with the rest of the congregation, baptised in the sea and under the cloud, being externally incorporated in the commonwealth of Israel and the seed of Abraham? What more manifest than that the Apostle holds forth to us that their baptism was materially or substantially the same with ours, both for the grace signified and sealed, and for the very element of water? So that this infant baptism of theirs is (upon the matter, and according to the Apostle's doctrine) a good warrant for infant baptism among us, as well as if the New Testament had expressly told us that some infants were baptised by Christ or his apostles. This argument hath taken deep impression in my thoughts, and while I look after the suffrage of divines, I find some of very good note have had the same notion from this text against the Anabaptists, showing also that their objections against infant baptism fall as heavy upon that baptism of the children of Israel.
– George Gillespie, A Treatment of Miscellany Questions
The Lord's Supper
The cup of blessing which we bless, is it not the communion of the blood of Christ? The bread which we break, is it not the communion of the body of Christ? – 1 Cor. 10.16
Church Government
And we beseech you, brethren, to know them which labour among you, and are over you in the Lord, and admonish you. – 1 Tim. 5.12

Regal power, being a civil power founded in the Law of nature ( for the Ants have a King ) may well be in the people originally and subjectively, as in the fountain, nature teaching every community to govern themselves, and to hold off injuries, if not by themselves, yet by a King, or some selected Ruler; but the power of Church-government being supernatural, and the acts of the Church-government, and of the casting such as offend out of Christ's Kingdom, being supernatural, neither of them can be originally in the multitude of professing believers, but must be communicated by Christ to some certain professing believers, and these are Officers. Therefore to put power and acts of government in all professors, is a natural way drawn from civil incorporations. Christ is not ruled by our Laws.
– Samuel Rutherford, The Due Right of Presbyteries (Peaceable Plea)
I know of no good reason for my being a Presby­terian rather than an Independent, except that I believe Presbyterianism has done what the rival system has failed to do — preserved the principles of apostolic government; and, for this reason, possesses an amount of Scriptural warrant (not to speak of unity, coherence, and vigor), that Independency can never have. The absence of these apos­tolic principles in the Prelatic Establishment must always keep enlightened and conscientious Presbyterians out of its pale, no matter what be the modifications introduced into its articles, or what change be wrought upon its ritual. If our distinctive principles are not apostolic and important, Presbyterianism is not only folly, but very great folly; and, by standing apart from other denominations upon such a ground, we only perpetuate needless divisions in the Church of God. If we discover that the peculiarities of the system are either not true, or truths of minor consequence, we should take speedy steps to heal the schism that exists, and exemplify Christian union on a large scale by uniting with some sister sect, whose principles are more Scriptural and important than our own. But if, on the other hand, our distinctive principles are very important as well as true, then duty to God and the Church demands that we avow, illustrate, and defend them, and press them on the notice of the world.
– Thomas Witherow, Which is the Apostolic Church?
The government of Christ's Kingdom is the most free and willing government on earth; yet it is a government properly so called, for there be in it authoritative commandments, and Ecclesiastic coaction, upon the danger of soul penalties; in regard of the former, all the people by consent and voluntary agreement have hand in election of Officers, inflicting of censures, because it concerneth them all: but in regard of the latter, the whole people are not over the whole people; they are not all Kings reigning in Christ's government over Kings, but are divided into governours and governed; and therefore the rules Ecclesiastic only, by power of office, are in Christ's room, over the Church, to command, sentence, judge, and judicially to censure.
– Samuel Rutherford, The Due Right of Presbyteries (Peaceable Plea)
There can be little doubt that ignorance of the Scriptural truth and practical value of our principles, has made the Presbyterian community much colder to their own Church than otherwise they would be. I have often remarked how a Roman Catholic, a Methodist, a Baptist—each thinks his own Church the purest and best in the world; while a Pres­byterian is usually a man who regards any other Protestant Church as being at the very least as good as his own. It is this popular persuasion that in Ulster lends proselytism all its power. Some of the smaller sects endeavor to diffuse the impression that the differences between Protestant Churches are of no consequence, and it is their interest to do so; they have little to lose and much to gain by such an impression being abroad. Every minister among them who knows his business is, of course, a vigorous, and doubtless a conscientious supporter of the Evangelical Alliance. The prelatic clergy also, except in some rare case, do their best to diffuse the same feeling among Dissenters, because it gives them freer access to convey their Puseyism into Pres­byterian families; and because, being wise in their genera­tion, they have the sagacity to see that, when the Presby­terian mind becomes saturated with the feeling, that there is no difference between the two Churches, the question will soon follow—Why tax ourselves for nothing; why be at the expense of supporting a separate Church; why not join the Establishment? If proselytism gives us any annoyance, we have none but ourselves to blame. Were we faithful to our own principles, the people would be faithful to us. The prevalent indifference to Presbyterianism that our defective instruction has produced, has left us open to the incursions of every sect that chooses to give us opposition, and which, in so doing, may always safely reckon on the countenance and co-operation of some of ourselves. It has turned the Presbyterian Church of Ireland into a sort of ecclesiastical preserve, where foot of Papist dare not trespass, but where every marksman, who wears the mask of Protestantism, is free to sport at pleasure and to bag his game. Let the blame be all our own, if the thoughtless among our people are, from time to time, taken in the snare of the fowler.
– Thomas Witherow, Which is the Apostolic Church?
Church Discipline
And if he shall neglect to hear them, tell it unto the church: but if he neglect to hear the church, let him be unto thee as an heathen man and a publican. – Matt. 18.17
The private forgiving is a duty of charity commanded in the Law of Nature to all, even out of Church-state, and obligeth the Excommunicate, who, though they be case out of the Church, are not exempted from the Law, that bindeth all, Mat. 6.12, 14, 15; Mat. 4.44.46. but the Church-forgiving is an act of obedience to a positive Church-Law of Christ, 2. private Christians are to forgive their Enemies whether they repent, or not, even as Christ forgave those who crucified Him, Col. 3.13. Luk. 23.34. and when the party repenteth not, this forgiveness is not ratified in Heaven, yet are we obliged to forgive, and to commit vengeance to God; but the authoritative forgiveness is a thing that the Church, is not obliged unto, absolutely; nor may they, or can they forgive, except the Offender repent: and if they see that he repenteth not, they cannot lawfully forgive; but, being in God's room, must take vengeance on all disobedience, and their retaining of sin and forgiving, is valid in Heaven, because they are in God's place. Now any forgiving or retaining of sin but these two, together with God's forgiving and retaining, we know not. But Peter's forgiving his offending brother seventy times seven times, is common to all private Christians, even out of Church-state, and so the instance given is not to the purpose, 6. To these only are the Keys given, who having Paul's pastoral spirit, may convene and deliver to Satan, but the Church of believers without Officers, not having Paul's pastoral spirit which is a spirit official, and authoritative to preach, excommunicate, and administrate the seals of the Covenant, may not convene and do this.
– Samuel Rutherford, The Due Right of Presbyteries (Peaceable Plea)
God's Ordinances
Teaching them to observe all things whatsoever I have commanded you: and, lo, I am with you alway, even unto the end of the world. Amen. – Matthew 28.20
God manifests his presence with his people in and by his ordinances; there he makes himself known, and to them we must look if we would see the beauty of the Lord, Psalms 27:4, Ezek 37:26,27.
– Matthew Henry, Commentary (Numbers 9)
The reason why all the sermons we hear do us no more good, is for want of Divine meditation; for it is with sermons as it is with meat, it is not the having of meat upon your table will feed you, but you must eat it; and not only eat it, but concoct it, and digest it, or else your meat will do you no good: So it is with sermons, it is not the hearing sermons will do you good, but it is the concocting them, digesting them by meditation; the pondering your hearts what you hear, must do you good. And one sermon well digested, well meditated upon, is better than twenty sermons without meditation.
– Edmund Calamy, "The Art of Divine Meditation"
Those that would have acquaintance and communion with Christ must closely and conscientiously adhere to holy ordinances, must join themselves to his people and attend his ministers.
– Matthew Henry, Commentary
As those who against their minds are forced to absent themselves from God's ordinances may comfortably expect the favours of God's grace under their affliction, so those who of choice absent themselves may justly expect the tokens of God's wrath for their sin.
– Matthew Henry, Commentary (Numbers 9)
Satan exceedingly envies this celestial happiness of the saints, and if he cannot distract them from duty, be sure he will distract them in it.
– Richard Steele, A Remedy for Wandering Thoughts in the Worship of God
Sometimes God teaches us effectually to know the worth of mercies by the want of them, and whets our appetite for the means of grace by cutting us short in those means.
– Matthew Henry, Commentary
Many disorders and heresies might have been spared to the Church, if, instead of indulging the perversity of an unsettled judgment, men had honoured "the Priest, as the messenger of the Lord of Hosts," and in humble simplicity had "sought the law at his mouth." (Mal. 2.7. Comp. Heb. 13.17, with 1 Cor. 4.8; 3.2-4.) Self-will may resist this suggestion as Romish domination. But a humble subjection to the faithful "steward of the mysteries of God," coming to learn, not to teach; to have, not the curiosity fed, but the conscience satisfied. This reverence of God's ordinance will issue in the "good things of the heart established with grace." (Heb. 13.9.)
– Charles Bridges, Commentary on Proverbs 1
It is a blessed thing to see people hungering and thirsting after God's ordinances, and to hear them complaining of that which prevents their enjoyment of them. It should be a trouble to us when by any occasion we are kept back from bringing our offering in the solemnities of a sabbath or a sacrament, as it was to David when he was banished from the altar, Psalms 42:1,2.
– Matthew Henry, Commentary (Numbers 9)
It concerns us all rightly to understand the meaning of those holy ordinances wherein we worship God, what is the nature and what the end of them, what is signified and what intended, what is the duty expected from us in them and what are the advantages to be expected by us. Every ordinance has a meaning; some ordinances, as sacraments, have not their meaning so plain and obvious as others have; therefore we are concerned to search, that we may not offer the blind for sacrifice, but may do a reasonable service. If either we are ignorant of, or mistake about, the meaning of holy ordinances, we can neither please God nor profit ourselves.
– Matthew Henry, Commentary (Exodus 12)
Those whose souls love Jesus Christ earnestly desire to have communion with him, by his word in which he speaks to us and by prayer in which we speak to him, and to share in the privileges of his flock; and we may learn from the care he takes of his church, to provide convenient food and rest for it, how to take care of our own souls, which are our charge.
– Matthew Henry, Commentary